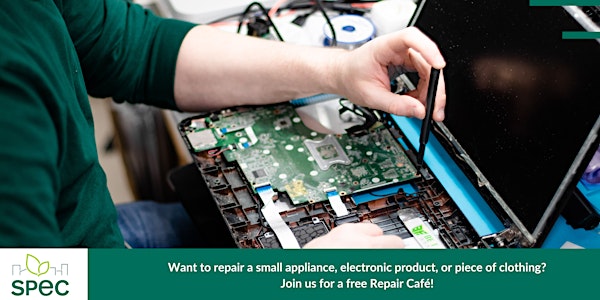 Repair Cafe - Vancouver City Hall
Want to repair a broken small appliance, electronic product or an item of clothing? Join one of our free repair cafes in Vancouver.
By SPEC - Society Promoting Environmental Conservation
Date and time
Sat, Jun 17, 2023 9:00 AM - 1:00 PM PDT
Location
Vancouver City Hall 453 West 12th Avenue Vancouver, BC V5Y 1V4 Canada
About this event
SPEC (Society Promoting Environmental Conservation) in partnership with the City of Vancouver offers FREE community repair cafes. The more we can repair, the longer products stay in circulation. The longer products stay in circulation, the less waste we produce!
Book one free appointment time slot between 9:00am-1:00pm to receive in person repair help from our volunteer repairers.
Please read carefully:
ONE REPAIR TICKET PER HOUSEHOLD PLEASE. If more are booked we will have to cancel the subsequent tickets for repair timeslots. EXCEPTION: if we still have tickets available on the Monday before an event, we will open those to folks who have already booked a repair.
Each person bringing an item to be repaired must complete a waiver form on site.
ONE ITEM PER APPOINTMENT PLEASE! Be mindful of our VOLUNTEER fixers and the other people . Please note that you may be encouraged to get involved in the physical repair of your item, along with the volunteer repairer, so that you are learning and empowered to repair some of your own items at home.
Please book your appointment in the CORRECT CATEGORY. If booked in the wrong category, there is a good chance you will not be seen. You must arrive ON TIME for your appointment. If you arrive late, you will have forfeited your spot.
Walk-ins - walk-ins will be seen on a first-come first-served basis, and only if there is time and fixer is available..
Please be PATIENT and KIND. This is a FREE event, and the FIXERS are VOLUNTEERS.
IF YOU ARE UNWELL, PLEASE DO NOT ATTEND
Repair categories:
Computers: ie) desktops and laptops. Not accepted: printers, monitors & tablets
Cell phones: screen replacement. You must provide a replacement screen. Not accepted: iPhone XR series and newer models (released in 2018).
Electronics" Home entertainment items including stereos, guitar amps, electric pianos. VCRs. DVD players, and kids' electronic toys.
General: small, portable items e.g. jewelry and other miscellaneous items.
Small appliances: ie) lamps, toasters, foot heaters, hair dryers, and fans.
Clothing/textiles: ie) shirts, pillowcases, pants, tablecloths. If bringing zipper or button repairs, you must provide your own button/zipper. Not accepted - items requiring alterations, hemming, bag repair, shoes. Some zipper repairs may not be possible due to complexity and time.
Bicycles - minor repairs and tune ups. Replacement parts such as inner tube must provide your own part(s)
Not accepted - printers, shoes, bags, luggage, furniture or large appliances.
This is a community café - we welcome you to enjoy free coffee or tea and chat with others while you wait for your repair booking. Please bring your own mug as this strives to be a zero waste event!
This event is funded with assistance from Metro Vancouver and the City of Vancouver.
About the organizer
SPEC works to develop practical solutions for sustainable cities. We are a Charity founded in 1969 that works to change behaviour for a more sustainable future. We do education, research and advocacy in the areas of Energy, Food, Land & Water, and Waste.