Research at the Northern Edge of the Canadian Arctic
Description
Family Science Sunday!
RCITalk + Hands-on science activities for kids presented by Pueblo Science
Research at the Northern Edge of the Canadian Arctic
Perched on a ridge in the remote polar desert of Ellesmere Island sits an atmospheric research facility, the Polar Environment Atmospheric Research Laboratory (PEARL). Surrounded by vast, rugged, and beautiful Arctic scenery, a small team of Canadian scientists use sophisticated instruments at PEARL to measure and investigate a wide range of atmospheric science topics. From this is strategic location, research is conducted to better understand climate change, ozone depletion chemistry, pollution transport, and the high Arctic atmosphere. This talk will highlight how PEARL contributes to research on global environmental issues and what it is like to carry out fieldwork at one of the northernmost research sites in the world.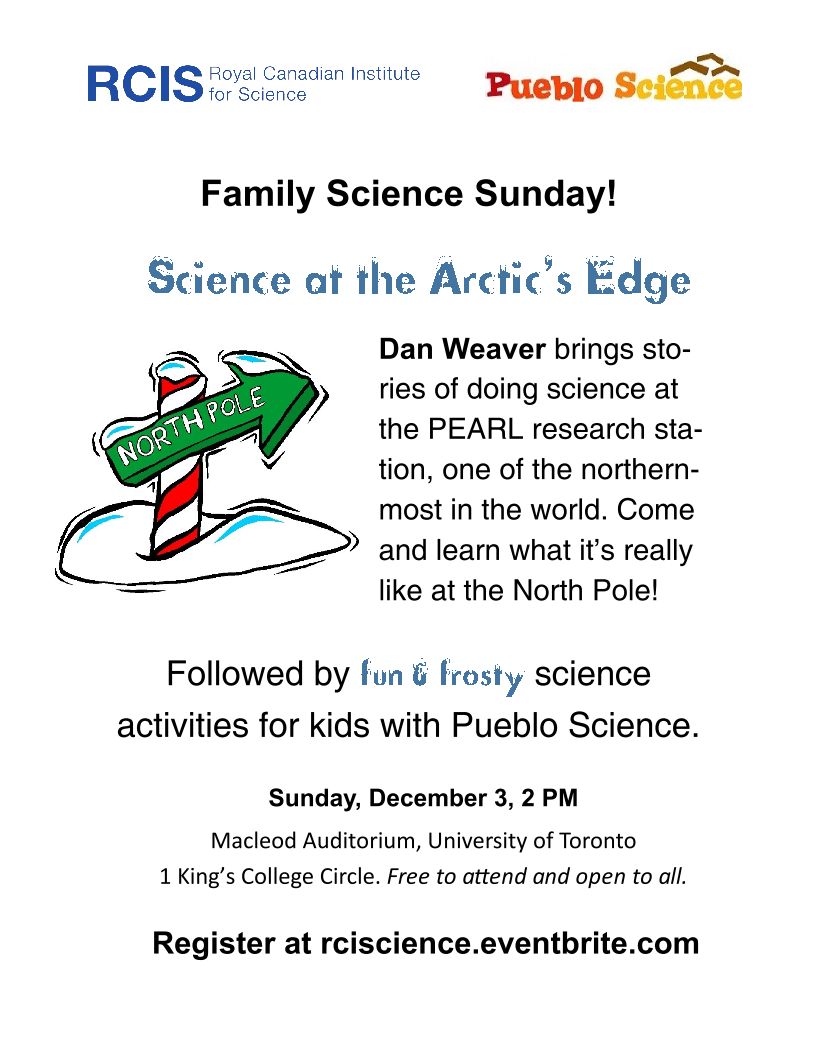 ---
Dan Weaver
Dan Weaver (Ph.D. Candidate, Dept. of Physics, University of Toronto) is studying climate change, ozone depletion, and the Arctic atmosphere. He collects research data using a high-resolution spectrometer at the Polar Environment Atmospheric Research Laboratory (PEARL), near Eureka, Nunavut (80°N). As an educator, Dan has taught in classrooms and created educational programs for organizations such as Science Rendezvous. He gives regular public talks to connect University research with the public and is an Ontario College of Teachers certified teacher. Dan is also an advocate for science funding and evidence-based public policy decision-making.