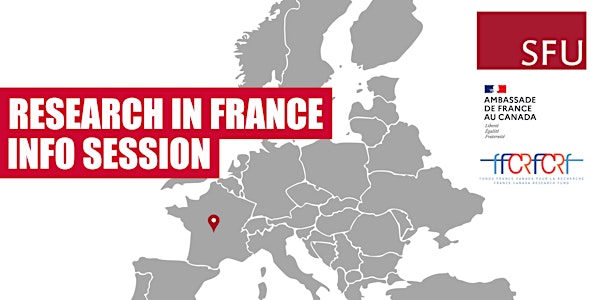 Research in France Info Session
This information session will provide details on funding programs in support of research collaborations in France.
About this event
Zoom link: https://sfu.zoom.us/j/63512140059?pwd=UFdZM0x1TzFlZk5iczE1emNBT3N4UT09
Meeting ID: 635 1214 0059
Password: 870988
Join us for a 60-minute online session to learn about a selection of funding programs in support of research collaborations and research mobility (faculty and students) in France. The information presented will be relevant to SFU faculty, postdoctoral fellows and graduate students from across the disciplinary spectrum.
The session will include information on the following:
Overview of support available from the Embassy of France for research collaborations
France Canada Research Fund (FCRF) New Scientific Collaboration Support Program: This program is open to all disciplines and provides financing for new projects jointly developed by French and Canadian teams that have never worked together before. The financing is awarded to two-year projects in amounts ranging from $8,000 to $15,000. This financing is primarily intended to support the mobility of researchers and their students.
Mitacs Globalink Research Award (GRA): This award supports international research collaborations between SFU and Universities from eligible countries and regions through the mobility of graduate students (Masters & PhD) and postdoctoral fellows with short-term internships (12-24 weeks).
Please note that the session will be recorded and the video recording will shared a few days after the live session. The information will be presented in English.
Registration and How to Access Session:
This session will take place online via Zoom. In order to get access, please register for this event using the "Register" button on this page.
After registering, participants will receive a confirmation email with information on how to join the session via Zoom. The Zoom details can be found under the "Additional Information" section of the confirmation email.
Please email sfui_admin@sfu.ca if you do not receive this email after you have registered.
Moderator:
Yukino Mori: Senior Manager (Interim), Global Engagement (Europe and Americas), SFU International
Speakers:
Géraldine Dantelle: Scientific and Higher Education Attachée, Cultural and Scientific Service of the Embassy of France, Consulate General of France in Vancouver
Clotilde Ribaut: Administrator France Canada Research Fund & France Canada Innovation Platform, Vice President Research Office, University of Ottawa
Christina Gonzalez Fraser: Coordinator, International Research Mobility, SFU International
Technology Requirements:
This webinar will be presented via Zoom. To engage fully you will require:
• A laptop, computer, or smartphone
• Speakers or headphones
To protect the privacy of others we ask that you do not record or photograph yourself, other participants, or the hosts during the webinar, unless permission is requested and given.
For information on privacy and security with Zoom, please visit:
https://www.sfu.ca/information-systems/services/zoom/privacy-and-security.html
Contact Info:
For questions about this session, please contact research_mobility@sfu.ca.
For technical questions on the day of the event, please contact sfui_admin@sfu.ca.