A conversation about equity-informed approaches to climate research, solutions and policy development
About this event
Join us for this important conversation that will bring together climate justice advocates, researchers, policy-makers and solution-seekers to discuss the challenges and opportunities of taking equity-informed approaches to climate research, solutions and policy development.
Some of the questions we will explore include:
What are the benefits of applying the Justice, Equity, Diversity, Decolonization and Inclusion (JEDDI) lens to climate research, policy and solutions? What are the risks should we fail to do so?
What are the barriers to fully embracing climate justice in research and policy, and what must we do to overcome these?
How do we ensure that equity is central to our collective problem-solving and decision-making approaches around climate solutions? What do we need to develop an evidence base around equity considerations?
In the pandemic era, what are the challenges and opportunities that exist within the climate justice approach and the JEDDI space?
What must be done to address the challenge of uneven, unavailable and "not counted" methodologies in data collection necessary to do this work?
Help shape future programming on integrating equity into climate responses by answering these questions and more with our panelists, respondents and other participants. The conversations from this event will inspire the direction of future events and content as part of Towards Equity, SFU Public Square's 2021 Community Summit series.
Panelists
Anjali Appadurai — Climate Justice Lead, Sierra Club BC
Anjali is a climate justice activist, communicator and organizer. She works to strengthen climate change messaging and discourse in Canada by centring the stories of those on the front lines of the climate crisis. She brings a strong justice lens to climate change messaging and keeps her work connected to social movements that have been demanding climate justice in the Global South for decades. Anjali is Climate Justice Lead at Sierra Club BC and Sectoral Organizer with the newly formed Climate Emergency Unit.
Andréanne Doyon — Assistant Professor and Director, Resource and Environmental Planning Program, SFU
Andréanne Doyon is an Assistant Professor and Director of Planning in the School of Resource and Environmental Management (REM) at Simon Fraser University (SFU). Her work is situated within the intersection of equity and environmental planning. Current research topics include governance and planning for low-carbon, resilient, just cities; justice in transitions; and Indigenous representation. She holds a BA and MA (Planning) from the University of British Columbia and a PhD from the University of Melbourne.
Maya Gislason — Assistant Professor, Faculty of Health Sciences, SFU
Dr. Gislason is a Michael Smith Foundation for Health Research Scholar, Assistant Professor in the Faculty of Health Sciences at Simon Fraser University and founder of the Research for Eco-social and Equitable Transformation (RESET) team. As an eco-social equity scholar, she works with a range of partners on projects rooted in the ethic of intergenerational climate justice and towards the goal of improving health for people and the planet. Dr. Gislason works with governments using sex- and gender-based analysis approaches to address the impacts of climate change on equity-deserving groups and is championing new work on children's mental health resilience and climate change.
Khelsilem — Councillor, Squamish Nation
Khelsilem is Squamish and Kwakwa̱ka̱'wakw, raised in North Vancouver, British Columbia. As the Squamish Nation Councillor, his lifelong work has been focused on governance, Indigenous languages, and dreams of progressive social change. He has served on various committees, including: Governance, Finance & Audit, Human Resources, and Housing Authority Development. He has strived to create good governance practices that enhance transparency, accountability, and ethical governing standards to benefit the Nation's members.
Eugene Kung — Staff Lawyer, West Coast Environmental Law
Eugene Kung (he/him/his) is a staff lawyer with West Coast Environmental Law, working on issues related to tar sands, pipelines and tankers, as well as with the RELAW program. He is committed to human rights, social justice and environmental justice and has been working to stop the Kinder Morgan Trans Mountain expansion project.
Prior to joining West Coast, Eugene was a staff lawyer with the BC Public Interest Advocacy Centre, where he had a social justice law practice in the areas of constitutional, human rights, administrative, anti-Poverty and regulatory law. He has represented low- and fixed-income ratepayers before the BC Utilities Commission; low-income tenants of slumlords; tree planters and temporary foreign workers before the BC Human Rights Tribunal; and families of deceased farmworkers at a coroner's inquest.
Marc Lee — Senior Economist, Canadian Centre for Policy Alternatives (BC Office)
Marc Lee is a Senior Economist with the British Columbia office of the Canadian Centre for Policy Alternatives (CCPA). Marc led the CCPA's Climate Justice Project (CJP), which published a wide range of research on fair and effective approaches to climate action through integrating principles of social justice. Marc continues to write about climate and energy policy, as well as strategies for affordable housing. Over his career, Marc has tracked federal and provincial budgets and economic trends, and published on a wide range of topics from poverty and inequality to globalization and international trade to public services and regulation. Marc was "classically trained," with an MA in Economics from Simon Fraser University and a BA in Economics from the University of Western Ontario.
Tesicca Truong — Ministerial Advisor, BC Ministry of Jobs, Economic Recovery and Innovation
Tesicca Truong is a community engagement innovator, a dialogue facilitator and a serial changemaker. Her passions lie at the intersection of youth empowerment, citizen engagement and resilience-building. She co-founded CityHive, a non-profit on a mission to transform the way young people shape their cities and the civic processes that engage them. She also co-created the Vancouver Youth4Tap Coalition, a youth-led campaign that led to the installation of new water fountains in every public high school in Vancouver, as well as the inaugural Vancouver School Board Sustainability Conference. She currently serves as a Ministerial Advisor for the BC Minister of Jobs, Economic Recovery and Innovation, as well as a Dialogue Associate at SFU's Morris J. Wosk Centre for Dialogue.
Tesicca has served on the Mayor's Engaged City Task Force, BC's Climate Solutions and Clean Growth Advisory Council, and SFU Senate. For her work, she was awarded the President's Leadership in Sustainability Award from SFU and Vancouver's Greenest City Leadership Award. Tesicca has also been named on Top 30 Under 30 and Top 25 Under 25 lists by Corporate Knights, the North American Association for Environmental Education, and Starfish Canada.
Respondents
Bentley Allan — Associate Director, Pacific Institute for Climate Solutions (PICS)
Dr. Bentley B. Allan is the Associate Director of the Pacific Institute for Climate Solutions (PICS). Dr. Allan joined PICS in the summer of 2020 from his position as Associate Professor of Political Science at Johns Hopkins University. He holds a PhD in Political Science from Ohio State University and an HBA from the University of Toronto.
He has expertise in the relationship between science, technology and politics, the history of climate policy, and the political economy of decarbonization. He is the author of an award-winning book with Cambridge University Press and a number of peer-reviewed articles in the top journals in his field.
Jonathan Fowlie — Chief External Relations Officer, Vancity
Jonathan leads Vancity's External Relations and Impact Strategy division overseeing government relations, communications, community investment, climate strategy and performance, and member and stakeholder engagement.
As head of the division, Jonathan is responsible for the credit union's engagement with governments and key community stakeholders, as well as its strategic communications. Jonathan also oversees Vancity's approach on its commitments to climate action and climate justice, and is responsible for Vancity's community impact programs, including affordable housing, Indigenous partnerships, and social and financial inclusion.
Mumbi Maina — Social Planner, Social Policy and Projects, City of Vancouver
Mumbi is a Postdoctoral Fellow in the Department of Educational Studies at the University of British Columbia. She is part of a research team working to imagine how Canadian cities can catalyze transformative innovation in tackling colonialism, rising inequities and the climate crisis. Mumbi's doctoral research examined the roles of various actors, including historically marginalized groups, in the enactment of sustainability in higher education policy and practice. A Social Planner at the City of Vancouver, Mumbi is collaboratively working towards organizational transformation through the development of the Equity Framework. Her previous work focused on grassroots social and environmental justice organizing, anti-racist education and cross-cultural collaboration with immigrant and other communities across North America.
Moderator
Am Johal — Director, SFU's Vancity Office of Community Engagement, and Co-Director, SFU's Community-Engaged Research Initiative
Am Johal is director of SFU's Vancity Office of Community Engagement and Co-Director of SFU's Community Engaged Research Initiative. He is the co-author of Global Warming and the Sweetness of Life: A Tar Sands Tale.
________________________________________________________________________________________________
If you'd like to be kept in the know about more events from SFU Public Square, sign up for our newsletter!
Partners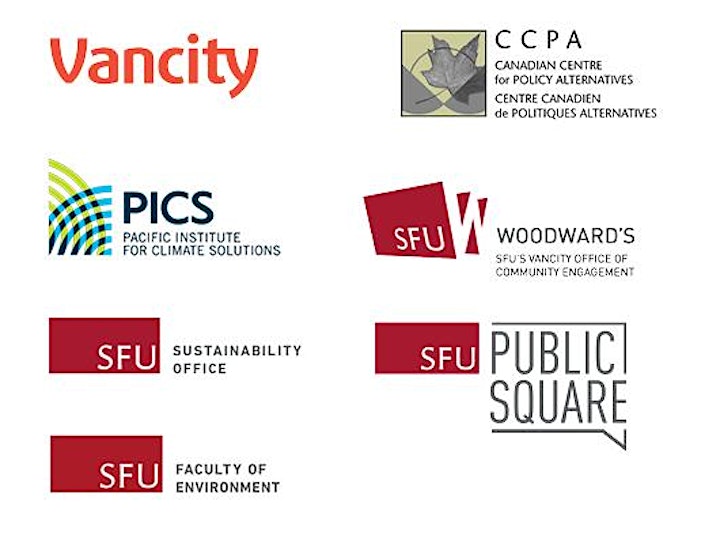 ACCESSIBILITY, TECHNOLOGY AND PRIVACY
Accessibility
Closed captioning will be available for this event.
Registration and password
A password to access this webinar will be sent to all registrants via email in the days and hours preceding the event.
Technology requirements
This workshop will be presented in a participatory webinar format. To engage fully you will need:
A laptop, computer,or smartphone
A webcam
A microphone
Speakers or headphones
Protecting your privacy
To ensure that we are using online meeting technology in a privacy-conscious way, we are following best practices for this online event series:
We will only circulate the meeting link to those who are registered for the event
We will password protect the meeting
We will enable end-to-end encryption
We will not use attention tracking
We will ask that participants use their first and last name as their display name on the webinar, so we can check incoming participants against the event registration list
To protect your own privacy we suggest that:
You use a unique email address to log into the webinar. This is so that the webinar platform can't cross-reference your profile with the rest of your digital profiles under your email address.
You do not use your Facebook profile to log into the webinar. This is so that the webinar platform can't cross-reference you with your Facebook account.
We remind you that whatever you say in the webinar is public and recorded, so please do not share sensitive information about yourself or others, and do not say anything you do not wish to enter the public domain.
To protect the privacy of others we ask that:
You do not record or photograph yourself, other participants, or the hosts during the webinar, unless permission is requested and given.
If you have any questions, concerns, or comments regarding this event's accessibility or privacy, feel free to connect with us at psqevent@sfu.ca.
Commitment to community guidelines and social accountability
All participants are asked to participate as socially accountable community members. We ask that you provide your full name as your display name during the online event and that you review our community guidelines ahead of your participation in the event. This is to ensure the safety of our guests and speakers as well as foster honest and accountable dialogue between people in this space. Thank you for respecting our community guidelines!
Above all, there will be zero tolerance for those who promote violence against others on the basis of race, ethnicity, national origin, sexual orientation, gender identity, religious affiliation, or different ability. Anyone who incites harm towards other participants (be it through the chat, video or audio functions) will be removed at the discretion of our technical team and moderator.
Be as present as possible (put away phone, close/mute tabs).
Thoughtful questions are welcome in the chat throughout the session. If your question is for a particular speaker, type "@name" at the beginning.
Don't assume pronouns/gender/knowledge based on someone's name or video image. We can refer to people using the usernames they provide!
Step up, step back: if you've asked a question or shared a comment, ensure that new voices are heard before you contribute again.
Practice self-care: if you need to get up or take a break, please feel free.
Organizer of Researching for Climate Justice