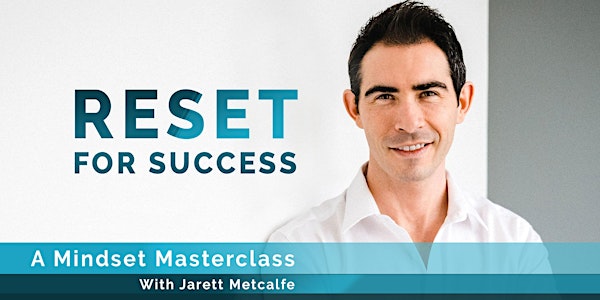 RESET for SUCCESS - A Mindset Masterclass
Have you hit a wall with achieving your professional or business goals in 2020? Learn how you can succeed no matter the circumstances.
About this event
RESET for SUCCESS - A Mindset Masterclass
Have you hit a wall with achieving your professional or business goals in 2020?
Are you unhappy with your current results?
Has the uncertainty this year created increased difficulty, setbacks, failure, and stress for you as a leader?
If any or all of the above, it's time to RESET your mind for success.
ABOUT the Event:
Learn how to develop a bulletproof mindset for achieving success and prosperity. It will empower you to succeed no matter what by giving you the focus, confidence, motivation, and winning habits you need to achieve your goals and get breakthrough results.
In this FREE Masterclass you will discover the:
Top 7 things sabotaging business leaders' performance & success
Secret to winning big no matter what
Key things holding people back from achieving success
Way to redefine your goals for massive success
Most effective way to optimize your mindset
Best and fastest tools to effectively upgrade your mindset
Key success principles to refocus and reignite action
This Masterclass is a MUST ATTEND if you want to:
Gain a bulletproof success mindset to stay focused, calm, confident, and in control
Succeed at achieving your goals no matter the circumstances
Achieve massive growth and accelerate your results
If you are committed to your personal growth and achieving amazing results in 2020 regardless of circumstances, then sign up for the "RESET for Success" Mindset Masterclass today!
Note: By signing up for this experience you agree to receive emails from Inner Compass, my coaching practice.
ABOUT the Speaker
This exclusive Masterclass is hosted by Jarett Metcalfe, Prosperity Mindset Coach and certified Rapid Transformational Therapist and Master PSYCH-K Facilitator. Jarett was mentored by Bob Proctor of the Proctor Gallagher Institute and uses the highly successful and world-renowned "Thinking Into Results" personal development program within his coaching practice, Inner Compass (Port Moody, BC).
His coaching success comes from his ability to creatively integrate leading-edge belief change practices into the coaching program to accelerate his clients' results.
InnerCompass.ca
Instagram: @innercompassmindsetcoaching
WHAT CLIENTS have to say ABOUT JARETT
"Jarett was a huge help in getting me to SNAP OUT OF AUTO PILOT mode, and helped me get the life I deserved. He helped me achieve massive breakthroughs in both my work and life. His strategies and approach for helping my mindset was an amazing experience. The tools and techniques that Jarett has taught me have had long lasting effects and has allowed me to achieve GOAL after GOAL . Highly recommend Jarett... you will see results after your first session."
- Deborah Gillam, Employment Coach (Coaching Client)
Working with him was fantastic and I highly recommend it. He was always available to answer my questions, reinforce my vision, and steel my resolve. If you feel like you are stuck, don't know how to move forward, but are willing to make sacrifices in order to reach your dream, then listen to what Jarett has to say.
Gregorio Gatto, Video Game Designer (Past - Coaching Client)
Jarett has the most sought after up to date groundbreaking training under his belt, but most importantly, he uses his intuition and connection with the client to get the most out of a session. He has great listening skills and really digs deep to get to the root issue to eliminate the problem. He has a very captivating voice and personality so you are naturally drawn to him, male or female. He constantly has your best interest at heart and really has a special talent for doing healing work.
- Michelle Lee, Entrepreneur/Business Owner (Past - Coaching Client)