Description
To win capital, you must stand out from the crowd. To help you prepare for RESI on MaRS and the 3rd annual HealthKick Challenge, a conference taking place in April that unites fundraising CEOs with early-stage investors, MaRS Discovery District and Life Science Nation are hosting a three-part Fundraising Boot Camp series.
Register to benefit from a top-to-bottom masterclass on outbound global fundraising.
Startup fundraising session one – workshop outline
The first instalment in the Fundraising Boot Camp series will address the changing investor landscape, new categories of life science investors, and how to organize and execute a successful roadshow. It will bring you step-by-step through the processes of positioning your startup, developing marketing collateral, creating a website, branding and messaging, and how to reach out to a list of global investors.

Part 1:
Raising capital: The three most important questions
The changing investor landscape
Startup capital: Where did it all go?
Stages in the fundraising process - Initiating dialogue with investors
The second half of the workshop will discuss how to provide potential investors with high-quality, engaging and professional materials. Learn how to communicate your message clearly and concisely, presenting the information investors want to see in a way that helps them decide quickly and easily if you are a potential fit for their needs.
Part 2:
Branding

Key stages in the marketing process

Creating a global target list

Launching marketing & sales campaigns

Conducting face-to-face meetings
The workshop will close with a Q&A session, where you will have the opportunity to speak to Dennis about any existing challenges you face, or ask him questions about the topics he's covered.
If you're signing up for this series, why not consider applying to the HealthKick Challenge too? Early-stage and emerging health ventures will pitch to potential investors and sponsors, and there will be cash prizes on offer. You could land your next big round of funding.
Facilitator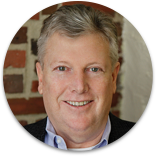 Dennis Ford is an entrepreneur and author with expertise in sales, marketing, and business development. He has spent most of his career launching new companies. Over the last decade, he has worked extensively with global alternative investors interested in high-growth, early-stage technologies. His expertise encompasses how to use database subscription services to create business solutions and how to use the Internet to create an interactive dialogue between buyers and sellers. He is a big proponent of using profiling and matching technology to find that all-important business fit in the marketing and selling process.

Ford is the author of The Peddler's Prerogative and The Fund Manager's Marketing Manifesto, two well-received sales and marketing books. His latest book is The Life Science Executive's Fundraising Manifesto.