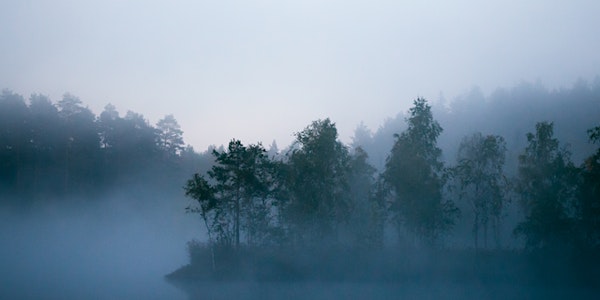 Residential Retreat with James Lowe - 2023aug31ssrc
A 3-night, Residential Silent Meditation Retreat with James Lowe at the Sea to Sky Retreat Centre
By BC Insight Meditation Society
Date and time
Thu, Aug 31, 2023 3:00 PM - Sun, Sep 3, 2023 11:00 AM PDT
Location
Sea to Sky Retreat Centre 1B1, Sea-to-Sky Hwy Whistler, BC V6Z 2P7 Canada
Refund Policy
Refunds up to 7 days before event
About this event
2 days 20 hours

Mobile eTicket
Retreat Description:
Connecting to nature, connecting to ourselves. A Diverse Retreat in Nature.
This diverse retreat rests in nature so we can engage the world.
When we live in a world filled with delusion and culture wars, it's important to reconnect to what matters. On this retreat we'll reconnect to nature, and then in turn, to our metta and compassion. Adopting the forest as our refuge, we'll examine the kind of stance we need to live an engaged wholesome life. This retreat is for individuals who identify as BIPOC.
Please read all of the information about the retreat carefully before registering:
Registration: This retreat will go on sale May 31, 2023 at 10am PST. We anticipate tickets will sell out quickly. We recommend you register as soon as possible once the tickets go on sale. Pease note that the deadline for for financial assistance is May 17, 2023 - see Financial Assistance/DEI Financial Assistance section below for details
COVID-19: It is anticipated that small gatherings will be allowed by the BC Provincial Health Authority at this time. All health guidelines in place at the time of the retreat for small gatherings will be followed and communicated to attendees.
Vaccinations, including boosters, are encouraged but proof of vaccination will not be required during check-in. Masks in shared indoor spaces are encouraged and optional. Retreatants will be asked to take a rapid COVID test within 24 hours before the start of retreat.
Tuition and Room Assignments: We are offering two rates for this retreat: Base Rate CA$425, and Benefactor Rate: CA$600. Folks who select the Benefactor Rate will receive a tax receipt for the $175 tax-deductible donation above the base rate.
We will be offering a small number of tenting spaces. These private tents are set up by SSRC on raised platforms, and have access to nearby indoor facilities. For more info and photos, visit SSRC Facilities. The tenting rate is $350. If you are interested in this option, please email jess@bcims.org.
Fees do NOT include a financial offering (dana) to the teachers. There will be an opportunity to offer dana to the teachers once you are at the retreat.
Please note most rooms on site are double-occupancy rooms. The Benefactor Rate does NOT guarantee you a single room. All registrants are assigned overnight rooms based on needs indicated in the Registration Order Form, and at the discretion of the organizers. For more information, please see "Overnight Rooms" below.
Financial Assistance:  Financial assistance is available for this retreat. Please apply by emailing jess@bcims.org, and let us know what amount you are joyfully able to contribute. The deadline for financial assistance applications is May 17, 2023.
DEI Financial Assistance: We are also offering financial assistance from our DEI fund (Diversity, Equity and Inclusion). This is intended to offer support to folks from underrepresented and systemically marginalized communities to attend residential retreats. In addition to supporting folks in the BIPOC community (black, Indigenous, and/or people of colour), we encourage folks who identify as 2SLGBTQIA+, have a visible or invisible disability, or are from other underrepresented and systemically marginalized communities, to apply by emailing jess@bcims.org. Please specify in your email that you are interested in applying for the DEI fund, and share what amount you are joyfully able to contribute.
The deadline for DEI financial assistance applications is May 17, 2023.
BCIMS Cancellation Policy:
Up to July 22, 2023 - refund offered, less a $100 cancellation fee.
From July 23 to August 23, 2023 - 50% refund offered.
On and after August 24, 2023 - no refund guaranteed.
Please note, our BCIMS Cancellation Policy applies to all ticket holders, including those with discounted tickets.
About the Retreat Centre: The Sea to Sky Retreat Centre is on a secluded site of extraordinary natural beauty in BC's coastal mountain range. It is located off the Sea to Sky Highway near Whistler, on acres of rocky mountain terrain. For more information, please visit the Sea to Sky Retreat Centre's Website.
Accessibility Needs: There will be an opportunity on the Registration Order Form to specify any special needs or accommodations, including any needs or requests on washrooms, dietary, and access needs.
We may not be able to meet everyone's preferences but we will do our best to accommodate needs and make the retreat as safe and accessible as possible. We encourage you to please reflect on the difference between needs and preferences for your stay as you fill out the Form, as this allows us to more easefully accommodate all retreatants.
Wildlife: SSRC is nestled in mountainous terrain overlooking Daisy Lake, and is home to a diversity of flora and fauna, including old growth trees, animal habitats, and jumble of plants on the forest floor. The centre is in bear country. There have been occasional sightings but there have never been any incidents. James will be offering a talk to check in on safety while we share a space with the wildlife surrounding SSRC.
On-Site Accessibility: Please note, there are limits to the Retreat Centre's infrastructure: there are no fully accessible washrooms, and the terrain includes uneven rock and dirt pathways, hills, and stairs. The location is unsuited to a standard wheelchair and may be a challenge for folks with mobility needs. Please let us know if you think these limits to accessibility will impact you, or if you have accessibility needs related to standing, walking or climbing stairs so that we can work together to assess and strategize.
Overnight Rooms: The Sea to Sky Retreat Centre has buildings for dining, meeting, and sleeping. Most accommodation is in shared double occupancy. Many areas of the property may be designated mixed gender areas. Rooms will be assigned in advance. In shared rooms, people will be housed with others with similar gender requests for housing.
There will be an opportunity to indicate on your order form a preference for sharing a room with another yogi should you be attending with a friend or partner.
Given the complexity of creating a safe and welcoming space for people's diverse needs, we ask for your understanding and flexibility on room allocation.
Attending with a partner or friend: Attending the retreat and/or sharing a room with a friend or partner can be a rich experience. Discussing ahead of time how you will keep the precepts, including the precept of noble silence, can deepen this experience for you. If you are sharing in this way, please decide ahead of time how you will honour the silence together, especially in your room. This can help both of you relax into the retreat, and support the gift of silence in the community.
Washrooms: There are washroom and showering facilities for all genders. All areas of the retreat centre have stand-alone all-gender individual facilities. If you have any questions or concerns about the washroom and showering facilities, please indicate on the Registration Order Form.
Cellphones/Devices: Our time on retreat is precious, and to support this we ask that you renounce your cell phone and other devices. The contact number of the retreat centre may be given to family or friends in case they need to contact you. If you wish, our retreat manager will take care of your devices safely and return it to you at the end of the retreat, or if you need it for emergencies. This renunciation greatly supports both your practice, and the practice of the community. Thank you!
Ridesharing: The information collected during registration regarding ridesharing will be distributed by email to all interested retreatants about four weeks prior to the retreat. Each individual is then responsible for directly making any ridesharing arrangement.
Dana: Registration fees cover retreat organizing costs, accommodations, and meals only. Voluntary donations (dana) for the teachings may be offered to the teachers at the retreat. More information will be shared with registrants.
About James Lowe:
Growing up in Vancouver, James enjoys the ocean waters and coastal mountains of BC. Nature and movement complement his Dharma practice and teaching. Trained as an adult educator, counsellor, and Dharma teacher, he combines western psychology and moving the body in nature with his Dharma teaching. He works in private practice and as a counselling instructor. James wants to steward the Dharma in an accessible, fun and pragmatic way.
With heartfelt gratitude, BCIMS acknowledges we are based in what is now known as Vancouver, BC, the beautiful, traditional, and unceded lands of the Skwxwú7mesh (Squamish), xʷməθkwəy̓əm (Musqueam), and Səl̓ílwətaʔ/Selilwitulh (Tsleil-Waututh) peoples, who live on and have stewarded this land for thousands of years.
About the organizer
BCIMS aims to be a meeting place for anyone interested in learning more about the liberating teachings of the Buddha, in furthering their meditation practice and in living their realization of the dharma.
We respond to this mandate by supporting many weekly meditation sitting groups, sponsoring residential and non-residential retreats, offering beginners' meditation classes, leading essential dharma teaching programs, and participating in compassion-in-action activities.