Resilience: A Must-Attend Course for Perfectionists, with Shelagh Donnelly
A Better Approach for Perfectionists: Resilience for High Performance, with Shelagh Donnelly
About this event
Resilience: A Must-Attend Course for Perfectionists - 75 minutes, including Q&A
Has anyone ever called you a perfectionist, or gently hinted at such tendencies? If so, you may want to consider whether you're investing your energies in the right direction.
Many assistants are known for a tendency toward perfectionism. Shelagh was one of them. More than a few who are invested in high performance wear the "perfectionist" label as a badge of honour, and yet there's a more effective and less taxing way to approach performance outcomes and your career.
Of course, you want to be known for the quality of your work. When it comes to performance outcomes and your career, though, you may be better off choosing resilience over perfection.
Join Shelagh for a look at why resilience is a better focus, and some strategies to help bend that curve when it comes to perfectionist tendencies. This course is ideal for assistants who are seeking both strong performance outcomes and career satisfaction.
Key learning objectives
1. The quest for perfection, and the Ps and Qs associated with perfectionism
2. Nurturing your resilience to help drive performance and outcomes
3. The significance of networking to your professional growth and your resilience
Included with your registration
60-day access to recording of our session
PDF companion workbook, to download and use as you watch the recording
certificate for your professional development portfolio
What participants have said about this course and Shelagh's webinars
"Thank you SO much!  ... It was truly inspiring and amazing. I learned a ton.  You said a lot that provided much food for thought and reflection."
"very informative – just the right level"
There were a lot of useful tips"
"Shelagh turns a mundane subject into a lively presentation! Her sense of humor and creative slide images add value to the presentation."
"Many things made me feel like I was on the right track and others made me glad I had taken this webinar!"
"Shelagh was exceptional ... Well prepared, impeccable knowledge."
"Your advice was both practical and inspirational"
About your trainer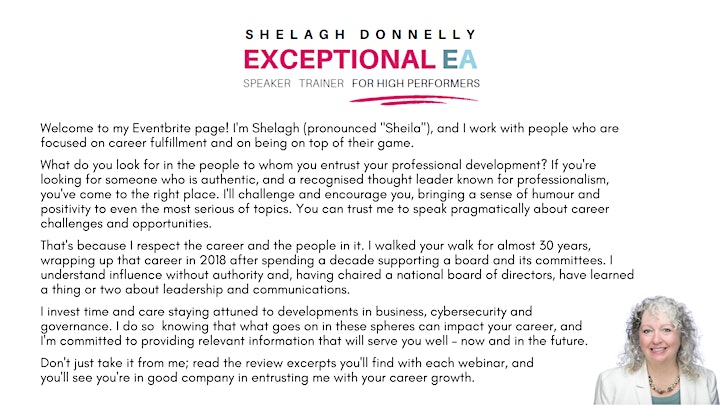 Invest in your career with someone who's walked the walk and presents on current best practices
Shelagh is trusted and respected by assistants and employers around the globe. She has been publishing her Exceptional EA website since 2013, and writes for other publications. An in-demand trainer, Shelagh works with conference organisers, professional associations, government bodies, higher education and businesses, including corporations such as the NBA.
For Shelagh's bio and a sampling of clients and references, please click here.
Registration fee
The fee for this course is $60 US. Depending on currency fluctuation rates, that's approximately £44, or €51.
Canadian residents registering for this webinar will want to know that Shelagh has included the $3.52 CAD GST in the cost.
What's included in this registration fee?
This is a live, 75-minute webinar that Shelagh will present via GoToWebinar. You'll receive your unique access link via a GoToWebinar email within 24 hours of registration.
After the webinar, Shelagh will email you a certificate of attendance that will come in handy for tracking and showcasing your professional development.
You'll also have access to a recording of the webinar for 60 days post-event. This can come in handy if you'd like to review a concept, and if time zones or people throw your schedule for a loop the day of a webinar.
As well, Shelagh has prepared a companion workbook for you. Shelagh publishes this along with the session recording, and it's ideal to have at hand as you watch the recording.
Speaking of time zones ..
Check out the time in your time zone. Shelagh will present this live at 10:00 a.m. PDT/GMT-7 hours; click here to access a time zone converter. If this represents the wee hours of the night in your time zone, you'll be in good company by registering and relying on access to the recording and PDF companion workbook.
Date and time
Location
Refund policy
Organizer of Resilience: A Must-Attend Course for Perfectionists, with Shelagh Donnelly
The best assistants are always learning, through experience and by engaging in professional development. While plans for a number of conferences and other in-person learning opportunities have been postponed, that needn't put a pause on your professional growth.

In fact, given the way 2020 continues to unfold, it may be more critical than ever to continue to connect, learn and adapt. Shelagh's adapting as well, and is offering webinars focused on how to navigate and succeed during these interesting times.

Investments in quality and yourself

When you attend Shelagh's webinars, you're investing in quality and in yourself.

It's astute to take advantage of complimentary webinars you may find helpful; Shelagh has delivered and attended some herself. There are limitations, though, on the depth of professional development that can be acquired without financial investment.

That's why it's also astute, given post-pandemic changes and challenges ahead, to invest in learning from someone who's walked the walk for decades, and done so during times of not only growth, but also upheaval and recession. Someone who knows what it's like to be an on-call employee as well as having been a direct report to four CEOs and having supported board chairs, which was Shelagh's last role before turning to speaking and writing full time in 2019.
Post-event access to webinar recording

You'll have access to a recording of the webinar for a 30-day period after the live event. This can come in handy if you'd like to review a concept, and if time zones or people throw your schedule for a loop the day of a webinar.
Certificates of attendance

After attending, you'll receive a certificate of attendance to add to your portfolio and help track your professional development. Such records are also useful when preparing for performance reviews/evaluations.