Resilient Entrepreneurs Toastmasters
A virtual weekly program to upskill your communication and leadership in business and entrepreneurship. Open to international members!
About this event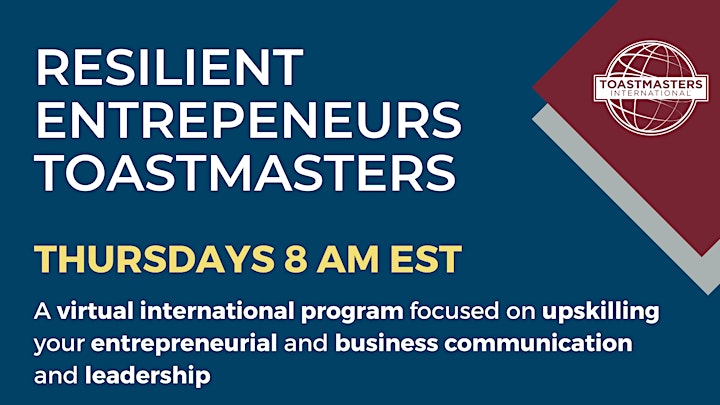 Resilient Entrepreneurs Toastmasters
We meet every Thursday at 8 - 9:15 AM EST.
Click here to attend our meeting to see the benefits of Toastmasters and our focused vision to advance your communication and leadership development for any business, entrepreneur, and workplace environment.
Join our membership to experience the full benefits of Toastmasters meetings in a safe and supportive space.
Gain confidence in speaking prepared and impromptu in a business and entrepreneur setting
Build your network with successful and emerging entrepreneurs worldwide
Learn from an internationally renowned educational training program
We are looking for 20 members (open internationally and virtually) to launch our program!
Register here to attend a Resilient Entrepreneurs Toastmasters meeting.
We look forward to meeting you!
Contact Anja Gangur (agangur@outlook.com) for any questions.