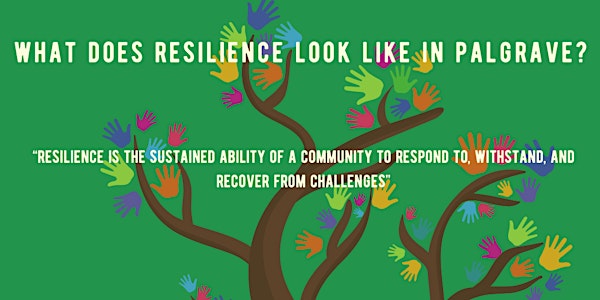 Resilient Palgrave Walking Eco-Fair
Join us to learn more about community groups and organizations making a positive impact in the community!
About this event
Resilient Palgrave Walking Eco-Fair
Participate in "resilience" themed workshops, Repair Cafes, a Community Scavenger Hunt, guided TRCA walk - and, learn about Resilient Caledon, EVs, the Community Climate Council, Bike Brampton and much, much more!
Scheduled "Resilience" Workshops - registration required
Resilient Storytelling - What does resilience mean to us now, and how have we been resilient to challenges in the past? What might a future vision of a Resilient Palgrave look like, and how do we get there? (available @ 9:15, 10:15 and 11:15 a.m.)
What's the BIG Deal about Food? - Join ecoCaledon to learn about the planetary benefits of plant-rich diets. (available @ 9:15, 10:15 and 11:15 a.m.)
TRCA Guided Hike - Join the Toronto and Region Conservation Authority for a one hour guided hike.
Visit one of our INCREDIBLE community organizations:
Resilient Caledon
Mount Wolfe Farm
The Birch Shoppe
Palgrave United Community Kitchen
The EV Society of Caledon
Non Perishable Caledon
Bike Brampton
Palgrave Girl Guides
Palgrave Rotary Chuck Wagon
Community Climate Council
Repair Cafe (details to follow)
COVID Safety Measures
As per Peel Public Health requirements, we will be contact tracing, screening participants upon arrival and asking participants to wear masks when social distancing cannot be followed.
In addition, for participants who have registered for one of our indoor activities and Repair Cafes - we require proof of full vaccination as per Ontario government COVID related regulations.*
*As of September 22, the Ontario government is requiring individuals to be fully vaccinated and provide proof of vaccination along with photo ID to access certain public settings and facilities. If you cannot receive the vaccine due to medical exemptions, you will be allowed entry with a doctor's note. This does not apply to children under 12 years of age. Get more information from the Ontario government about the requirements to provide proof of vaccination.