Resistance in the Age of Trump - with Rick Salutin
Description
Two well-known Canadian progressives speaking about the urgent need for ordinary citizens to come together to confront the rise of the alt-right movement.

Rick Salutin is a well-known Canadian novelist, journalist and playwright. Until 2010 he wrote a regular column for the Globe and Mail and since 2011 he has written a column for the Toronto Star.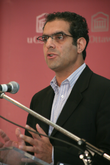 Amir Attaran is a Professor in the Faculties of Law and Medicine at the University of Ottawa. He holds the Canada Research Chair in Law, Population Health and Global Development. Prof. Attaran was born in the United States and holds American, Iranian and Canadian citizenship.