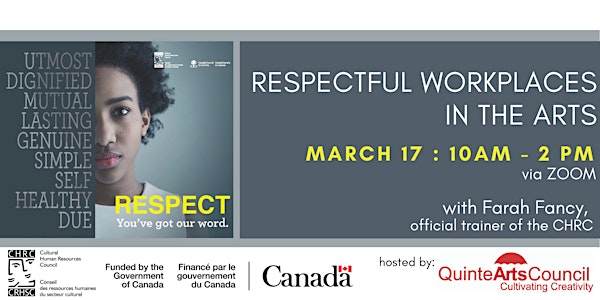 Respectful Workplaces in the Arts : Workshop
Do you know your legal rights and responsibilities when it comes to Respectful Workplaces?
About this event
Canadian Heritage and the Cultural Human Resources Council (CHRC), in partnership with the Quinte Arts Council, are offering this Respectful Workplaces in the Arts workshop to encourage better workplace practices and behaviours.
Facilitated by official CHRC trainer Farah Fancy, the topic will be addressed through information, small group discussion, case study analysis, and engaged activities to reinforce learnings.
The aim of the session is to explore how to best deal with situations that could result in harassment with the ultimate goal of eliminating harassment and increasing respect in our workplaces.
The workshop is intended for non-profit organizations and cultural workers in any of the cultural disciplines or industries: managers, administrators, technical personnel, Board members, volunteers and, obviously, artists.
We will examine:
What IS and IS NOT a respectful workplace
Definitions of harassment in all its forms, including sexual harassment, bullying, intersectionality and microaggression
Provincial legislation and Human Rights requirements
Review case studies to navigate the complexities of problematic situations
Our role in supporting a respectful workplace and options for reporting
Resources towards contributing to better work environments and/or to develop policies/codes of conduct.
This live and interactive training is four (4) hours long held on Zoom and participants must be present for all four (4) hours to complete the training.
You will receive the Zoom link prior to start date.
Participants will receive after the session:
All slides from the presentation
A logo to show completion of the training (compliant with Canada Council for the Arts recommendations)
A sample Code of Conduct
Support services resources
A Human resources toolkit
Accessibility information:
This will be an interactive session, so participants should be ready to participate;
Participants should keep their video on when possible;
The session will not be recorded;
Come ready with a writing utensil and paper, plus a scrap piece of paper, a tissue or a paper towel;
At times the facilitator will be putting participants into small groups for people to discuss the topic at hand; and,
There will be breaks when the group reaches certain milestones in the material.
Note: This session does not replace legal advice nor is it a therapy session.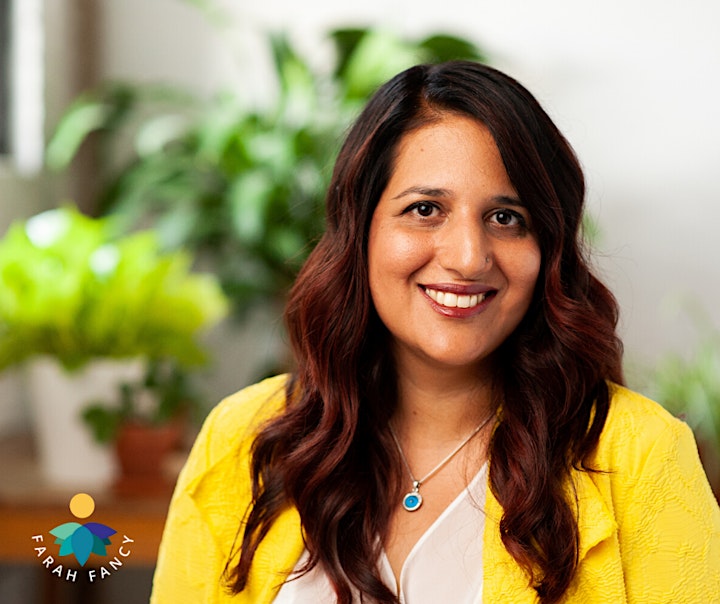 FARAH FANCY (She/Her)
Public Speaker/Consultant , Montreal, Quebec