Rethinking International Organizations
Exploring the role and structure of international organizations in light of changing international priorities such as climate & COVID-19
About this Event
The lecture will propose that fundamental concepts of international law need to be rethought and revised in light of changing international priority.
One main thesis of the lecture is that - contrary to conventional wisdom - international organizations do not need to have members, and the members do not need to be states and international organizations. Private sector entities may be full members of international organizations, as well. Furthermore, international organizations do not need to possess international legal personality, nor is their autonomy a corollary of their personality. Moreover, the notion of "the subject of international law" needs to be defined in a wider manner and the very concepts and definitions of "intergovernmental organization" and "international organization" needs to change. The argument is propounded that the power of the creation of new organizations has passed over to international organizations and other entities. The lecture will also explore if international organizations need to open to the outside by becoming forums for a wide range of stakeholders. Moreover, their funding structures need to evolve, in particular, those of international organizations producing global public goods.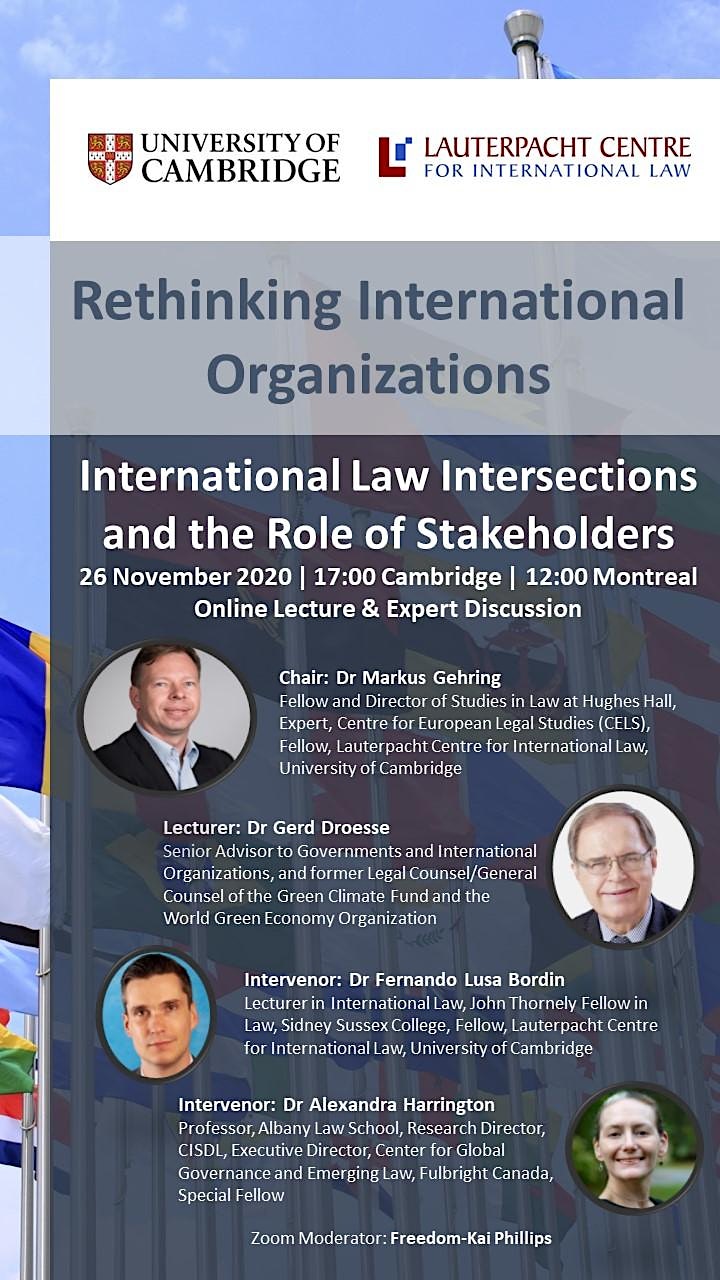 Chair: Dr. Markus Gehring, J.S.D. (Yale), Dr. iur. (Hamb), LL.M. (Yale), M.A. (Cantab), is Director of Studies at Hughes Hall at the University of Cambridge, Lead Counsel for Sustainable Trade, Investment, Financial Law at the Centre for International Sustainable Development Law (CISDL), and formally a Sir Arthur Watts Fellow at the British Institute for International and Comparative Law (BIICL). Dr. Gehring also serves as a Jean Monnet Chair in Sustainable Development Law, a University Lecturer in the Faculty of Law, University of Cambridge and a Fellow in Law at Hughes Hall. He is also a Founding Fellow of the Cambridge Centre for Environment, Energy and Natural Resources Governance (CEENRG) and a Fellow of the Lauterpacht Centre for International Law (LCIL).
Lecturer: Dr. Gerd Droesse, Dr. iur. (Hamb), German law degree (Würzburg /Lausanne) is a recognized specialist in institutional law, international administrative law, complex institutional and financial policy matters and corporate governance issues, with over 35 years of experience in working for international organizations in senior and management positions. He was employed in the Asian Development Bank at the Director level, and was the Legal Counsel/Acting General Counsel of the Green Climate Fund and General Counsel of the World Green Economy Organization. Dr. Droesse has been teaching since 2017 at the Paris School of International Affairs (SciencesPo) and is currently a Visiting Professor at the Tashkent State University of Law. Dr. Droesse is the author of the book titled: Funds for Development. Multilateral Channels of Concessional Financing" which was launched in 2011 at the National University of Singapore and of the book mentioned above, and has contributed chapters to five other books.
Intervenor: Dr. Fernando Lusa Bordin, Ph.D. (Cantab), LL.M. (NYU), LL.B. (UFRGS), Diploma of Public International Law (Hague Academy), is a Lecturer in International Law, John Thornely Fellow in Law, Sidney Sussex College, and a Fellow of the Lauterpacht Centre for International Law.
Intervenor: Dr. Alexandra Harrington, J.D., LL.M., D.C.L. (McGill) Professor, Albany Law School, Research Director, CISDL, Executive Director, Center for Global Governance and Emerging Law, Fulbright Canada, Special Fellow.