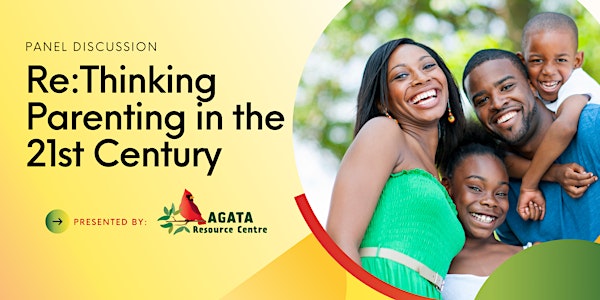 Rethinking Parenting in the 21st Century
We'll dismantle archaic ideas of parenting to invite more peace, communication, and laughter into the home.
Refund Policy
Contact the organizer to request a refund.
Eventbrite's fee is nonrefundable.
About this event
Parents' love involves a constellation of ingredients: care, affection, recognition, respect, commitment, and trust, as well as honest, and open communication.
- Bell Hooks
Being a parent is the most important and challenging job many adults will have in their lifetime. Because parenting styles play an important role in helping children develop the emotional and social skills that will help them succeed in life, the responsibility of being a parent is immense and can feel overwhelming. Designed to help you wherever you are on your parenting journey, our panel with working and lived experience will discuss with you many important topics related to:
Parenting and mental health
The ethnic and cultural dynamics of parenting
How the style of parenting shapes our lives and everyday experience
The effect of parenting behaviour and its impacts on the child(ren)'s outcomes
The influence of intergenerational function across the life span
Styles of parenting and parenthood methodologies
How socio-demographic structures and characteristics impact our parenting
The impact of social dynamics in the construction/de-construction of identity
Our children do not belong to us; each child belongs to themselves. Once the umbilical cord has been cut, the child becomes autonomous. But the child will need the parents and community guidance as surety to assist in the developmental stages.
- Gaddie-cur McGowan.
Using various lenses, we will look at and re-imagine how our predecessors, namely our grandparents and parents, managed parenthood during different eras. By focusing on parenting techniques and styles that will help you fulfill your child(ren)'s emotional needs and minimize power struggles, we will aim to shift the mindset from being a frustrated parent to being connected and thriving as a familial unit in today's uncertain times.
Our Panelists:
Aaron George
Aaron George is a transformational coach and Insurance Advisor. He believes that learning and development is a main component to living a successful life. Aaron has been a trainer/coach for over 10 years. He started his career as a junior accountant and transitioned into training and coaching, a result of the many life lessons he learned while going through a divorce at the age of 23. While working to rise up from depression and all the things that accompany divorce, Aaron realized that the tools that can be used for healing were already in his possession through his subconscious mind. Aaron has furthered his skill set with certifications from Langevin Learning Services and Fowler Wainwright Institute. He uses a combination of his own life lessons and systems acquired from his certifications to assist his clients in achieving their desired outcomes.
Jamela Glasgow
Jamela is a mother, Registered Massage Therapist and Child and Youth; with over 20 years' experience in social services and healthcare combined. She has worked in children's mental health with school boards to assist in managing children with aggressive/challenging behaviours. She also has experience in pediatric rehab and pediatric palliative care with children, adolescents and families alike. Jamela' experiences, have helped her to understand family dynamics and assist in strengthening family relations through building communication skills, by focusing on strength-based approaches.
Khalil Dorival
Khalil Dorival is an Author, Speaker, Church Youth Leader, Facilitator and Invisible Hero Awarded by Toronto Police Services & Child Care Services. He is the Founder Khalil Dorival Enterprise (K.D.E). An organization dedicated to addressing the social and economic barriers that youth face through mental wellness workshops. Khalil's major goal is to inspire people to love themselves and in return love others. His biggest dream is to impact the world globally by giving back to people what God and many mentors have invested in him. On his journey to success and personal well-being, his sole desire is to change lives, sowing seeds of hope and teachings to bring out the best in people.