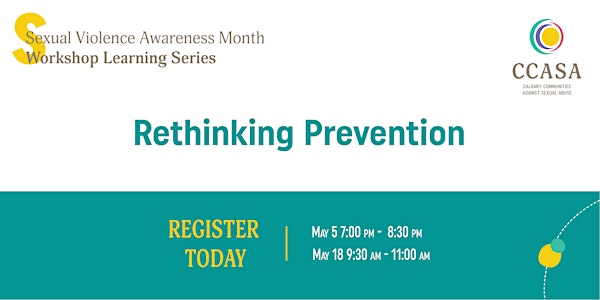 Rethinking Prevention
Workshop Learning Series for Sexual Violence Awareness Month
About this event
About this Event
1.5 HOURS ONLINE WORKSHOP - By Calgary Communities Against Sexual Abuse (CCASA)
ABOUT THIS WORKSHOP
Online and interactive workshop that will help you engage in conversations about the complexities of sexual assault.
It's time to talk about true prevention. In this workshop, we explore the harmful history of safety tips and focus instead on effective strategies for sexual violence prevention.
Participants will gain an understanding of:
The impact of 'safety tips' and a new prevention lens
The difference between sexual assault prevention and sexual assault avoidanceal assault can impact individual and leave feeling more confident on your ability to respond to a disclosure in a positive and supportive way.
Who will benefit from these workshops?
Anyone! This workshop is intended for anyone wanting to know more about Sexual Violence and how to be apart of the solution. Even those with some experience already.
How do I attend the workshop?
This workshop will take place using the conferencing platform Zoom, and the link and password will be sent out 24 hours in advance of the workshop.
The workshop is interactive. We strongly encourage all individuals accessing the workshop to have a computer/laptop that enables them to see video, hear audio, and have microphone access.
FAQ
Can I buy more than 1 ticket?
We currently have a limit of 1 RSVP ticket per person. If you are looking to book a presentation for a larger group of people or for multiple staff members of a workplace or organization, please contact us at education@calgarycasa.com for more information on group training options.
Are the workshops confidential?
At CCASA confidentiality is of utmost importance. We ask that you do not share the workshop Zoom link with others in order to ensure confidentiality of all other participants.