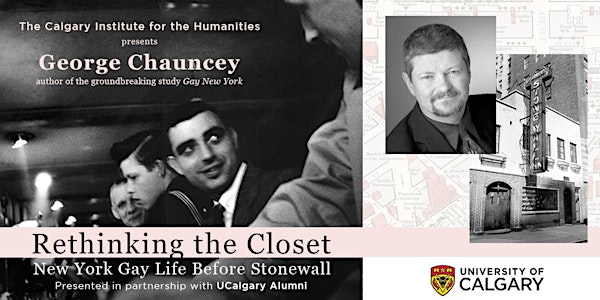 Rethinking the Closet: New York Gay Life Before Stonewall
Location
Central Library
800 3 Street Southeast
Patricia A. Whelan Performance Hall
Calgary, AB T2G 0E7
Canada
Description
The inaugural Calgary Institute for the Humanities LGBTQ+ Lecture hosts Dr. George Chauncey, author of the groundbreaking study Gay New York. Dr. Chauncey will present a follow up to his acclaimed book, with a look at gay culture in New York between World War II and the 1969 Stonewall uprising.
Although the 1969 Stonewall rebellion is often presented as the starting point for gay life and politics, this lecture describes the extensive gay world that existed in New York decades before Stonewall. Chauncey explores the different forms gay male life took in the city's racially segregated postwar neighborhoods and analyzes the dramatic impact the Second World War had on gay consciousness and cultural styles.
George Chauncey, Professor of History and director of the Columbia Research Initiative on the Global History of Sexualities, works on the history of gender, sexuality, and the city, with a particular focus on American LGBTQ history. He is the author of Gay New York: Gender, Urban Culture, and the Making of the Gay Male World, 1890-1940 and Why Marriage? The History Shaping Today's Debate over Gay Equality. Since 1993, he has participated as an expert witness in more than thirty gay rights cases, including Romer v. Evans (1996), Lawrence v. Texas (2003), and the marriage equality cases decided by the Supreme Court in 2013 and 2015.
Doors open at 5:30 p.m.
A reception will follow the event, presented in partnership with UCalgary Alumni.
Co-sponsored by the Journal for the History of Sexuality.