Description
The Retinoblastoma Research Symposium brings together retinoblastoma survivors, family and friends of those diagnosed with retinoblastoma, health professionals and researchers.
The symposium is comprised of the following three events:
1. Retinoblastoma Family Gathering: a unique opportunity for knowledge dissemination and exchange. Families affected by retinoblastoma will be invited to attend seminars by retinoblastoma experts (i.e. patients, researchers and health professionals). Seminars will discuss advances in research, common questions about retinoblastoma and retinoblastoma advocacy. There will also be a marketplace to allow various organizations to showcase the full range of supports and services available to retinoblastoma families. Pizza and light refreshments provided.
2. Annual Canadian Retinoblastoma Research Advisory Board (CRRAB) Meeting: a multidisciplinary group, CRRAB, was developed to sustain patient engagement in retinoblastoma research. The first Annual CRRAB meeting (December 2016) brought together a highly successful group comprised of patients, family members, researchers, and health professionals. Existing and prospective CRRAB members are invited to learn more about the accomplishments of CRRAB and influence the direction of CRRAB for 2018. Coffee breaks and lunch provided.
3. Child Life Directed Children's Program: coinciding with the family gathering and the CRRAB meeting, the program will include art activities that focus on eyes, sensory play and medical play. Snack and meals provided.
For a detailed agenda, please click here.
---
Additional Information
Please watch this page for information about the symposium.
Travel Stipends: a limited number of modest travel stipends are available for patients/survivors/families who live outside the Greater Toronto Area. If this applies to you, please request a travel stipend during the registration process and we will get back to you. Families with more than one attendee are eligible for multiple stipends. (Note, this does not guarantee a stipend, we will consider all requests and respond by email.)
Accomodation: The Chelsea Hotel has kindly offered discounted hotel rates for synposium attendees. Click here to reserve. The discounted rate will only be available until December 1.
Meeting Venue and Parking: The meeting will be held in the state-of-the-art Peter Gilgan Centre for Research and Learning, located at 686 Bay Street. Parking is available on Elm St. between University Ave. and Elizabeth St.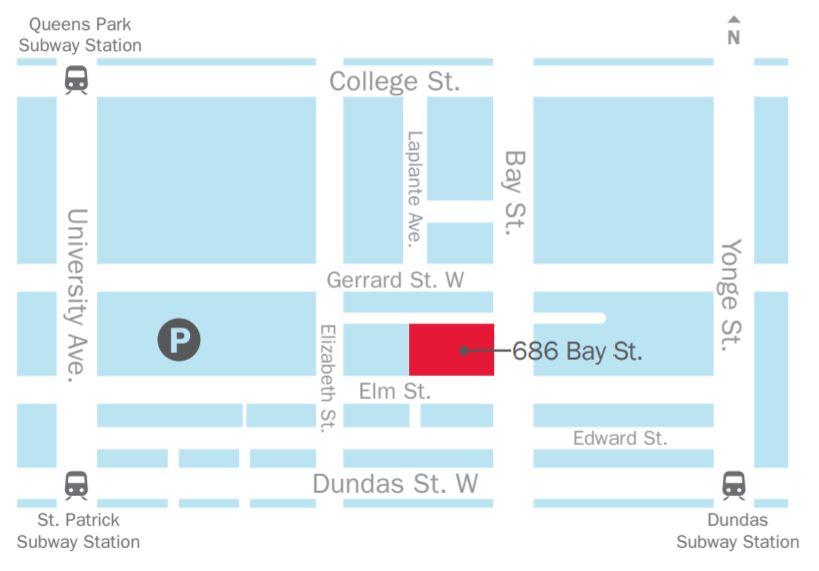 Supported By: