Description
An Intimate All-Inclusive Retreat for Healing Relationship with Yourself, Your Loved Ones & with Life - with Yogacharini Maitreyi

Reconnecting is the path of love. To lovingly and patiently allow for life's mysteries to unfold through relationship. The deeper our relationship to ourselves, the deeper our connection to life.
- Yogacharini Maitreyi
This small-group retreat is perfect for individuals who want to heal, align with bliss and set the stage for a year of greater harmony from the inside out - all in a safe and beautiful setting on the Sunshine Coast. Couples and families are also encouraged to attend together to facilitate healing and cultivate greater harmony within and as a group.
Please scroll to the bottom to see the discount packages for groups of 2 or more and families!
NOTE: This is happening on the Family Day Long Weekend so the Monday is a holiday

The Great Room at Linwood House Where We'll Gather by the Fire


Questions?
Email: infoarkaya@gmail.com
Or call Ross McKeachie at: 604-358-9223


What to Expect
This is an all-inclusive retreat at the beautiful Linwood House, in Robert's Creek on the Sunshine Coast. Healthy, delicious and nourishing vegan food will be provided by Carmen's Cuisine. There will be gluten free options and as much local, organic fair as is available.
Everything will take place in Linwood House and on the property. There is a beautiful yoga studio space in the upstairs of this gorgeous and warm manor. The container will be held for 3.5 days and 3 nights in order for participants to connect deeply within and, therefore, deeply with others and with life itself. On the last day, we will head into Gibsons and hold a 3-hour session at a space there. The local community will be invited and participants are encouraged to invite friends and loved ones to join in as well.
You will learn timeless practices rooted in the art and science of classical Indian Yoga and traditional Tantra. There will be time for contemplation and silence as well as for connecting with the group over food or by the fire in the great room at Linwood House.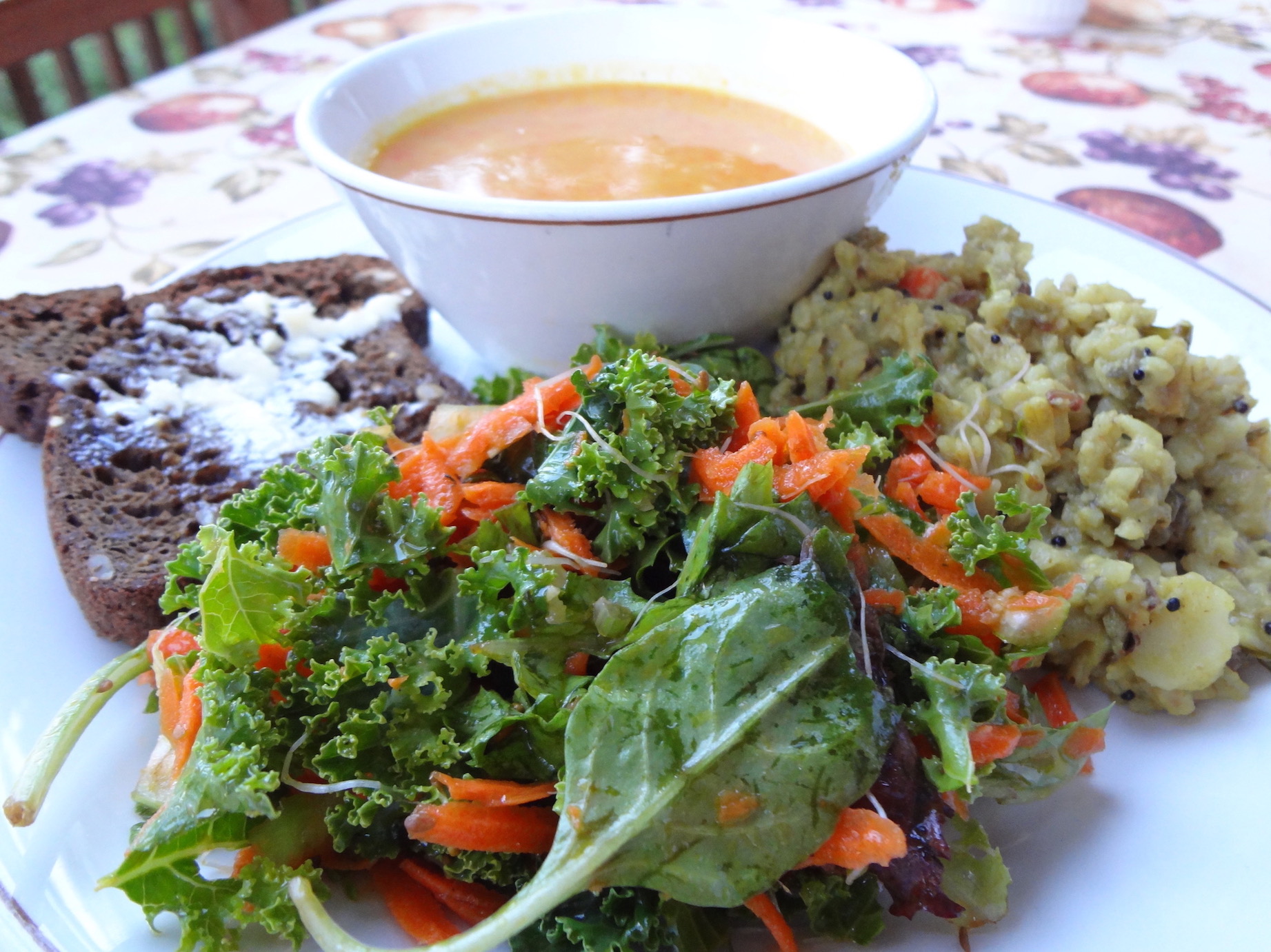 Nourishing Vegan Meals Provided by Carmen's Cuisine
Support
In addition to being led by master teacher, Yogacharini Maitreyi, you will be supported by Ross McKeachie and Kiana Rosskothen. They are both Arkaya Yoga teachers and healers/coaches who have been studying with Maitreyi for a number of years and are immersed on the path of self-awareness.
Intention
You will spend time journalling and creating a vision for the new year. We will also have a Homa (fire ceremony) outside at the firepit on the Linwood House grounds. This ceremony will allow you to burn away the old and invoke your new vision for life anchoring the work of journalling and visioning.
Sacred Music
In order to facilitate the deepening and integration of the practices, there will be live, sacred music with multi-instrumentals and singing bowls.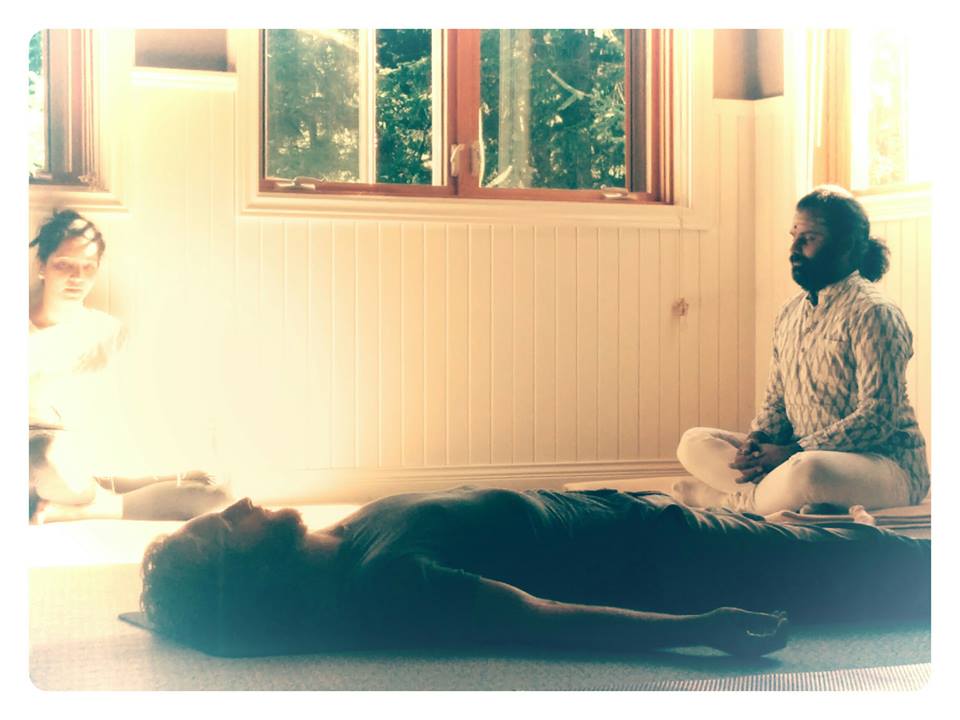 Connect Deeply to Yourself in a Safe & Supportive Environment


The Essence of the Retreat
Set sankalpa (intention aligned with the highest) for the new year through three nights and 3.5 days of immersing in love. The Homa (fire ceremony) will also help to anchor your sankalpa as well as release the past.

Love is the practice. Loving reconnective practices will enable your rough edges and the "why me's?" to gently melt into a state of gratitude for this life.

Through healthy boundaries and softening of your reactive states, you will learn to dance the dance of life with grace that leads to bliss.

The practices with allow you to connect to guidance from the Cosmos and your higher intelligence.

Reconnect to your food with good company. Healthy, delicious and nourishing vegan food will be provided by Carmen's Cuisine. In Yoga, the food we eat helps to facilitate deeper healing and meditative states. When we eat consciously and with a conscious community, we are uplifted and fulfilled.
Trauma causes disconnection and disconnection perpetuates more trauma, emotional distress, isolation, loneliness and feeling unsupported and unsafe. Unresolved trauma leads to more drama
- Yogacharini Maitreyi


About Your Facilitator: Yogacharini Maitreyi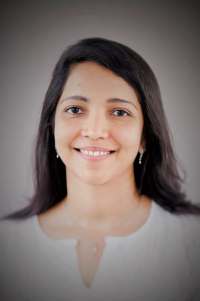 Maitreyi's heart sings to see lives blossom into consciousness. She is a Practical Mystic and International speaker who has presented in over 20 conferences around the world. She has been teaching internationally for over 20 years. She has trained over 50 corporations in self and stress management and enlightened leadership.
With over 100 published articles and poems in leading news dailies and journals, Maitreyi is highly regarded in her home country of India. She has been given many titles: Yogacharini (Guide and Visionary), Yoga Chemmal (Expert) and Yoga Shiromani (gem) since 1997.
Maitreyi has called Vancouver home for the last two years after feeling called to build more community and train Arkaya Yoga Teachers and Healers in the city. She greatly enjoys community and the communion.
SOUND HEALING ALCHEMIST
David Yates will create beautiful healing sounds with his connected, transformational instruments.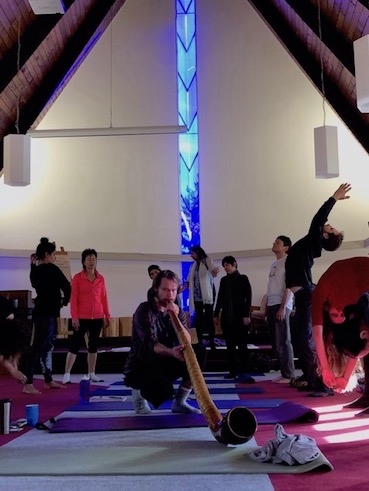 Photo of David playing the didgeridoo taken at the Arkaya New beginnings retreat in Gibsons
David Yates will provide music on the handpan, flute, didgeridoo, djembe and other instruments to help us move prana. Experience the vibrations created by this multi-instrumentalist, which will enhance the reconnection process you will experience throughout the retreat.


The Setting: Linwood House on the Sunshine Coast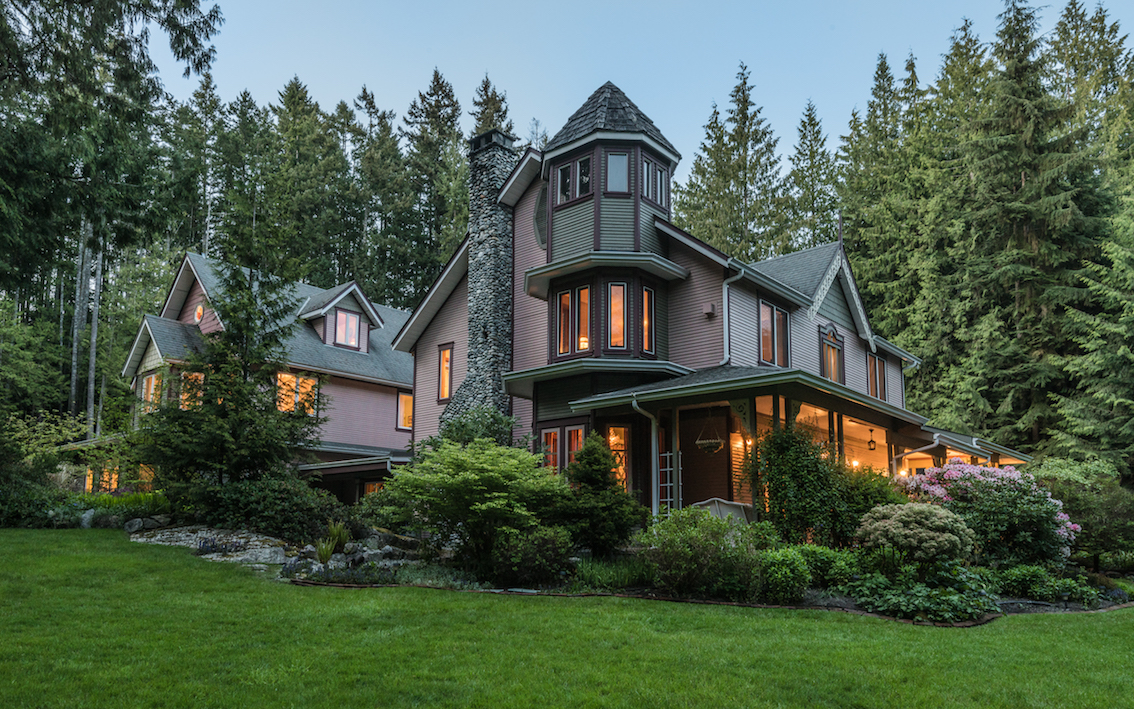 The Serene Setting at Linwood House
Linwood is a comfortably luxurious retreat home. The atmosphere is warm and inviting. The garden is beautiful with many private nooks for reflection. Since 2001, Linwood House has hosted hundreds of retreats and special celebrations that have resulted in many happy clients. No matter the purpose of the retreat or celebration, people come with expectation, often weighted with the cares of life, and leave inspired, and connected and with renewed possibilities.
To learn more about Linwood House and get excited by looking at more pictures (!), go to: www.linwoodhouse.ca
Bedroom Arrangements
Guests will enjoy their stay in beautifully appointed bedrooms. There are 5 rooms with two beds for shared accommodation and 3 with queen beds for single occupancy. For those who wish more privacy, 2 suites with fireplaces, sitting areas and private bathrooms are available. Each room enjoys a lovely view of the garden and forest. Bedrooms will be allocated based on individual needs.


Questions?
Email: infoarkaya@gmail.com
Or call Ross McKeachie at: 604-358-9223
Schedule
Friday Feb. 15:
3 - 5 PM: Arrive at Linwood House
6 PM: Welcoming Dinner
7:30 PM: Orientation
9 PM: Bedtime
Saturday & Sunday Feb. 16/17:
7 AM: Morning herbal infusions
7:20 - 9:20 AM: Morning Arkaya practice
9:30 AM: Breakfast
10:30 AM - 1 PM: Time for solitude & integration... contemplation, walking, reading, journalling, sleeping and processing emotions
1 PM: Lunch
4 - 6 PM: Healing Arkaya practices
6:15 PM: Dinner
8 - 8:30 PM: Envisioning and meditative practices
NOTE: Sunday evening will include the Homa (fire ceremony)
9 PM: Bedtime
Monday Feb. 18:
10:30 AM: Brunch
12 PM: Everyone is packed and ready to leave
1:15 - 4:15 PM: 3-hour Arkaya session at a studio in Gibsons.
NOTE: This 3 hour session is open to all and a way for you to invite family members and friends you want to heal and grow in love with.
5:25 PM: Ferry leaves from Langdale to Horseshoe Bay.
NOTE: All participants who are driving are strongly encouraged to make a reservation ASAP at www.bcferries.com/bcftravelcentre. If you miss the 5:25, there is another ferry at 6:40 PM. After that, the next sailing is at 8:55 PM.
Testimonial
Namaskaram!

Thank you, thank you, thank you for a magical experience this weekend!

Coming home from three full (I attended the Friday workshop also) days of Jathi and teachings, I was totally at peace Sunday evening. At peace in body, mind and soul. I felt transparent, like clear and still water. I could feel and "see" right through myself. I could even single out the few blocks left in my body, like in an x-ray photo they stood out solid against my otherwise crystal clear being. A wonderful experience!

I am deeply grateful for having had the opportunity to learn yoga from such a great teacher. Maitreyi's teachings have the quality of coming straight from the "Source".

Learning yoga in this way, puts it in the "bones". It becomes an integrated part of me and it is easy to apply it in everyday life and also to teach it.

Again Thank you!
Lena - Psychologist Teacher training Participant - Sweden


The Arkaya Community
Arkaya Vancouver is a community of heart-centred evolutionary practitioners and teachers with a variety of offerings on a weekly basis.
The highlight is the Arkaya Community Class every Thursday evening from 7:30 to 9:30 PM at Yoga on 7th (156 East 7th Ave). Starting January 19, 2019 these classes will happen on alternate Saturdays from 3-5 pm, with a break on Feb. 16th). The class structure is a foundational Arkaya Tantra Yoga session followed by a satsang led by Yogacharini Maitreyi.
This community has now started to spread to the Sunshine Coast. Ross McKeachie moved to Gibsons in the summer of 2018 and will be facilitating Arkaya classes, workshops and events.
For more info on classes, workshops, retreats or teacher trainings, contact infoarkaya@gmail.com or visit Arkaya Vancouver with Maitreyi on Facebook: https://www.facebook.com/groups/arkaya.maitreyi/.
www.arkaya.net


Investment
To secure your spot, please purchase the $100 ticket on the Eventbrite page. This is not an additional fee - it will be included in the total payment
You will then have the following payment options:
Add 5% GST to all prices
Pay by November 30, 2018: $1,150
Pay by December 31, 2018: $1,250
Pay by January 25, 2019: $1,350
Pay after January 25, 2019: $1,500
Group & Family Discount Packages

Two Friends or A Couple to share a room: $2,400
Family of 3: $3,300
Family of 4: $4,100
Family more than 4: add $700 per person
Room Upgrade Options
Add $100/person for one of the three single rooms with queen bed.
Add $200/person for one of the two suites with fireplace, sitting area and private bathroom.
Full payment can be made by sending an e-transfer to infoarkaya@gmail.com
NOTE: Other payment options like Paypal or credit card can be arranged in certain situations but service fees may apply.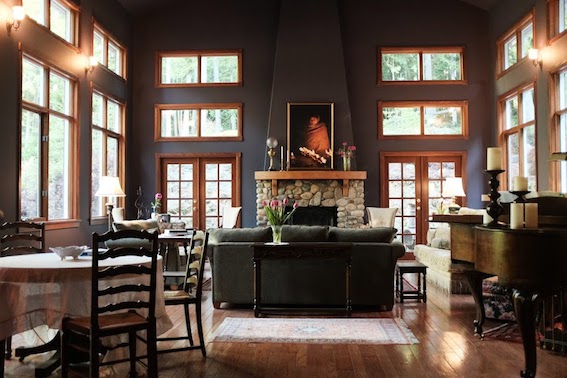 Getting to the Sunshine Coast
The Sunshine Coast is a hidden gem, just a 40-minute ferry ride from Horseshoe Bay in West Vancouver. The ferry is easily accessible by public transportation or car from Vancouver International Airport (YVR). This pristine environment is home to wildlife, artists, expansive beaches and walking and hiking everywhere you look. This is the perfect destination for anyone who is looking to unwind and reconnect with themselves and/or loved ones.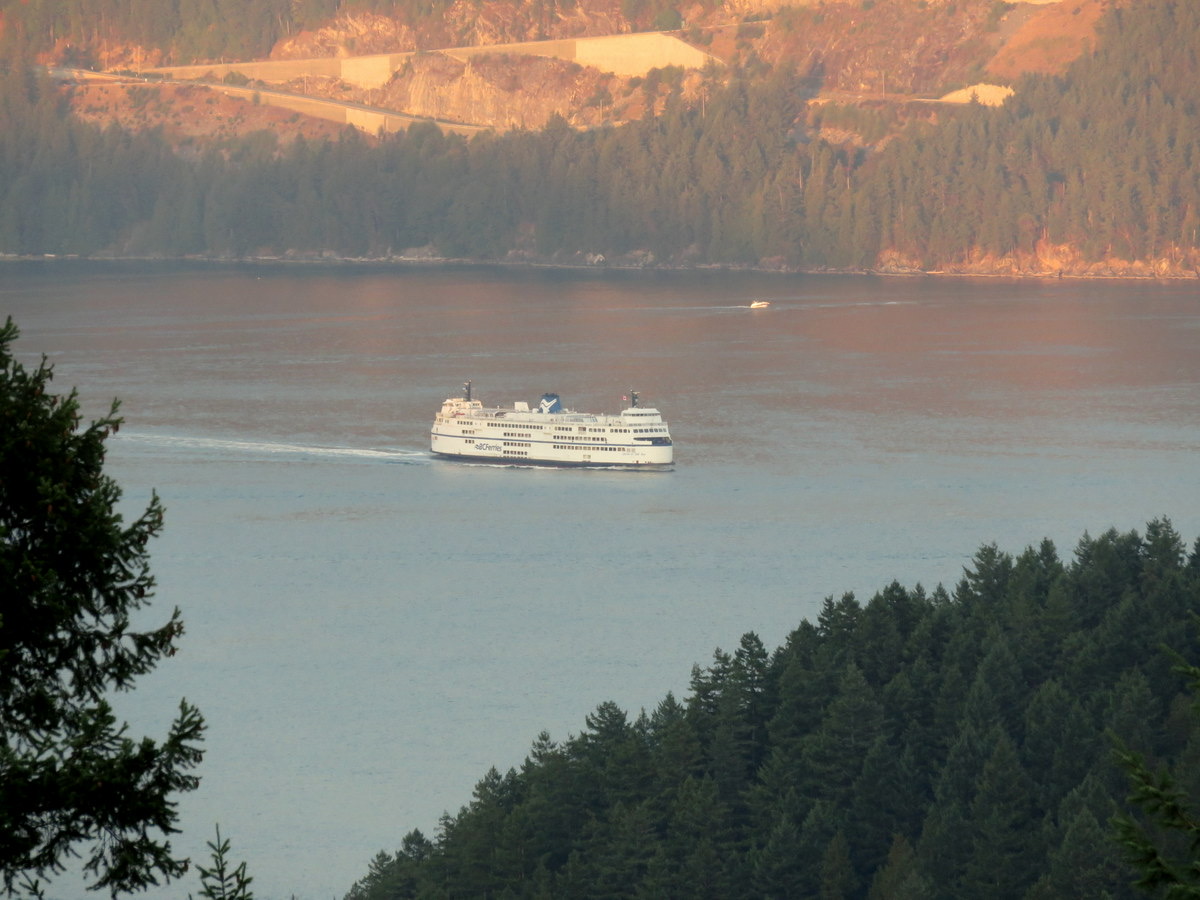 The ferry to the Sunshine Coast winds through inlets and islands
NOTE: Since this is a long-weekend the ferries will be very busy. All participants who are driving are strongly encouraged to make a reservation ASAP at www.bcferries.com/bcftravelcentre

Recommended Ferry Times:

Friday Feb. 15: In order to arrive for the welcome dinner - Preferred Sailing @ 2:10 PM / Secondary Option @ 4:20 PM
Monday Feb. 18: Earliest sailing after retreat closes is @ 5:25 PM / Next sailing is @ 6:40 PM / Last sailing is @ 8:55 PM

View Full Ferry Schedule at: www.bcferries.com/schedules/mainland/vasc-current.php


Getting Rides to and From Linwood House
If you are not bringing a car, there are a few options:

1.Taxis
There are two taxi services on the Sunshine Coast. Booking well in advance is recommended.
Sunshine Coast Taxi - Gibsons: (604) 886-7337, Sechelt: (604) 885-3666 (dispatch)
Coast Taxi - (604) 989-TAXI (8294)
2. BC Transit Bus Service from Ferry to Roberts Creek
There are two buses that go directly from the ferry terminal in Langdale to Robert's Creek. The #1 and #90. From Robert's Creek, we can arrange pick-up and a short drive to Linwood House.
For full bus schedules go to: www.bctransit.com/sunshine-coast
3. Carpooling
If you would like to enquire about carpooling with other retreat attendees, please email us at infoarkaya@gmail.com. We will do everything we can to line you up with a ride so your journey is smooth and relaxed :)


Questions?
Email: infoarkaya@gmail.com
Or call Ross McKeachie at: 604-358-9223