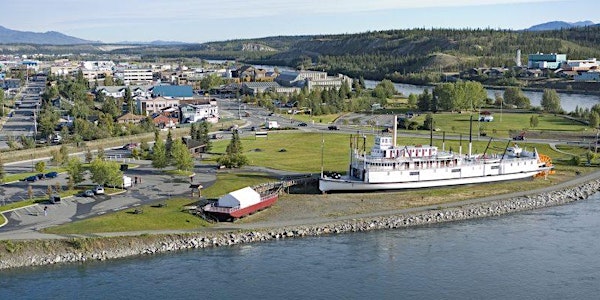 Réunion Annuelle d'ICOMOS Canada - ICOMOS Canada Annual Meeting
When and where
Location
Whitehorse Whitehorse, YT Canada
Refund Policy
Refunds up to 7 days before event
Description
VOIX AUTOCHTONES
*English below*
Joignez-vous aux membres d'ICOMOS Canada lors de la Réunion annuelle de 2019 à Whitehorse (Yukon), du 30 april au 3 mai.
Mettant cette année l'accent sur une de nos thématiques prioritaires qu'est le patrimoine et les cultures autochtones, cette réunion de plusieurs jours sera rythmée de rencontres et d'activités diverses afin de partager nos expériences, de consolider les expertises de chacun et de réfléchir ensemble aux défis et aux nouvelles orientations qui animent le patrimoine canadien en général. La réunion de cette année portera sur la cogestion et l'interprétation des lieux et du patrimoine culturel autochtones, les propositions d'inscription au patrimoine mondial et les sites du Yukon, ainsi que sur les opportunités et les défis présentés par la réconciliation et le changement climatique.
Les activités principales de cette année consistent en une série de discussions techniques animées par certains de nos membres ou par des conférenciers invités; des tables de discussions; une reception pour la cérémonie d'ouverture et la remise du prix Jacques-Dalibard.
Ces activités sont ouvertes au public, sous inscription préalable.
Consultez la programmation détaillée sur notre site canada.icomos.org
Veuillez noter: L'inscription à la réunion annuelle inclut la participation aux réunions, aux discussions et aux ateliers ayant lieu en journée, à la soirée d'ouverture et à l'assemblée générale annuelle.
Si ce n'est déjà fait, vous pouvez devenir membre d'ICOMOS Canada à l'adresse internet http://canada.icomos.org/fr/devenir-membre/ afin de profiter des tarifs réduits de la réunion annuelle. Dès que vous aurez reçu la confirmation d'adhésion, rendez-vous sur notre page Eventbrite pour vous inscrire à l'événement.
--

INDIGENOUS VOICES
Join ICOMOS Canada members during the organization's 2019 Annual Meeting in Whitehorse (Yukon), from April 30th to May 3rd.
This year's event will highlight one of ICOMOS Canada's thematic priorities: Indigenous Heritage and Culture. The Annual Meeting will therefore include a variety of discussions and activities to encourage participants to share experiences and reflect on the directions and challenges affecting Canadian heritage in general. This year's gathering will focus on the co-management and interpretation of Indigenous places and cultural heritage, World Heritage nominations and sites in the Yukon, and the opportunities and challenges presented by reconciliation and climate change.
This year's main activities consist of a series of technical discussions led by some of our members or guest speakers; round table discussion; an opening evening reception and the awarding of the Jacques Dalibard award.
These activities are open to the public, with prior registration.
See detailed programming on our website: canada.icomos.org.
Please note: Registration for the Annual Meeting includes attendance at meetings, daytime discussions and workshops, opening night reception and the Annual General Meeting.
If you have not done so already, you can become an ICOMOS Canada member at http://canada.icomos.org/become-a-member/ to have access to the reduced Annual Meeting registration fees. As soon as you receive the membership confirmation, visit our Eventbrite page to register for the event.