Being a practice owner doesn't have to be stressful. Say goodbye to fee push-back, long hours, and high stress. Register today!
About this Event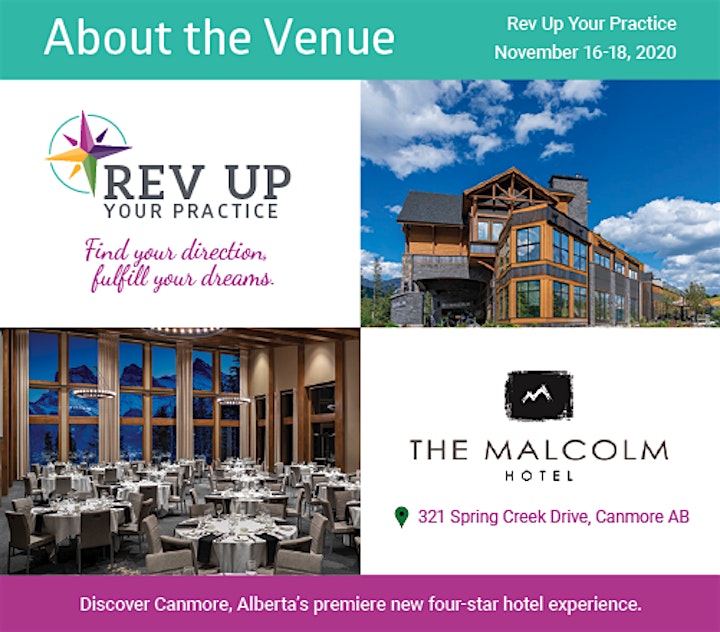 Important Announcement for Rev Up Your Practice 2020
Rev Up Your Practice was born with the intention of helping practitioners run healthier, more profitable practices while having fun and connecting with other practitioners. Our entire heart is centered around connections made face to face and under the circumstances of the world today, we feel we cannot currently meet that goal.  
As a result, we will defer 2020 Rev Up Your Practice to November 14 – 17, 2021.
Important details:
• Rev Up Your Practice 2021 will be held in Canmore, Alberta, November 14 - 17, 2021, at the Malcom Hotel (the same venue) with an amazing line-up of topics and speakers
• Early 2021, we will release hotel room booking, flight codes, and relevant travel info
If you know of anyone who did not participate last year and is interested in joining us for a reunion, invite them to subscribe to our mailing list. Details regarding the virtual 2019 Class Reunion will be sent out via our mailing list.
While we are disappointed that we will not be meeting in Canmore later this year, we are excited about the opportunities and challenges 2020 has brought us. We look forward to delivering content and the community that will help you achieve the practice and the life you desire.
Feel free to reach out if you have any questions.
Jean-Guy Talbot and the team at RêveNew Practice Management
The Origins.
Jean-Guy has dedicated a large portion of his life to learning all he can about running a profitable practice. He poured over books written by business magnates, found a mentor, and attended several practice management seminars in Las Vegas.
What he noticed is that knowledge about practice management is hard to find… and that's why in 2019, RêveNew Practice Management launched the first annual practice management event in Canada!
The event attracted practitioners across North America–including a participant all the way from Alaska.
Practice Management. Nothing Else.
Rev Up Your Practice is the first Canadian practitioner's event that does not cover tax or accounting. Featuring excellent speakers at the top of their field, the three-day conference gives practitioners the tools and knowledge they need to increase profits, motivate their team, and enjoy a healthy work-life balance.
Learn Tried and True Best Practices for:
Dealing with difficult clients
Dealing with fee push back
Charging what you are worth

Time Management
Hiring and Motivating Your Team for Productivity
Practice Profitability
Business & Psychology
Implementing Effective Marketing
Buying and Selling a Practice
Ready to Rev Up Your Practice? Register today!
To learn more visit revupyourpractice.ca