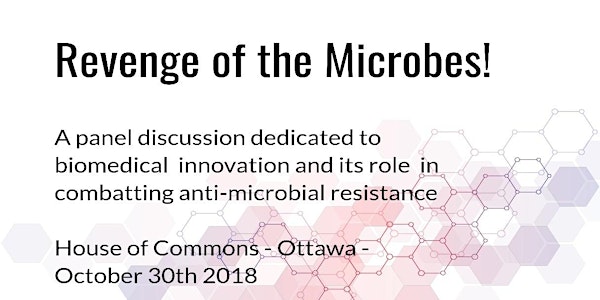 Revenge of the Microbes! It's Time for Drastic Action....
Location
House of Commons
Room 112-N
Ottawa, ON
Canada
Description
La version française figure ci-dessous
Invitation: Parliamentary Breakfast Briefing
Revenge of the Microbes! It's Time for Drastic Action
Room 112-N
House of Commons
7:30am – 8:30am
October 30th 2018
Host and Moderator: Ron McKinnon, MP, Coquitlam - Port Coquitlam
Antimicrobial resistance (AMR) has increasingly gained attention from global public health officials as drug resistant infections claims an estimated 700,000 lives per year.
The 2017 Pan-Canadian Framework for Action aims to address national priorities for AMR in Canada, and a Pan-Canadian Action Plan is scheduled to be released in summer 2019. The Pan-Canadian Framework AMR includes four central pillars: surveillance, infection prevention and control, stewardship and research and innovation.
This panel discussion will explore interdependencies of the 4 central pillars, including research and innovation, and actions that need to be taken in the short, medium, long terms to address the issue.
AMR refers to microbes that have developed resistance to certain or all types of antibiotics, either through mutations or acquisition of resistance genes. Without effective anti-infective treatment, many standard medical treatments will fail or turn into high-risk procedures including chemotherapy, solid organ and bone marrow transplant, joint replacements and other surgeries.
A diverse panel, featuring Canadian and international experts from medical, research and patent communities will address topics such as:
Current landscape of AMR innovation in Canada – our strengths and where we can lead;

Canada's health system readiness to unlock innovation and achieve critical goals such as stewardship (i.e. appropriate use) to combat AMR;

Ways to build a whole-system approach to AMR, by exploring practices from other jurisdictions;

Opportunities to bridge current health system gaps in Canada, with respect to AMR.
Speakers will include:
Greg Frank, Director, Infectious Disease Policy, Biotechnology Innovation Organization, Washington, DC
John Osiecki, Director, Roche Diagnostics, Chicago IL
Sameeh Salama, Vice President, Business Development, Fedora Pharmaceuticals, Calgary, AB
Gerry Wright, Director, Institute for Infectious Disease Research, McMaster University and the Canadian Anti-Infective Innovation Network (CAIN), Hamilton, ON
Invitation : Séance d'information parlementaire autour d'un déjeuner
La revanche des microbes! Prenons des mesures draconiennes.
Chambre des communes
Salle 112-N
7 h 30 à 8 h 30
30 octobre 2018
Séance animée par : Ron McKinnon, député de Coquitlam – Port Coquitlam
Alors que les infections résistantes aux médicaments emportent chaque année environ 700 000 personnes, les représentants de la santé publique des quatre coins du monde s'intéressent de plus en plus à la résistance aux antimicrobiens (RAM).
Le cadre d'action pancanadien 2017 de lutte contre la RAM visait à résoudre les principaux enjeux en matière de RAM au Canada, et un plan d'action pancanadien concret devrait voir le jour à l'été 2019. Le cadre d'action pancanadien de lutte contre la RAM s'articule autour de quatre grands axes : la surveillance, la prévention et le contrôle des infections, l'intendance, ainsi que la recherche et l'innovation.
Le panel réuni pour la séance explorera les liens entre ces quatre grands axes, dont celui de la recherche et de l'innovation, de même que les mesures concrètes à prendre pour résoudre l'enjeu de la RAM à court, moyen et long terme.
La RAM concerne les microbes qui ont développé une résistance à certains types d'antibiotiques ou à l'ensemble d'entre eux, soit par mutation, soit par acquisition de gènes de résistance. Sans médicament anti-infectieux efficace, nombre de traitements médicaux classiques échouent ou sont remplacés par des procédures beaucoup plus risquées, telles que la chimiothérapie, la greffe d'organes ou de moelle épinière, le remplacement d'articulations ou d'autres chirurgies.
Un panel diversifié, incluant des experts canadiens et internationaux des communautés médicale, de la recherche et des brevets abordera des sujets tels que :
Le contexte actuel de l'innovation en matière de RAM au Canada : nos forces et notre potentiel rôle de chef de file;

L'état de préparation du système de santé canadien en vue de l'innovation et de l'atteinte d'objectifs essentiels tels que l'intendance (c.-à-d. l'utilisation pertinente des antimicrobiens) dans la lutte contre la RAM;

L'exploration des pratiques des autres territoires afin de trouver les moyens de mettre en place une approche globale de la RAM;

La possibilité de combler les lacunes actuelles du système de santé canadien sur le plan de la RAM.
Parmi les conférenciers, il y aura :
Greg Frank, directeur des Politiques sur les maladies infectieuses à la Biotechnology Innovation Organization,

John Osiecki, directeur des Affaires médicales et scientifiques

chez Roche Diagnostics,

Sameeh Salama, v

ice-président développement des affaires

Fedora Pharmaceuticals, Calgary, AB,

Gerry Wright, directeur de l'Institute for Infectious Disease Research de l'université McMaster et du Réseau Innovation anti-infectieuse Canada, Hamilton, ON.