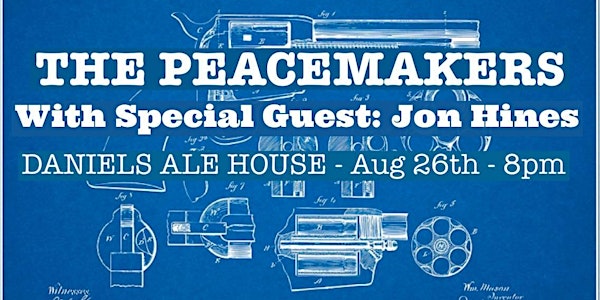 Rg & The Peacemakers with Jon Hines @ Daniels Ale House - Aug 26th 8pm
One Night Only! Alt County/Folk Funk meets Rhythm and Blues. Rg & The Peacemakers to share the stage with ECMA nominated Jon Hines.
When and where
Location
Daniel's Alehouse and Eatery 456 Charlotte Street Sydney, NS B1P 1E4 Canada
About this event
RG & THE PEACEMAKERS are a 6 piece entity fronted/formed by singer/songwriter Rg Schaller (2 albums, 5 radio singles). Paying their dues the honest way through shows and hard won hearts. Made up of musicians that have never taken (and have never been given) the easy road, for anything.
From modern originals, to 70's country funk, and all the way to Outlaw Country and select crowd pleasing covers.
Rg & the Peacemakers aim to please, expect their debut album by Spring of 2023, until then catch them earning their way at festivals, legions, breweries and bars.
MEMBERS:
Ian Maciyntre (vox & percussion), Ben Young (bass), Chuck Smith (electric lead), Ed Woodsworth (vox & pedal and lap steel), Eric Marcotte (vox & mandolin/flute/harmonica), Rg Schaller (vocals & acoustic)
JON HINES
Jon Hines is a national touring blues, jazz and folk singer-songwriter based in Cape Breton Nova Scotia. Digital recoding, release Down To Funk, (DTF) was nominated for blues recording of the year ECMAs 2022. Jon is endorsed by Godin Guitars & Black Mountain Thumb Picks. A perfect combination of Canadian products for this Canadian traveling blues man. Jon has toured nationally, opening for international acts Steven Page, Jesse Roper & Daniel Champagne. Jon's debut album, "Wild Things Roam" had a song featured in ISC (International Songwriting Competition) where it advanced into the semi finals two years in a row, out of 19,000 song entries world wide.
2017 ISC semi finalist
2018 ISC semi finalist
2020 ECMA showcase artist
2020 selected as a Black Mountain Picks Artist
2021 Godin Guitars artist
2021 Live At Heart Newfoundland artist
2021 Cape Breton Jazz Festival showcase artist
2021 Harvest Jazz and Blues Festival showcase artist
2022 ECMA nomination, Blues recording of the year