Description
RIC Centre is pleased to announce that it will be hosting an "Understanding Contract Risks and Insurance" Expert Speaker Series Seminar this winter.
Winning the Deal - How Understanding Customer Contract Trends in Cyber Security and Risk Management can Help you Secure Your Next Big Deal
In today's fast moving customer contract and RFP landscape, much time is dedicated to putting together technical deliverables and pricing, only to have deals held up at the 11th hour by misunderstood or just plain missed requirements relating to newly emerging cyber security, risk management, and insurance clauses inserted by your customer's procurement teams.
Don't let the technicalities of these clauses stand in the way of winning the next big contract.
Don't be beat out of the deal because the other guy has these requirements nailed down and their ducks in a row.
Win that next deal that will drive your business growth.
Join us as we take an easy to understand approach to:
- Identifying these potentially sticky contract demands
- Learn how to address these clauses
- Flag emerging requirements that have begun to work their way into client contracts over the last 6 months
Date: Monday, January 16, 2017
Time: 12:00pm - 1:30pm
Venue: Xerox Research Centre of Canada - Pake Auditorium
Address: 2660 Speakman Drive, Mississauga, ON L5K 2L1

Moderator
Andy Samaroo, Senior Account Executive at Hub International Ontario Limited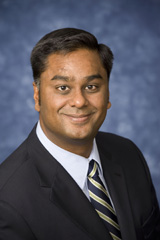 Andy Samaroo is a liability underwriter and risk manager by training, and a commercial insurance broker focussed on the technology space by practice.
His daily focus is on leveraging over 18 years of rigorous technical, risk management, and insurance education and experience to bring value and understanding to a fantastic roster of technology clients.
These clients are typically entrepreneurial firms that are run by individuals who are passionate about their companies and who often have novel business models that require novel approaches to risk management and insurance.
Andy Samaroo's firm Hub International is the largest insurance brokerage in Canada and one of the top nine largest brokers in the world. We have built our company upon a tradition of entrepreneurship, integrity, diligence, and industry excellence.


Please note: The Expert Speaker Series are free for incubator tenants and graduates (because of the RIC Incubator Program fee structure). The event has a minimal $10 fee for all other clients to cover the lunch component of the workshop.
For more information, please contact:
Robetr Iaboni
Marketing and Communications Officer, RIC Centre
T: 289-373-3050 x 201
E: communications@riccentre.com