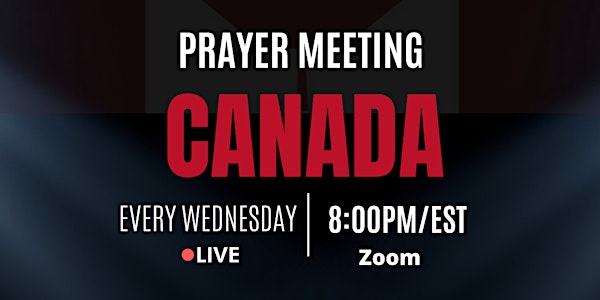 RIG Canada Nationwide Prayer (ZOOM)
RIG Canada Weekly Prayer - we invite all gatekeepers, watchmen, intercessors, and all who stand on Canada's walls to guard our land's gates.
About this event
Please, register via Eventbrite link in this invite.
Join via ZOOM every Wednesday for The Nationwide Prayer.
Meeting ID: 890 1881 5912
Passcode: prayer
After registering, you will receive a confirmation email about joining the meeting.
O Canada and all Canadians and friends of Canada, join with us at the city gates across our nation, in an evening prayer, and prophecy over Canada.
Prophet Dionne Smith and RIG Canada is inviting all Canadians to join with us as one voice unto God for our nation. The sound of your voice in this battle is needed. Yes, your voice is needed in this battle.
We are in a suddenly moment. A season when everything that can be shaken is being shaken, so that what is to remain will.
So we welcome all who hear the clarion call to join with us during this prayer, to turn the enemy back from the gates of our nation.
We await the revival in our nation, that will take place on the other side of this battle cry.
Joel 2:2-5"..a great and mighty army appears. Nothing like it has been seen before or will ever be seen again. Fire burns in front of them, and flames follow after them. Ahead of them the land lies as beautiful as the Garden of Eden. Behind them is nothing but desolation; not one thing escapes. They look like horses; they charge forward like warhorses. Look at them as they leap along the mountaintops. Listen to the noise they make—like the rumbling of chariots, like the roar of fire sweeping across a field of stubble, or like a mighty army moving into battle."
Please, share about this event with others. Let us spread this revival until it blazes throughout our nation and then to the nations.
Canada come join with us at the gates of our nation to pray!
We're asking God for Canada, an inheritance He has promised us and our children and their children's children. And we're asking to see a revival and healing in our land.