Between Raluca Neagu-Realtor, Mary Minielli-BDM from Chartwell and Mike Butean-Financial Advisor you will get a sound advice for retirement
About this event
Do you know what your retirement options are and how your house may factor into it? Are you considering retirement home living for you or a loved one, but aren't sure if it's affordable?
The events of 2020 have left many feeling uncertain about their financial well being, real estate properties, investments, as well as their retirement.
Know what your retirement options are and make sure that you have the proper plan in place to make it comfortable and enjoyable, without outliving your capital. In this webinar we help you explore "The Right-Size solutions for your desired lifestyle & finances"
We will be going over :
· The Real Estate Market in Toronto, the GTA and Ontario
• Retirement options & solutions for your home
• How having a proper retirement plan can assist you in living out your dream retirement and save on taxes
· The difference between Retirement Living vs Long Term Care
· The Benefits of Retirement Living at Chartwell Residences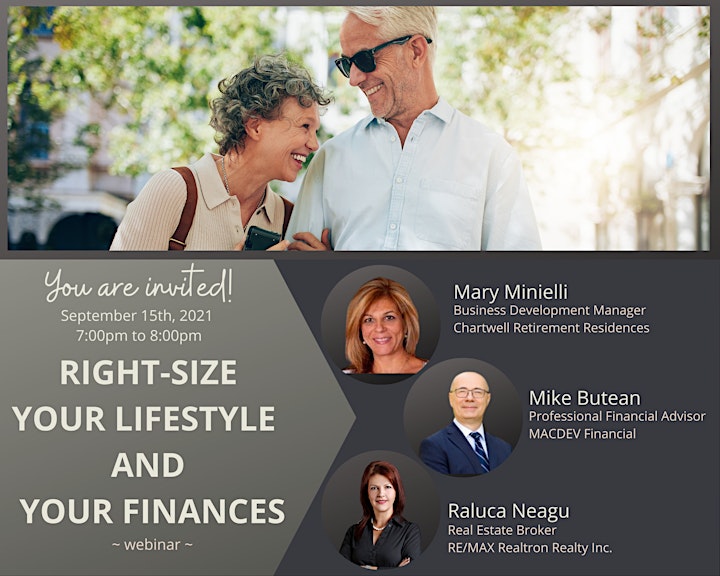 Organizer of Rigth-size Your Lifestyle and Your Finances
Can I ask you something? If a financial crisis hit today, would you be in danger of losing everything you've worked for?
I went through some tough times myself and almost went bankrupt—twice. Once in Romania after a divorce and once after immigrating to Canada with my family and two kids in 2003. Life can teach painful lessons about money. It taught me to be the advisor who practices what he preaches.
What I preach is how to survive financial storms and even thrive. You might think that my job is to sell insurance, living benefits and investments to achieve lifetime goals. Yes, I can help you do that. Math was always my strength. That said, my most important function is to help you achieve financial independence.
It's the "Bank on Yourself" strategy.
• Protecting everything you've worked for
• Achieving lifetime financial goals like higher education or a comfortable retirement
• Joining the class of independently wealthy Canadians
• Teaching our kids how to do it too
In fact I enjoy helping young families with kids. They may have a small business or they may be professionals like engineers, accountants, nurses or paralegals. They may have little wealth, or a lot. Their common ambition is to build a strong financial house, with the ultimate goal of being financially independent.
The process starts with simply booking a phone call, Zoom call or an in-person meeting. Documents can be sent securely using the DocuSign system and Dropbox.
I know life isn't always easy. Bank on yourself.