Celebrate the stories that connect us at The Word On The Street Toronto's 2021 virtual festival of storytelling, ideas and imagination.
About this event
The Word On The Street presents Ring: A Conversation with André Alexis
A featured conversation with celebrated novelist André Alexis about his new novel Ring, the fifth and final book of his Quincunx cycle. Hosted by playwright and critic José Teodoro.
From their very first meeting, it would seem that Gwen and Tancred were made for one another. Like all good romances, Ring will bring them together. There is, of course, a wrinkle.
Gwenhwyfar's mother, Helen Odhiambo Lloyd, upon intuiting that her daughter is in love, gives her a ring. This ring has been passed down from endless generations of mothers to their daughters. And maybe the ring is magic. It grants the bearer the opportunity to change three things about her beloved. Like all blessings, this may also be a curse. Complete with a long narrative poem about Aphrodite, Ring turns the literary romance upside down and shakes out its pockets. It's a playful meditation on the past, on magic, on honor, on faith, and yes, on love.
Following on the heels of Pastoral, Fifteen Dogs, The Hidden Keys, and Days by Moonlight, Ring completes Alexis's Quincunx, a group of five genre-bending, philosophically sophisticated, and utterly delightful novels.
This panel will stream live Saturday, September 25 at 8pm ET.
Panelists
André Alexis was born in Trinidad and grew up in Canada. His most recent novel, Days by Moonlight, won the Rogers Writers' Trust Fiction Prize. Fifteen Dogs won the 2015 Scotiabank Giller Prize, CBC Canada Reads, and the Rogers Writers' Trust Fiction Prize. His other books include Asylum, Pastoral, The Hidden Keys, and The Night Piece: Collected Stories. He is the recipient of a Windham Campbell Prize.
José Teodoro is a playwright, critic and essayist. His play Cloudless was recently adapted into an audio drama presented by Canadian Stage. His literary nonfiction has appeared in Brick, The Fiddlehead and subTerrain. He is currently adapting his spoken-word avant-jazz chamber opera Screen Door into an audio drama with composer-musician Stephen Lyons.
Shop local! Purchase books by WOTS2021 featured authors through local independent bookstores on our official bookseller page.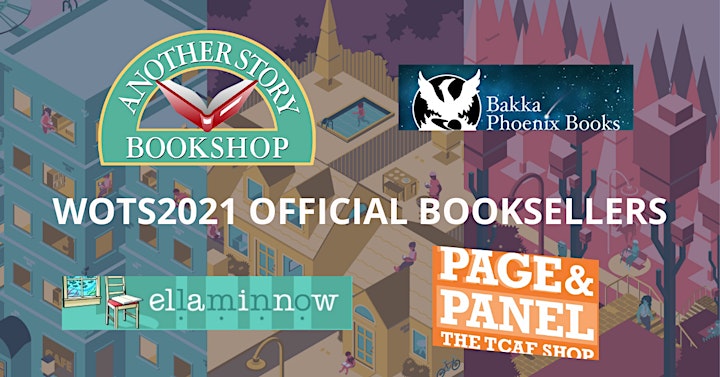 About the Festival
For 32 years, The Word On The Street has been a gathering place for authors, publishers, booksellers, and readers of all ages to celebrate the stories that connect us.
We're staying virtual for WOTS2021, so you can tune in from wherever you are to enjoy incredible programming with 100+ authors presented over 10 days from September 16th to 26th, featuring bestselling Canadian and Indigenous authors like Eden Robinson, Andre Alexis, Zoe Whittall, and Richard Van Camp.
Get insight into the year's top issues through a literary lens, with readings and panels on topics like climate change, decolonization, and how we care for one another. Poetry, memoir, mystery & more, WOTS2021 has the books you've been looking for.
Visit the 2021 Festival Homepage!
You can also subscribe to our YouTube channel for a preview of what to expect during the WOTS2021 festival, and watch (or re-watch) our year-round City Imagines and Book Talk series.
Become a Patron of The Word On The Street
We are very grateful to our vibrant and generous community for your continued support throughout this challenging period for live events. If you'd like to contribute financially, you can add a donation to your registration or visit our CanadaHelps fundraising page to learn more about how you can help to sustain Toronto's favourite book festival.
We also appreciate your support in the form of kind messages for our small-but-mighty team and helping us spread the word on social media!
On COVID-19 & In-Person Events
For the second time ever, WOTS2021 will be held virtually with programming hosted on our website and streamed live on YouTube. But that's not all! We're also collaborating with local authors and bookstore partners to offer a limited number of socially-distanced book signings. Check out the Bookstore Signing Schedule for more details on who might be coming to your neighbourhood.
If you're most familiar with our offline offerings: Hi! We miss you, and hope you are well!
Our team is doing the best we can to ensure the health and safety of our community, especially for vulnerable and younger readers who don't yet have access to a vaccine.
Staying virtual has given our team the opportunity to re-think how we can best honour our mandate as champions of literacy, and we can't wait to share our exciting news about the future of WOTS with you this September!

The Word On The Street is an annual celebration of storytelling, ideas and imagination, hosting Canada's largest FREE book and magazine festival annually since 1990 and promoting great books by Canadian and Indigenous authors year-round.
Organizer of Ring: A Conversation with André Alexis