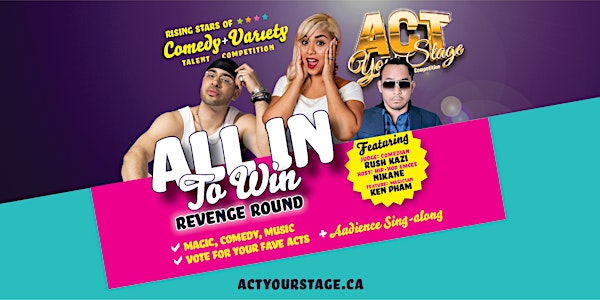 Rising Stars Talent Competition Revenge Round: All In To Win!
Join us for some late afternoon magic, comedy & music, dinner & drinks. Audience votes. Audience sings. Fab prizes to be won!
When and where
Location
Mandy's Bistro 123 Danforth Avenue Toronto, ON M4K 1N2 Canada
Refund Policy
Contact the organizer to request a refund.
Eventbrite's fee is nonrefundable.
About this event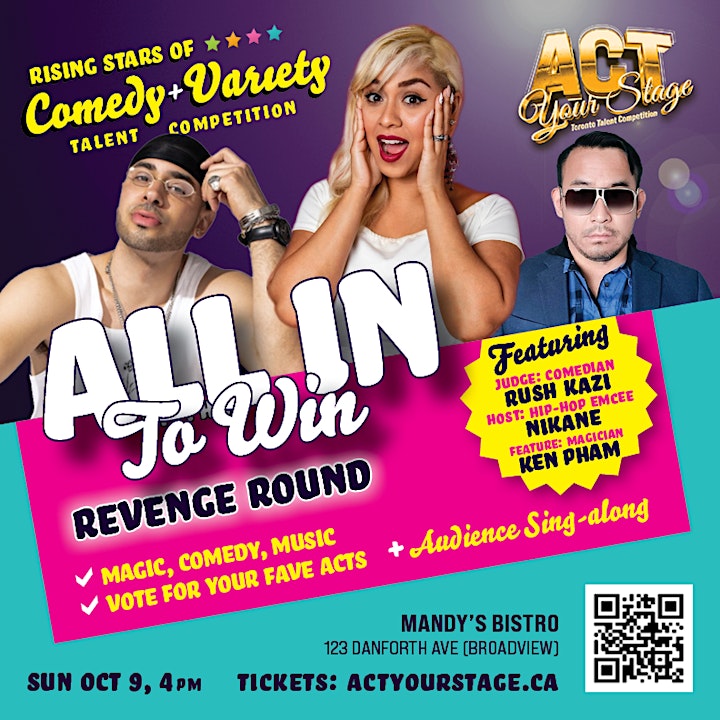 This Sunday we're at MANDY'S BISTRO (123 Danforth Ave, at Broadview) come hang out and enjoy a full roster of up close and interactive entertainment with some of Toronto's funniest & fabbest!
Comedy! Music! Magic! Audience Voting! Audience Sing-Along!
We have mind-bending and tongue-twisting, magically and lyrically gifted guests who will make your jaws drop in awe. Plus, this round of competition is full of hilarious comedy plus a dash of heartwarming music. You help pick who goes to the Finals. That's right! One Voting Audience ticket guarantees a seat and a vote for your favourite act. Judge's scores and Audience's combined votes will be weighed and considered to determine the finalist who will return to compete on the theatre stage later this Fall for the Final Show-Off!, the final round of competition.
Sunday, October 9th, 4pm Enjoy dinner and drinks before and during the talent show. Competition starts at 4:30pm. We have an Audience Sing-along at the end!
Guest Judge/Headliner: Comedian, Producer, Rush Kazi
Rush is a Montreal-born, Toronto-based comic, non-binary, bipedal, carbon-based stand-up, sketch, and musical comic. Second City trained, Rush has been featured in JFL42, Toronto Fringe Festival, both Toronto and Montreal SketchFests, Gardencity Festival, Toronto's SheDot Festival, Leelfest, just to name a few. Rush produces the always sold out hit shows Asian Comedy All-Stars, MuJew (A Muslim and Jewish comedy showcase), Gaysian Comedy All-Stars (the world's FIRST all-Queer, all-Asian comedy showcase), Comedy Mixtape (Toronto's longest running musical comedy show), and since 2012, has run the open mic, Laughter Luau in Toronto and many more events. Rush's debut comedy album, About Time, released in April 2022, saw Rush proclaimed as a "Queer first generation Canadian Disruptor" and "a rare talent" by Parton and Pearl, while CBC Arts called Rush "your new favourite non-binary, pansexual, South Asian, Muslim comedian" (even if you don't know any others)! That same month Rush's half hour comedy special debuted on OutTV and is currently available for streaming on Amazon Prime. Follow on IG @rush.zilla More at: rushkazi.com
Guest Host: Hip-Hop Artist & Poet: Nikane
Nikane is one of Toronto's most talented tongue-twistingly twisted, fresh freestyling lyrical wizards. This Rap/Hip-Hop Artist, Poet performs all over the city. Catch him on stages, sidewalks, rooftops, what-not. Follow on IG: @nikaneisefflo More: https://linktr.ee/Efflo
Guest Feature: Magician, Ken Pham
Ken is a Toronto based comedic magician who first grew his magical following on TikTok and has since made the quantum leap to the live stage! Check out his hilarious magical stunts, mixed with mind bending mentalism. Follow on TikTok: @kensington_ken and IG: @torontomagician637
Rising Stars Comedy+Variety Talent Competition
Spotlighting Toronto's rising stars of Comedy & Variety Entertainment! This Summer and Fall, we bring you a star-studded cast of microphone maestros, including industry mentors, top Toronto talent, headliners and feature acts.
Follow us on Instagram, Facebook, Twitter: @ActYourStageTO #AYSTO #AYS2022 #ActYourStageTO