Location
The University of British Columbia
6182 S Campus Rd
BC V6S
Canada
Description
Rising to the challenge: Advanced bread baking at home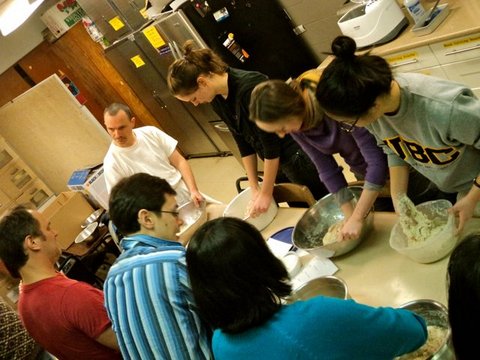 Flour up your hands and get ready to rise into the world of bread. Artisan baker Florin Moldovan will describe the science behind the perfect loaf, the grains that form it and some of the cultural lore of baking bread.
This advanced bread baking workshop is designed for home bakers who are aiming to further improve their baking skills and their home-baked loaves. Participants are encouraged to bring to the workshop one of their own bread creations. We will sample, critique and tweak your favourite loaf. Attendance at a beginner bread baking workshop with Florin is not a prerequisite!
Presenter Bio: Florin is an artisan baker who has been baking in the Kitsilano neighbourhood for the past seven years. After arriving in Canada and yearning for the quality of traditional European breads, he decided to teach himself how to bake. This led to a 2-year sabbatical from his job, during which he decided to play baker. That was seven years ago, and ever since then he has had too much to stop. Florin is a strong believer in organic, sustainable and naturally leavened baking.
"I believe only good people make bread, so when I see someone making bread I Just know. And when bad people make bread, it probably won't turn out." - Florin Moldovan, as quoted in the Vancouver Observer's article on the January '12 UBC Farm bread baking workshop

Date: Wednesday, May 15th, 6pm-9pm
Location: UBC Farm Centre
3461 Ross Drive
Vancouver BC
Map: http://goo.gl/maps/MMO1

Cost: $35 ($1.87+ registration fee). Materials included.
What to bring: A large plastic or stainless steel mixing bowl for your dough, which you will take home (please feel free to bring additional large bowls if you can share them)! Please also bring a notebook and pen.
Growing Season Workshops:
This event is part of the UBC Farm Growing Season Workshop Series. Our goal is to connect sustainability and life-skills experts with our local community through accessible and affordable workshops. Come and join us for a workshop, gain new skills and knowledge, while helping to support the UBC Farm!
Please be advised that refunds for workshops are subject to a $5 fee. Refund or exchange requests less than 48 hours prior to the event cannot be accomodated.