Sales Have Ended
Registrations are closed
Registration for this event has closed. Please contact us @ CMCOntarioEvents@gmail.com. Visit www.cmc-ontario.ca for future events.
Sales Have Ended
Registrations are closed
Registration for this event has closed. Please contact us @ CMCOntarioEvents@gmail.com. Visit www.cmc-ontario.ca for future events.
Risk and Risk Management Demystified | A Practical Approach for Adding Client Value. Hosted by CMC-Ontario with speaker Carmen Abela
About this event
What's Up Wednesday Digital Series delves in to Risk and Risk Management Demystified on June 9, 2021. Join us as Carmen Abela, CIA, CCSA, C.Dir. discusses Risk Management and its importance as a professional discipline in helping clients succeed.
When unexpected things happen, when things go wrong, what happens in your business or your client's business? Looking backward, did you miss an opportunity? What if you could have fewer surprises, and be quicker to take advantage of opportunities?
We all know there is risk in every action or inaction we take. But do we know how a risk management plan adds value to our clients? Find out how to aid your client in gap identification and where they will need resources in place.
Explore the value and versatility of risk management as a consulting tool in support of:
Governance and board oversight
Resource allocation and performance review
Internal audits
3 lines of defense
Strategic planning, setting directions based on risk
Through this interactive session, Carmen will lay down some key foundations on risk management and discuss the pros and cons to be aware of. She will share practical examples of the value that can be derived from risk-based solutions. This session will cover the application of risk management as an expert advisor.
Learn what you don't know about risk and risk culture navigation. When is good, good enough? What you don't know matters! Be ready for unexpected events. If you want to be more successful then you need to employ risk management that is focused on what's important for you.
This session is open to all CMC members and guests, we encourage you to invite others in your organisation to join us.
Presenter | Ms. Carmen Abela, CIA, CCSA, C.Dir.
Ms. Carmen Abela is the Managing Director of WindReach Consulting Services Inc., an Ottawa-based consultancy that specializes in risk management, governance and internal chief risk officer approaches. Carmen is a noted expert and pioneer in the practice of risk management, having designed and implemented value-added, pragmatic risk-based solutions for over twenty years. She is regularly called upon to advise complex government departments and central agencies, crown corporations and not-for-profit organizations on their risk management arrangements – including those around major transformations. She is also an experienced corporate director and therefore brings the perspective of the risk practitioner, as well as the Board of Directors roles and responsibilities as relates to risk oversight.
Event Details
Who: Everyone is welcome from across Canada and beyond
Cost: Free to members and guests
Format: Online Interactive Zoom Presentation and Question Period
Join us for an engaging lunch, brunch or breakfast session, depending where you are. It's a terrific opportunity to learn and socialize with your peers.
Login details will be provided after registration. We hope to see you there!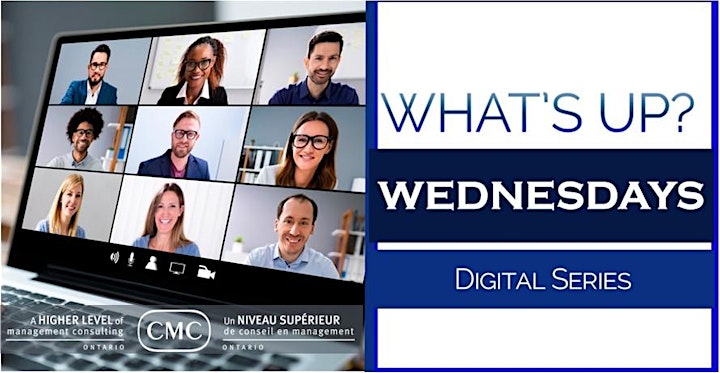 Organizer of Risk Demystified | A Practical Approach for Adding Client Value