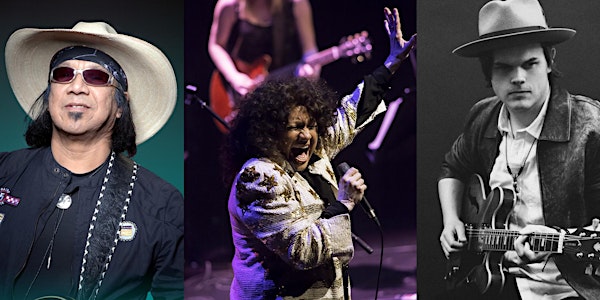 Rita Chiarelli - 2023 Saskatoon Blues Festival
Rita Chiarelli's fans will pleased to see her back for the SBF2023. Billy Joe Greeen and Marcus Trummer will make it a great night of music.
When and where
Location
The Bassment B3 - 202 Fourth Avenue North Saskatoon, SK S7K 0K1 Canada
About this event
Rita Chiarelli's soaring 3 octave voice that sets her apart from her peers, inspires awe and often tears in her audiences, and causes critics to gush. " a voice so blue it could make the angels weep"... "a voice that can growl at her demons or soar with the angels, a gift for lyric, an ear for melody and the heart to combine them".
Over the past decade Rita Chiarelli has won every major Canadian blues award, including multiple Maple Blues awards, CBCs Great Canadian Blues Award, Toronto Independent Music Awards, Hamilton Music Awards, Manitoba Blues Society and the Hamilton Blues Society's Lifetime Achievement Awards. Most recently Rita was awarded the prestigious Maple Blues 'Blues With A Feeling Award' for Lifetime Achievement.
Billy Joe Green is from the Moose Clan of the Kejick Ojibway Nation located on the most north-westerly section of the beautiful Lake of the Woods, straddling what is now the Ontario/Manitoba border. Numerous uncles, cousins and nephews have taken the challenge of learning how to play the guitar, all by ear and sheer determination. Billy Joe sees this factor as a blessing as he considers that the learning of a certain technique, riff or scale by ear always keeps the music new, fresh and certainly challenging. Still in his teens, Billy Joe was asked by guitarist, Martin Tuesday, to join The FEATHERMEN, a fiery young group of primarily Ojibway musicians. He jumped at the chance. At entry level, he became the second guitarist, but soon learned all the songs and was exchanging lead guitar lines with Martin Tuesday, a very progressive musician for his time. Soon the elder members of the band came of age and joined the then flourishing ranks of bar room musicians. Billy Joe, still tender in years, was asked to join another bar band. Armed with only a 1964 Les Paul Jr., sunglasses and no I.D., he moved ahead quickly in the ranks, learning how to play, drink, live and survive the life of a bluesman. For over three decades, Billy Joe has worked as a sideman and bandleader in Winnipeg, Vancouver, San Francisco and Edmonton. He has rocked, reeled, boogied, tumbled and stumbled - only to get up again and carry the blues banner one humble step further. He's up and at 'em once again.
Marcus Trummer weaves southern soul, blues, and roots rock into a modern sound steeped in tradition that Trummer calls "rock and soul". Dubbed "a precocious guitarist whose vocals possess a wise-beyond-his-years weariness" by the Calgary Herald, the 21-year-old from Calgary, Alberta has built a reputation as a compelling live performer on the back of playing numerous local shows. Trummer's songwriting ability has also earned him recognition with his latest release, Running on My Own, receiving Blues Recording of the Year at the 2022 YYC Music Awards. With a full-length album on the way for 2023, Trummer continues to establish his place as a notable emerging Canadian artist. He impressed as at the Blues Summit 10 in Toronto last June.