RITES of PASSAGE: Intensive workshop with Sage Goode
Event Information
Location
Dundas St W & Landsdowne Ave
Toronto
Canada
Description
Artwork by Ebony Galluzzo.

RITES of PASSAGE
Magical workings in sacred space with Sage Goode

For beginner, intermediate & advanced practitioners of the Craft. Beginners welcome!
$200-$275 sliding scale (includes 15 hours of workshop time and a light lunch on Saturday and Sunday).
Registration through Eventbrite includes additional fees. For fee-less registration options, contact the organizer through our FB event: https://www.facebook.com/events/715921265281216/

WORKSHOP DESCRIPTION
We all experience significant passages in our lives, transformative times that deserve to be celebrated and honoured. The Rites of Passage workshop offers an intensive in developing our own process for exploring and honouring these transformative passages.

This workshop uses trance work as a major tool, teaching the skills of pairs trance and group trance. We learn to listen to the messages in ancient myth and fairy tale using them to gain a deeper understanding of our own rites of passage. Our dreams will bring the gifts and challenges of the deep self to our work. The power of sacred witnessing using the 'dropped and open' technique will deepen our awareness and enhance our perception. Integrating these sources we will find inspiration for the creation of personal ritual initiating and honouring life changes.
Vasilisa the Brave will be our guide as we explore the journeys of our own lives. Facing the challenge of the Baba Yaga we will draw on the wisdom of the Crone, the Mother and the Maiden and learn from the Riders who remind us of the daily cycles of change in our lives. This weekend we as witches can reclaim an ancient practice, nourishing ourselves with ritual celebrations of our life changing passages.

ABOUT SAGE GOODE
Sage Goode lives in the Cowichan Valley on Vancouver Island, Canada with her wife, two cats and many magical beings. She is the founder of Crossroads Mystery School and has been teaching the Craft for 30 years. She teaches workshops around North America and through Telephone Ritual Workings — an amazing and powerful way to connect through space and time. She has also created a CD of guided visualizations and trance workings. "For us to follow the path of our Soul's purpose we must be willing: to listen, to transform, to surrender to the Divine and to become who we were meant to be. This is essential. This is the Work. First, become willing … everything else flows from that." Check out her website at www.sagegoode.com.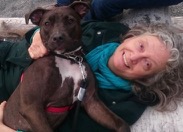 Date and Time
Location
Dundas St W & Landsdowne Ave
Toronto
Canada