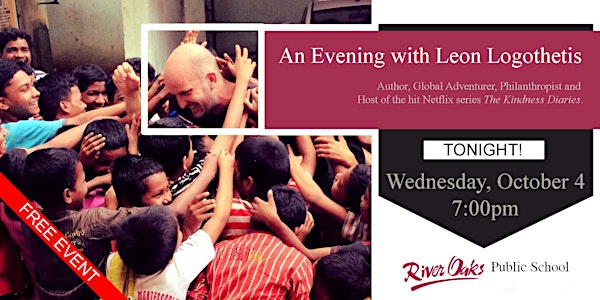 River Oaks PS welcomes Leon Logothetis (Netflix's "The Kindness Diaries")
Location
River Oaks Public School
2173 Munn's Avenue
Oakville, ON L6H 3S9
Canada
Description
*FREE EVENT*

On Wednesday, October 4th at 7pm, River Oaks Public School and its School Council welcome Leon Logothetis, global adventurer, philanthropist and host of the hit Netflix series The Kindness Diaries.
After spending the afternoon with River Oaks students, Leon has generously agreed to share his experiences with the broader community and just what he learned from filming his show, in which he circumnavigated the globe on his vintage yellow motorbike 'Kindness One', giving life changing gifts along the way to unsuspecting good Samaritans. All of this whilst relying on the kindness of strangers.
River Oaks Public School invited the U.K. native to Oakville to share his message that anything one can dream of is possible and that the fuel for this potential is simple: Kindness and harnessing the power of human connection.
All are welcome as this event is open to the public, so please share our free ticket link widely. We hope to show Leon how his vision has inspired a small town so far from his own.
We're asking all attendees who are able to bring a donation of non-perishable food which will be passed along to those in need.