Location
Riverside Common Park
657 Queen Street East
Toronto, ON M4M 1G4
Canada
Come on an artistic journey with public performances of "Two x 30" in Riverside Common Park on May 29th!
About this event
Experience 'Two x 30' in Riverside Common at 12PM and 2PM. It's an outdoor contemporary dance/live art work, presented in 50-minute duet performances that explores the inextricable link between our collective and unconscious patterns of movement and our environment – the landscape and waterways, and surrounding architecture, as part of ArtworxTO.
>>Get your FREE ticket* here to let us know you're coming AND be Entered to Win a gift pack of Riverside BIA swag including Riverside tote bags and mugs!<<*
p.s. You can pair this experience with our free Riverside Public Art Tours, as part of Doors Open Toronto! Tour options here: https://riversidepublicarttour-may2022.eventbrite.ca/
More About "Two x 30"
Each highly-structured, improvised movement-based performance is paired with a robust sonic score which supports and enhances the viewing experience. Direction, Choreography and Concept are by Michael Caldwell, Sound Design and Composition: Robbie Grunwald, Performance and Choreographic Collaborators: Alana Elmer, Karen Kaeja, Benjamin Landsberg, David Norsworthy, Atri Nundy, Takako Segawa, Roberto Soria, Heidi Strauss, Irma Villafuerte; Production Collaborators: Laura Cournoyea, Helin Gungoren; Producer: Mateo Galindo Torres; Costume Design: Valerie Calam.
– – –
'Two x 30' is an official project for ArtworxTO: Toronto's Year of Public Art 2021-2022, supported by Toronto Arts Council, Ontario Arts Council, Canada Council for the Arts, the City of Toronto, and Waterfront BIA, and presented in partnership with East End Arts, Jamii, Lakeshore Arts, Union Station, and Waterfront BIA. The project is further supported by the National Ballet of Canada's Open Space Programme.
Health & Safety Protocols Note:
We encourage you to register for free tickets(s) to help us gauge numbers for this event, however, ticket will not be required. Masks are being encouraged for all visitors but not required per provincial outdoor event guidelines.
This event and its vendors, volunteers and organizers are adhering to COVID 19 provincial and City of Toronto guidelines.
More About Riverside BIA & 2022 Events @ Riverside Common Park:
The Riverside BIA, established in 1980, is one of Canada's first BIAs, located along Queen Street East between the Queen Street Viaduct to just past De Grassi Street. Rich in history, green spaces and public art, the BIA includes over 100 unique eateries, retails shops, boutiques and a range of professional services.
Riverside Common Park is located at 657 Queen Street East and was officially opened in October 2021. The Riverside BIA and community collaborators are working together to bring in regular activations to this new community space in 2022. It's all part of welcoming everyone to enjoy what our local business district and neighbourhood has to offer!
*Note, this free ticket provides access to the Event and any free activities therein as well as entry into the draw. This ticket does not entitle the bearer to any free items/services from vendors within the market unless confirmed at the event.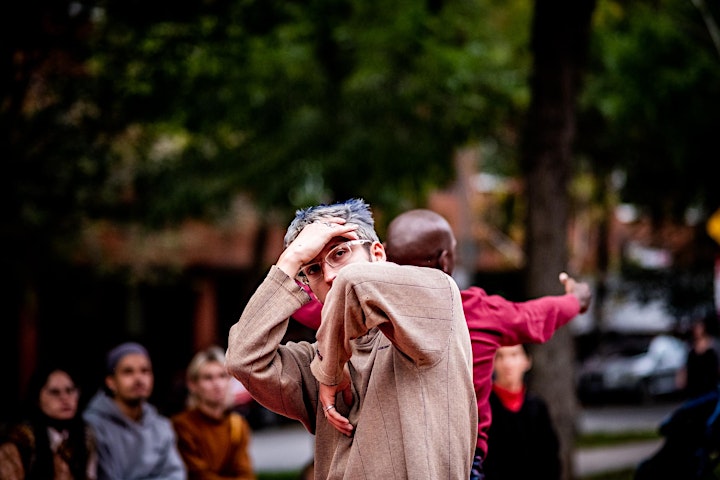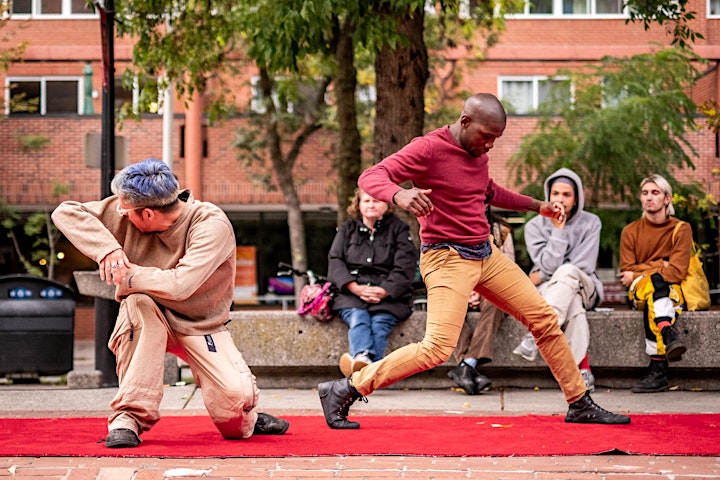 Photo credits:
Credit: Photographs from a recent outdoor rehearsal process in September 2021, in David Crombie Park on The Esplanade, Toronto. Two x 30. Choreographer: Michael Caldwell. Dancers: Pulga Muchochoma, Roberto Soria, and Heidi Strauss. Photos: Jae Yang
Pulga is wearing a red, long-sleeve shirt with tan pants
Roberto is wearing a beige, long-sleeve shirt, and beige pants (In one photo, he is wearing a green, long-sleeve shirt with a pair of jeans)