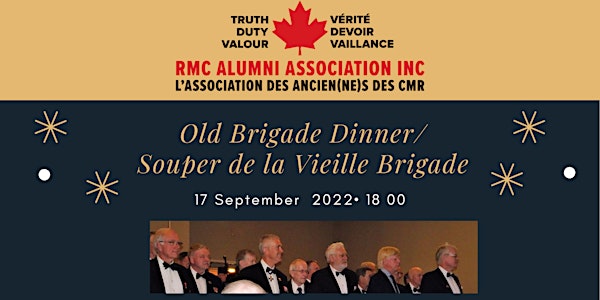 RMC Alumni Association Old Brigade Dinner / Souper de la Vieille Brigade
Please join us for the RMC Alumni Association Old Brigade Dinner 2022!
When and where
Location
Four Points by Sheraton Kingston, Ontario 285 King Street East Kingston, ON K7L 3B1 Canada
Refund Policy
Contact the organizer to request a refund.
Eventbrite's fee is nonrefundable.
About this event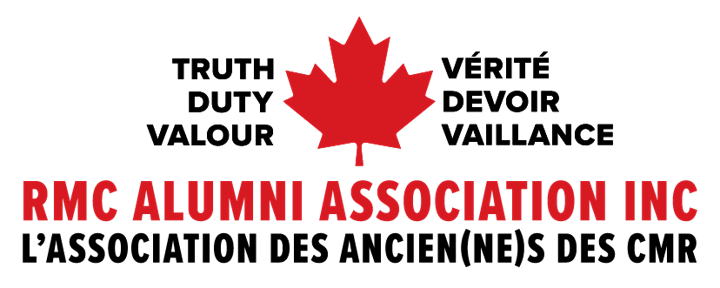 Old Brigade Dinner - Souper de la Vieille Brigade
EVENT DESCRIPTION
Dress for Alumni: Black Tie, College Blazer, or dark suit. Medals worn. Guests are invited to dress accordingly.
The ballroom can accommodate a maximum of 320 people. Please book early to avoid disappointment.
Menu:
Choice of:
7oz Beef Tenderloin Filet with balsamic and mushroom au jus
Nouvelle Chicken Kiev lightly breaded, stuffed with garlic, butter and herbs
Trio Cheese Lasagna - Al Dente Lasagna with Parmesan, Mozzarella and Goat Cheese
Food allergy notifications will be respected. Please see options further on.
Price:
$125 per person with a charitable donation receipt of approximately $40 per person.
Ticket purchase :
Available online
a. Advanced Sale starting Monday 4 April for members of this year's reunion classes: 1952, 1957, 1962, 1967, 1972, and 1977.
b. General Sale starting on Tuesday 19 April for members of all Old Brigade classes.
Accommodation:
Some classes have made individual arrangements. Please contact your Class Secretary for further information. 
Refund Policy
Full refund if government COVID restrictions require cancellation of the event.
Full refund for individual cancellations received by Monday 12 September.
DESCRIPTION DE L'ÉVÉNEMENT
Souper de la Vieille brigade de l'Association des anciens du Collège militaire royal du Canada
Code vestimentaire pour les anciens : cravate noire, blazer du Collège ou complet foncé. Port des médailles. Les invités doivent se vêtir convenablement.
La salle peut accueillir jusqu'à 320 personnes. Veuillez réserver tôt pour éviter toute déception.
Choix de menu :
Filet de bœuf 7 oz au jus, vinaigre balsamique et champignons
Poulet à la Kiev légèrement pané, farci au beurre ail et fines herbes
Lasagne aux trois fromages (lasagne al dente avec parmesan, mozzarella et fromage de chèvre)
Toute restriction alimentaire précisée au préalable sera respectée.
Prix :
125 $ par personne avec un reçu fiscal pour don de bienfaisance d'environ 40 $ par personne.
Achat de billet :
En ligne
a. La prévente commencera le lundi 4 avril pour les membres de ces promotions : 1952, 1957, 1962, 1967, 1972 et 1977.
b. La vente generale commencera le mardi 19 avril pour les membres de la Vieille Brigade.
Hébergement :
Certaines classes ont pris leurs propres arrangements. Veuillez communiquer avec le secrétaire de votre classe pour obtenir plus de renseignements. 
Politique de Remboursement
Remboursement complet si l'événement est annulé en raison des restrictions gouvernementales liées à la COVID.
Remboursement complet si vous souhaitez annuler avant le lundi 12 septembre.
EVENT SCHEDULE
1800 – 1845 Pre-dinner gathering in the Limestone Foyer, one glass of wine or soft drink included. Cash bar available for additional beverages during dinner and throughout the evening.
1850 Call to dinner. Members of the Class of 1977 assemble in the Limestone Foyer.
1900 Induction of the Class of 1977 into the Old Brigade.
1910-2359 Dinner, followed by after dinner conversation. Participants are invited to walk among the tables for extended conversations after the dinner servers have completed their work. A late evening side table of tea, coffee, and snacks will be provided.
HORAIRE DE L'ÉVÉNEMENT
De 18 h à 18 h 45 Cocktail dans le hall Limestone; une boisson gazeuse ou un verre de vin sera offert. Bar payant offert pour toute autre boisson durant le souper et la soirée.
18 h 50 Préparation pour le souper. Les membres de la promotion de 1977 se réunissent dans le hall Limestone.
19 h Intégration de la promotion de 1977 dans la Vieille brigade.
De 19 h 10 à 23 h 59 Souper, suivi de discussions. Les participants sont invités à se promener aux tables pour discuter avec d'autres membres une fois le souper terminé. En soirée, thé, café et collations seront servis.