Road to the Royal Chef Challenge

Sunday, 5 June 2016 from 1:00 PM to 3:00 PM (EDT)
Event Details
Road to Royal Chef Challenge starts at Great Canadian Cheese Festival
FREE admission for public to watch chefs compete on Sunday, June 5, in Prince Edward Community Centre in conjunction with Canada's biggest artisan cheese show.
The Royal Agricultural Winter Fair has selected The Great Canadian Cheese Festival to host the first in a series of regional competitions across Ontario that will see chefs create dishes using local ingredients revealed only at the start of the contest.
Road to Royal Chef Challenge starts at 1 p.m. on Sunday, June 5, in the Prince Edward Community Centre next to the Cheese Festival. Admission is free, courtesy of Bay of Quinte Tourism, the Host Partner.
Three top Prince Edward County chefs, Chef Matthew DeMille of Drake Devonshire Inn, Chef Amanda Nichol, Chef/Owner of Black Sheep Cannery, Chef Elliot Reynolds of The Hubb Eatery and Lounge, will go head to head in two rounds of 30 minutes to create both an entrée and dessert using "secret ingredients" provided to them at the beginning of the competition.
The biggest selection of award-winning artisan cheeses available for sampling and purchase anywhere in Canada is featured at the Cheese Festival. Included in price of admission: a chance to meet and talk with cheesemakers from coast to coast, cheese seminars, artisan foods galore, fine wine, craft beer, crisp cider, in total 500 foods and beverages on offer, plus a souvenir tote, plus a souvenir glass, plus live music, dairy farm animals, food court and FREE parking. Admission $50, seniors $45. Children under 15 admitted free. Want to save a pile of money? Come as a group.
The Egg Farmers of Ontario Road to The Royal Chef Challenge will take place at six local fairs and festivals across the province. The winners of each regional competition will vie for the title of Royal Chef Challenge Champion during a final round at The Royal at Exhibition Place in Toronto on Saturday, November 12.
 The sixth annual Great Canadian Cheese Festival takes place June 4-5, 2016, at Picton Fairgrounds in the heart of Ontario's must-visit Prince Edward County in Bay of Quinte Region. For more information and tickets, go to CheeseFestival.ca or call 1.866.865.2628.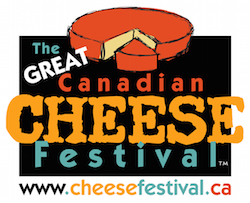 When & Where

Prince Edward Community Centre
375 Main Street
Picton, Ontario K0K 2T0
Canada

Sunday, 5 June 2016 from 1:00 PM to 3:00 PM (EDT)
Add to my calendar
Organizer
The Great Canadian Cheese Festival, since its launch in 2011, has become the biggest artisan cheese show in North America. Founded in 2014, Canadian Cheese Awards/Le Concours des fromages fins canadiens is the biggest cheese competition in Canada.
Georgs Kolesnikovs, founder of both the Cheese Festival and Cheese Awards, has extensive experience in event management and promotion—and a lifelong passion for cheese.
Georgs first fell in love with artisan cheese when he tasted Oka as a teenager, when the Trappists still made it. He maintains the popular blog CheeseLover.ca.
Events like The Great Canadian Cheese Festival and Canadian Cheese Awards/Le Concours des fromages fins canadiens cannot be produced without many willing hands and smart minds. Georgs considers himself fortunate to have associates he can count on:
Terry Chong, Director of Operations


Jackie Armet, Cheese Co-ordinator and Awards Co-ordinator

Heather Robertson, Ticketing Co-ordinator and Awards Registrar

Jeanne Rodier, Awards Co-ordinator

Roxanne Renwick, Cheese Specialist/Cheese Producer Liaison
Nathalie Rollet Schofield, Quebec Cheese Producer Liaison
Rebecca Crosgrey, Event Manager

Nicole Gibb, Event Co-ordinator
Darshana Sen, Volunteer Co-ordinator
Anne Munro, Special Projects
Phoebe Powell, Promotions Specialist
Lin Chong, Associate Festival Director.

For more information about Cheese Lover Productions, click here.

Cheese Lover Productions Inc.
59 Laguna Road
Campbellford, Ontario  K0L 1L0
Telephone 705.632.1503.