Roadshow - Indigenous Voices: Teachings and Practices at End of Life
Indigenous voices offer teachings on loss, grief and ceremony at the end of life.
About this event
A panel of elders, facilitated by Holly Prince, offer teachings on loss, grief and ceremony at end of life. How is grief expressed? What does supported grief look like for First Nations, Inuit and Metis? How can people working in healthcare support Indigenous Peoples at the end of life and in grief?
Holly Prince is an Anishinaabekwe and a member of Opwaaganisiniing in Northwestern Ontario. She has a Master's Degree in Social Work and is a Ph.D. Candidate in Educational Studies at Lakehead University. She works as a Project Manager at the Centre for Education and Research on Aging & Health at Lakehead University, where she is responsible for the planning, implementation, and evaluation of palliative care education initiatives for Indigenous communities across Canada. Holly's areas of research focus is on decolonial and Indigenist education and Indigenous health and community-based research. For the past 16 years, her work focuses on improving end-of-life care in Indigenous communities.
Doreen Spence, better known as Grandmother to many, is a Cree Elder in Residence at the University of Calgary, and was recently appointed to the Order of Canada (Feb 2021). Her impressive and heartfelt activism and advocacy work has encompassed her entire life for 84 years, and she still continues to strive towards a vaccination for systemic discrimination. Her work has resulted in her winning many prestigious awards, including the Chief David Crowchild Memorial Award, YWCA Women of Distinction Award, Alberta Human Rights Award, the Indspire Award, Alberta Centennial Medal and a nomination for a Nobel Peace Prize.
Elder Betty McKenna is an Anishnabae from the Shoal River Band in Manitoba. She touches others profoundly by generously sharing the traditional teachings she has learned from her grandmother and other elders. Elder Betty is the Elder in Residence for the First Nations and Métis Education at the Regina Public School Board, as well as the guiding Elder for RESOLVE (Research and Education to End Violence and Abuse) Saskatchewan. She also provides leadership to many research projects concerned with culturally safe care for Aboriginal people and families – from end-of-life care to support for Aboriginal women with neurological conditions to intimate partner violence and Aboriginal grandmothers caring for grandchildren. Elder Betty is co-author of several peer-reviewed publications and sits on two graduate committees at the University of Regina.
This online workshop may be used for Continuing Education credits.
Attend this single Roadshow online session
$20 for members of AHPCA
$40 for non-members
Want the 50% membership discount? Buy a membership first!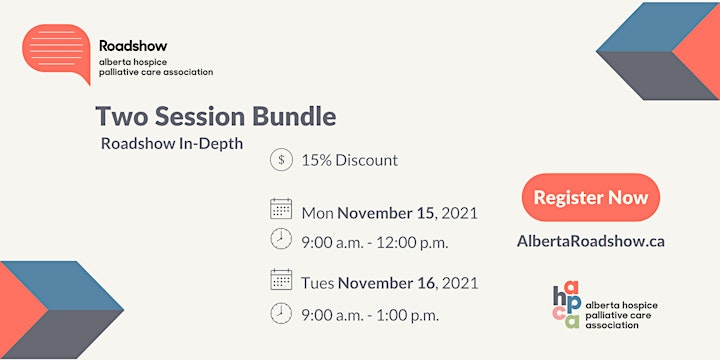 ON SALE NOW:
Roadshow In-Depth
Buying the bundle gives you access to BOTH of these online sessions for a 15% discount:
Kids Grieve Too - Monday November 15, 2021, 9:00am to 12:00pm
Presenter: Andrea Warnick
Finding Meaning in the Mess of Grief - Tuesday November 16, 2021, 9:00am to 1:00pm
Presenters: Dr. Jody Carrington and Jessica Janzen
Buy before Friday November 12 at noon to be registered in both Roadshow In-Depth online sessions.
Want to save 15%? Buy the bundle!
Organizer of Roadshow - Indigenous Voices: Teachings and Practices at End of Life
AHPCA promotes, supports and advocates for comprehensive and quality hospice palliative care for all Albertans.
We bring the Roadshow, a full-day educational workshop to further palliative care training and development, to communities across Alberta. During the pandemic, we are presenting the Roadshow online, to continue to offer palliative education opportunities to Albertans.