Roadshow - The Year of Firsts: Grief and the Holidays
Holiday grief is tough. Learn some strategies and concrete actions you can take to lighten its impact.
About this event
Holiday grief: why it is so tough and what you can do to lighten its impact.
In this workshop you will learn about:
The psychological and emotional aspects of ritual practices.
The importance of continuing bonds and enduring connection through holiday reconnection.
The value of front-end loading.
The strategies that help you get ahead of grief when you know it is about to return.
You will receive a handout that will help you intentionally include your loved one who has died in your family celebration or gathering in a meaningful way.
Rick Bergh, MDiv, CT, NT, is a bereavement educator, narrative therapist and best-selling author. His work as a thanatologist has led to a weekly podcast series, It's All About the Story, and an online grief course, Grief Start, which is grounded in the principles of narrative therapy and meaning making.
In addition to his counseling practice, Rick is a spiritual care provider at Mount St. Mary's Hospital, a long-term care centre in downtown Victoria. He is also the Executive Director of Voices in Motion Choral Society, a non-profit organization that began as a multi-departmental research project at the University of Victoria that studied the impact of choral music on those with dementia, their caregivers and students. Rick's focus in that organization is the grief and loss experienced by those on a journey with dementia: www.voicesinmotionchoirs.org.
To learn more about Rick and the resources that he provides, please visit: www.rickbergh.com
This online workshop may be used for Continuing Education credits.
Attend this single Roadshow online session
$20 for members of AHPCA
$40 for non-members
Want the 50% membership discount? Buy a membership first!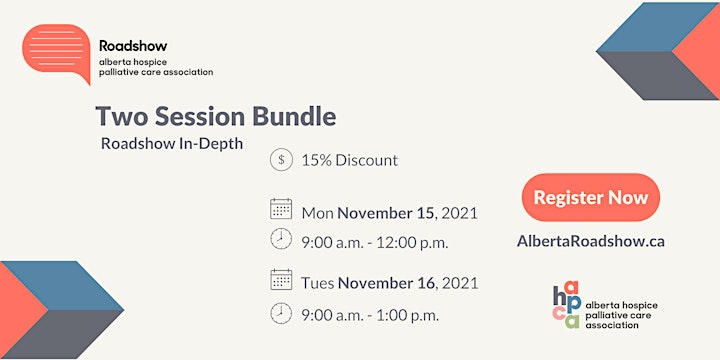 ON SALE NOW:
Roadshow In-Depth
Buying the bundle gives you access to BOTH of these online sessions for a 15% discount:
Kids Grieve Too - Monday November 15, 2021, 9:00am to 12:00pm
Presenter: Andrea Warnick
Finding Meaning in the Mess of Grief - Tuesday November 16, 2021, 9:00am to 1:00pm
Presenters: Dr. Jody Carrington and Jessica Janzen
Buy before Friday November 12 at noon to be registered in both Roadshow In-Depth online sessions.
Want to save 15%? Buy the bundle!
Organizer of Roadshow - The Year of Firsts: Grief and the Holidays
AHPCA promotes, supports and advocates for comprehensive and quality hospice palliative care for all Albertans.
We bring the Roadshow, a full-day educational workshop to further palliative care training and development, to communities across Alberta. During the pandemic, we are presenting the Roadshow online, to continue to offer palliative education opportunities to Albertans.