Sales Have Ended
Ticket sales have ended
Plenty Of $15 Tickets Are Available @ Mavricks Doors Now Open!
Sales Have Ended
Ticket sales have ended
Plenty Of $15 Tickets Are Available @ Mavricks Doors Now Open!
TONIGHT (Dec.21st) ROCK 95 BREAKOUT SOUND 3 Christmas Concert Party In Support Of Central Ontario's INDIE Emerging Artists!
About this Event
TONIGHT (Dec.21st) Rock 95's BREAKOUT SOUND 3 Christmas Concert Party at Mavricks Music Hall w/ Carl Rundown Band, Cousin Jack, Michael Costantini, Veil Unknown & Sierra Pilot (see band bio's below) presented by StS Promotions, We Love Sound & Impact Live!
TICKETS only $10 advance until 8:00pm, $15 @ doors!
TIX also available @ LIQUID CHROME & SUNRISE RECORDS until 5pm
BREAKOUT SOUND Indie Artist Concert Series provides local bands the opportunity to showcase their music to a larger audience - not only by performing on a bigger stage at Mavricks, but by gaining radio exposure and opening the door to support big-name recording artists on future IMPACT LIVE produced shows!
CLICK Here To Submit Your Band For Breakout Sound Events!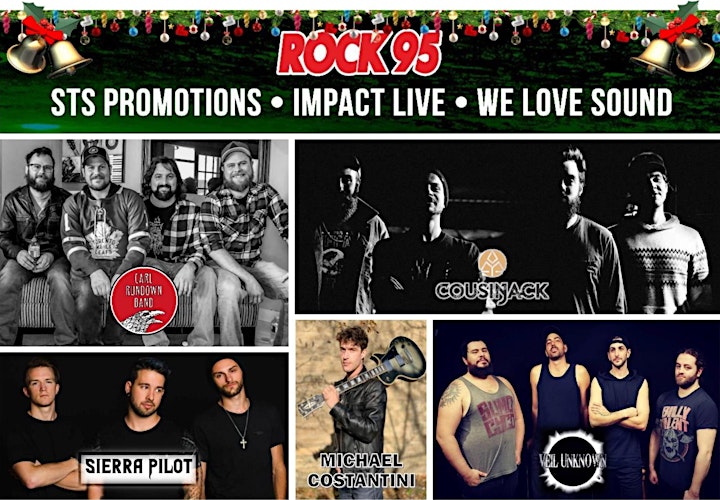 CARL RUNDOWN BAND delivers a meaningful musical experience every time they have a chance to perform. Starting out in garages, basements and bonfires before moving to big stages, these gentlemen give it their all for any audience they are in front of. They each bring a genuine skill to creating every new song that they write. They are currently working on their 4th studio EP which will be released mid 2020 so stay tuned Carl's and Carlitta's!
COUSIN JACK is a Rock Quatro. Consist of drummer Jake Thompson, bassist Cameron Stevenson, guitarist Ben Flewelling, and lead vocalist/multi instrumentalist Aaron Casey. Cousin Jack originally formed in the summer of 2015 in their hometown of Barrie Ontario.With highlighted performances opening for Sam Roberts band on NYE 2019, as well as performing at the Opera House,Horseshoe Tavern, Lee's Palace, and the Cameron House.Cousin Jack released their first EP in March 2019 at Mavericks Music hall. CJ combines gritty Rock n Roll with bluesy rhythms, melodic bass and punchy drives.
MICHAEL COSTANTINI has been in the Toronto music scene for over 12 years delivering a genuine high energy soul rock sound. As former leader of funk rock band Organic Funk and member of many other Toronto bands Michael has performed over 2,000 shows in his career. Honing his craft for the past 22 years since he started playing guitar and singing at the age of 10 he has never sounded better. Some of Michael's key influences are Jeff Buckley, Led Zeppelin, Sound Garden, Big Wreck, and John Mayer. His sound is an amalgamation of these influences with a writing and musical approach that is fresh, unique and sets him aside from other artists in his genre.
VEIL UNKNOWN is a Canadian rock band formed in Barrie, Ontario in 2015. On January 3rd 2015 their first demo for the song "Changes" surfaced on-line and quickly began to receive positive response. On Saturday April 18th the trio , consisting of Emanuel (Guitar / Vocals) Armando (Bass) and Jordan (drums) made their live debut playing at the historical MOD club in Toronto. What would follow would see the band performing live religiously for the next three years , gaining the reputation for being the act that demands maximum crowd praticipation, even calling fans on stage to dance during their set. This would prove to help the guys reputation as a "must see live band"
SIERRA PILOT combines an edgy, modern and elegantly dynamic take on the traditional rock genre, and is that rare band that has no qualms about celebrating their musical influences, while at the same time forging a new, adventurous musical path, unconcerned with bending to the will of trends or conforming to expected norms.
CLICK HERE to visit the official event page on ImpactLive.ca proudly supporting live music in Central Ontario since 1985

Performers
Date and Time
Location
Refund Policy