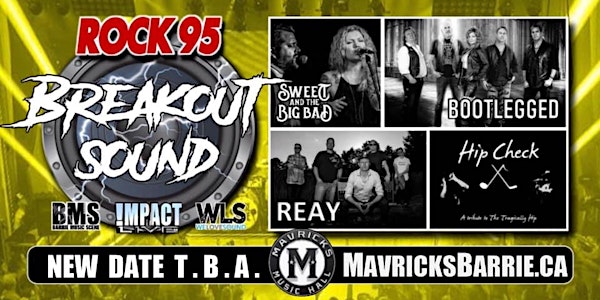 ROCK 95 BREAKOUT SOUND: Bootlegged, Reay, Sweet & The Big Bad + HIP CHECK
Ages 19+
Produced By IMPACT LIVE
ROCK 95 BREAKOUT SOUND w/ Bootlegged, Reay, Sweet & The Big Bad + HIP CHECK Performing The Best Of The Tragically Hip Postponed!
When and where
Location
Mavricks Music Hall 46 Dunlop St. West Barrie, ON L4N 1A4 Canada
About this event
Due to COVID-19, we will be postponing Rock 95's Breakout Sound Concert Party until Ontario concert halls receive the green light to re-open!
All tickets purchased will be honoured for the new date.
ROCK 95 BREAKOUT SOUND will feature emerging artists; Sweet & The Big Bad, Reay, & Bootlegged rocking out new originals/video + HIP CHECK performing the best of THE TRAGICALLY HIP live @ Mavricks produced by We Love Sound & IMPACT LIVE!
ROCK 95 BREAKOUT SOUND Concert Series provides Central Ontario emerging indie and featured bands the opportunity to showcase their music to a larger audience - not only by performing on a bigger stage at Mavricks, but by gaining radio exposure and opening the door to support big-name recording artists on future IMPACT LIVE shows!
Click Here To SUBMIT YOUR BAND For Breakout Sound's Next Event!

BOOTLEGGED is a 5 piece band with a lead female singer and a great mixture of male vocals as well, offering tons of variety. We understand how important it is to be a band who plays for the crowd, not just themselves, so entertaining the audience is always our focus.
SWEET & THE BIG BAD is a Canadian Rock band from Newmarket, Ontario. Traditional Rock vibe with hints of the Blues, Soul, and Southern Style are the backdrop to catchy and powerful male and female lead vocals.
REAY is an alternative rock band from Ontario, Canada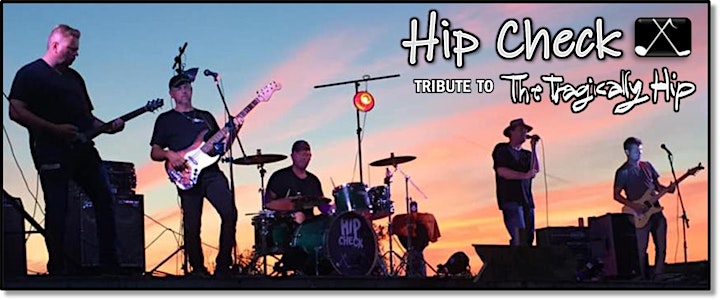 HIP CHECK is five guys who live and love the HIP happy to say we have an amazing friendship as a band hoping to keep the Tragically Hips live feel alive and proud for the rest of the Hip lovers out there.... Thanks to The Tragically Hip and amazing country we live in that this is even a possibility as i know how important THE HIP is to us and our country... CANADA ROCKS!!
CLICK HERE to visit the official event page on ImpactLive.ca proudly supporting live music in Central Ontario since 1985