ROCK 95 BREAKOUT SOUND w/ Cudbear, Uforia, Overcrook & THE FOUR PILLARS Postponed (New Date To Be Confirmed)
About this event
Due to COVID-19, we will be postponing Rock 95's Breakout Sound Concert Party until Ontario concert halls receive the green light to re-open!
All tickets purchased will be honoured for the new date.
ROCK 95 BREAKOUT SOUND will feature Emerging Artists; CUDBEAR, UFORIA, OVERCROOK & for the 1st time in Barrie THE FOUR PILLARS performing tributes to Seattle's SOUNDGARDEN, PEARL JAM, NIRVANA & ALICE IN CHAINS live @ Mavricks Music Hall produced by We Love Sound & IMPACT LIVE!
ROCK 95 BREAKOUT SOUND Concert Series provides Central Ontario emerging indie and featured bands the opportunity to showcase their music to a larger audience - not only by performing on a bigger stage at Mavricks, but by gaining radio exposure and opening the door to support big-name recording artists on future IMPACT LIVE shows!
Click Here To SUBMIT YOUR BAND For Breakout Sound's Next Event!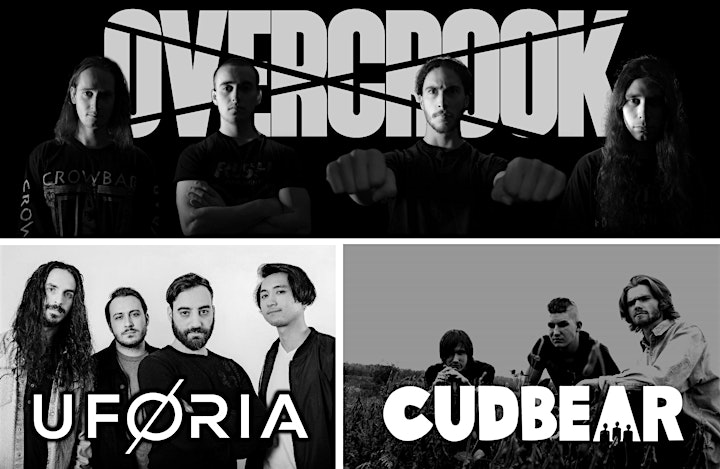 THE FOUR PILLARS are Canada's very own supergroup, made up of four premiere tributes to Seattle's finest: NIRVANA (Nevermind), PEARL JAM (Hail Hail), SOUNDGARDEN (Superunknown), ALICE IN CHAINS (Get Born Again) based out of Toronto brought together out of a love for everything nineties.
Corwin Tompson (Lead Guitar/Vocals) fantasized about the concert of his dreams. What if the four pillars of Seattle had put on a concert together!? It never happened on its own, so together with Carmine Mallia (Drums), Aryn Powell (Lead Vocals/Guitar) and Daniel Poirier (Bass), they decided to bring it to life. They created four tribute bands, one for each of The Four Pillars, and put them altogether on a cross Canada tour—a dream team lineup and the only concert of its kind.
CUDBEAR is a young group of musicians from Barrie, Ontario. The band consists of lead guitarist and vocalist - Bennett Jones, drummer - Derek Stewart, and bassist - Adam Polan. The band plays original tunes live on stage with tons of energy and loves doing so. In 2019 Cudbear released their debut album "First Bite", which is available on all major platforms (Spotify, Apple Music & Google Play Music) along with music videos on YouTube. In 2020 the band's goals include new music, videos, and lots more awesome live shows.
UFORIA is a four piece alternative hard rock band from Toronto, Ontario, Canada, best know for their song Fight or Flight that has been in regular rotation at the Toronto Maple Leafs games since 2017. They present songs that are well crafted, masterfully produced, and explosively performed.
OVERCROOK is a local Barrie band who derives their sound from Classic heavy metal acts of the 70's and 90's. Adding their own against the grain style groove.
CLICK HERE to visit the official event page on ImpactLive.ca proudly supporting live music in Central Ontario since 1985

Organizer of ROCK 95 BREAKOUT SOUND: Cudbear, Uforia & Overcrook + THE FOUR PILLARS