Rock & Roll Yorkville - July 2012 only!

Weekly Event - Every Sunday: 2:00 PM (EDT)
Event Details
This tour is available ONLY on Sundays for the the month of JULY 2012 as a special event.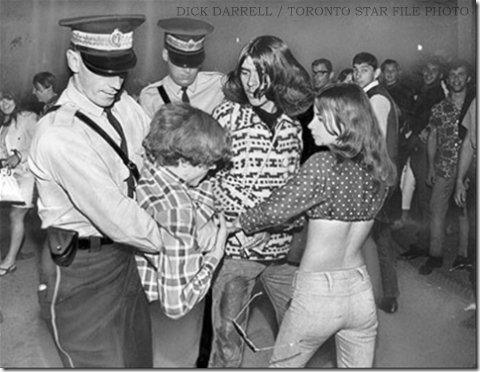 Hippies, bikers, beatnicks, free love, sex, drugs, and rock & roll - all of these were once part of the Yorkville scene. Local musician and tour guide, Dave Tyson has dug up the dirt on Yorkville's rock & roll past and wants to throw it in your face. As you stroll the tree-lined streets of this now VERY posh shopping, gallery and dining district you'll hear stories of how this neighbourhood evolved and see photos that will take you back to a very different Yorkville...
Tour Highlights
Learn about many of the over 40 coffee house clubs that used to exist in Yorkville during the 1960s, including the Riverboat, the Penny Farthing, the Mynah Bird and the Cafe El Patio.

Find out how famous Canadian musicians and industry entrepreneurs got their start at these clubs during the 1960s, including Neil Young, Gordon Lightfoot, Joni Mitchell, Steppenwolf, Ian & Sylvia Tyson, Bruce Cockburn, and Murray Mclaughlin.

Trace the development of the area from its status as a beacon and centre of the 1960s counterculture movement to its current reputation as a world-class shopping, dining and entertainment district.

Discover how politicians, activists and events have shaped and changed Yorkville over the last 4 decades, including TIFF and the construction of the Bloor/Danforth Subway line.

Stop on a patio for a cold beer! Tour guests will enjoy a visit to one of the most well-known and beloved restaurants in the neighbourhood: Hemingways!
Tour Start: in front of the Tim Horton's at the corner of Bloor St W and Bedford Rd, just south of the St George TTC station. (
246 Bloor Street West, Toronto, ON M5S 1V4
)
Tour Duration: 3 hours (with a break mid-way at a local pub)
Tour End: corner of Yonge St and Bloor St
IMPORTANT: Tours run rain or shine - please dress for the weather! Cancellations or date changes must be done at least 24 hours in advance for refund.
Some things of interest...
John & Lee & the Checkmates tearing it up at The Friars Tavern in Toronto, circa 1967. A good example of the energy and atmosphere of Yorkville in the 60s.
Below is a video of author 

Stuart Henderson, explaining a little of the interesting history and culture behind Yorkville. Learn even more about it's history on this walking tour!
Another legendary rock and roll moment near Yorkville was the Live Peace in Toronto concert featuring a nervous and solo John Lennon. Was this the concert that led to the break-up of the Beatles?
Organizer
Tour Guys offers walking tours and guide services in Toronto and Vancouver. Visit our website for more tours and events! www.tourguys.ca