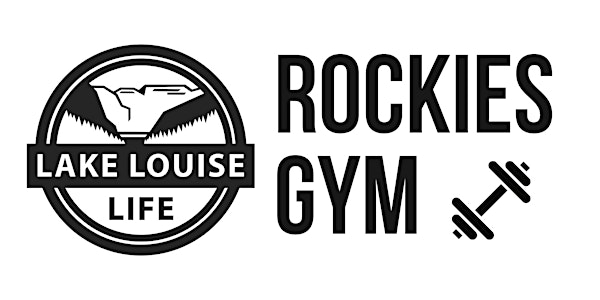 Rockies Gym Membership
Renew your Rockies Gym Membership
Location
Fairmont Chateau Lake Louise 111 Lake Louise Drive Lake Louise, AB T0L 1E0 Canada
About this event
167 days 15 hours

Mobile eTicket
Join Rockies Gym! Purchase a 1, 3, 8 or 12 month membership to our 24/7 colleague-only gym :)
You will be issued a personal Rockies Gym Access Card (more details below) approximately 7 days after purchasing their membership.
Membership options:
1 month - $35 + Eventbrite service/payment fees
4 months - $70 + Eventbrite service/payment fees
8 months - $110 + Eventbrite service/payment fees
12 months - $135 + Eventbrite service/payment fees
HOW IT WORKS:
After purchasing, we will email you once your Rockies Gym Member Access Card is ready for pick up. Please allow up to 7 days to receive a welcome email with more information on picking up your Rockies Gym Membership Access Card. Your membership will activate once your membership card is made and ready for pick up. Please ensure you use an email that you check on a regular basis. NO ACCESS IS PERMITTED UNTIL YOU HAVE SIGNED THE WAIVER AND PICKED UP YOUR ROCKIES GYM MEMBER ACCESS CARD.
Before purchasing your membership please ensure you read and follow the below terms.
By purchasing a membership, you agree to the below terms:
In the spirit of commitment to the well being of our Colleagues and Members, the Rockies Gym facilities are available (with purchased memberships) to Fairmont Chateau Lake Louise Colleagues/Members. In order to maintain the ambiance of the facilities it is essential that all Colleagues/Members using the facility follow guidelines and adhere to the policies of the Rockies Gym and Fairmont Chateau Lake Louise. Fairmont Chateau Lake Louise Colleagues/Members agree to the following policies:
i. ALL COLLEAGUES/MEMBERS will act in an appropriate manner at all times within the Rockies Gym Facilities.
ii. ALL COLLEAGUES/MEMBERS will respect the security and privacy of our colleagues at all times.
iii. ALL MEMBERSHIPS ARE NON-REFUNDABLE AND NON TRANSFERABLE
iv. The Rockies Gym facilities are entirely non-smoking and consumption of alcohol by Colleagues/Members while using the Rockies Gym Facilities will be strictly prohibited.
v. The use of the Rockies Gym Facilities is a privilege and not a right; the Lifestyles Manager or Security may revoke Colleague's/Members privileges at any time, either temporarily or permanently, if the Colleague/Member does not follow the guidelines referred to in this schedule.
vi. Lifestyles Management retains the right to either post, publish or amend a set of rules and regulations.
vii. ALL COLLEAGUES/MEMBERS are required to have their pass with them at all times when using the facility, and are required to comply with security requests to check gym passes at any time.
viii. NO COLLEAGUE without a valid membership card will be allowed in the Rockies Gym facilities at ANY TIME.
ix. By using the facility, you understand the risks associated with using a shared fitness facility. You will be required to sign a waiver when you arrive for your first workout.
Rules and Regulations
The Rockies Gym facility may either post, publish or amend a set of rules and regulations for the use of health club facilities, which the member hereby agrees to abide by. Any such rules and regulations or changes shall not release the staff member from any obligation under this agreement.
MEMBER RULES
Masks are REQUIRED to be worn while moving between equipment or around in the room. Masks are recommended to be worn but are optional when exercising.
You are REQUIRED to wipe down the equipment before AND after. Please indicate that the equipment has been sanitized and cleaned by using the "IN USE" or "CLEAN" paper.
Members must return all equipment to its proper location after use – failure to do so will result in the temporary suspension of gym pass (length of suspension at the discretion of the Lifestyles manager and/or the Security agent(s) on duty). Weights should not be dropped, but placed on the floor after use before returning them to their proper location.
No outdoor footwear is permitted beyond the foyer.
Shirts/pants/shorts must be worn at all times.
The television and speaker system must be kept at a reasonable volume level at all times. You may not put your own personal music on the public gym speakers. Should you be caught raising the volume to levels that may disturb Brewster residents, it will result in the temporary suspension of your gym pass (length of suspension at the discretion of the Lifestyles manager and/or the Security agent(s) on duty).
Excessive yelling, grunting, or vocal disturbance of other members is not permitted.
Only members with a valid Rockies Member Access Card s allowed into Rockies Gym; no friends or family members are to be granted access using your membership key or there may be an immediate cancellation of the membership without refund.
If you are the last to leave the facility – please ensure that the lights are turned off and the door is securely shut behind you.
You cannot share your Rockies Membership Access Card for gym to any non-member. Your membership will be revoked immediately without refund.
No access is allowed if the Rockies member card has expired, even if the card still allows entry after the expiry date.
Expired memberships are required to drop their card off at the Uniform Counter.
Sanitize or wash your hands before, throughout and after your workout.
All members are responsible for reporting any abuse of regulations, equipment or facility.
No harassment of any kind is permitted.
Any infraction or no compliance with these guidelines/etiquette will result in loss of privileges and possibly further action by the hotel.
Any breaches of this contract and/or the above rules and regulations will be handled on an individual basis and Lifestyles Manager retains the right to suspend and/ or cancel a membership with no refund to the Member required by The Rockies Gym Facility. Further actions may be taken by Fairmont Chateau Lake Louise.
RENEWAL OF MEMBERSHIP
Renewal of memberships is the responsibility of the Member. Expired memberships will not be valid under any circumstance.
If a Rockies Gym Card still opens the door, it does not mean that it is valid. If your membership has expired, you may not use the gym facilities. Any breach of this will result in a permanent ban on the facility and possible further use by Fairmont Chateau Lake Louise.
Members may NOT transfer their membership to another colleague if the original member can not use their membership to term.
VOLUNTARY PARTICIPATION AND RELEASE
The Member expressly acknowledges that the Member is aware that participation in a sport or physical exercise may result in accidents or injury and the Member confirms that the Member is voluntarily participating in these activities and assumes the risk connected with the participation in the activity.
The Member represents that the Member is in good health and physical condition and suffers from no impairment which would prevent the Member from engaging in use of the Rockies Gym facilities or affect or endanger the use by others. The Member agrees not to use any of the facilities or devices while having any open cuts, abrasions, open sores, infections or illnesses. The management of The Rockies Gym Facility shall have the right to make a final binding determination in this regard.
The Member specifically agrees that The Fairmont Hotels and Resorts, The Rockies Gym Facility, its officers, employees and agents, shall not be liable for and hereby releases them from any claim, demand or course of action of any kind whatsoever for, or on account of personal injury, death, property damage or loss of any kind whatsoever resulting from or related to the use of the facilities or the participation in any sport, exercise, program or activity.