About this Event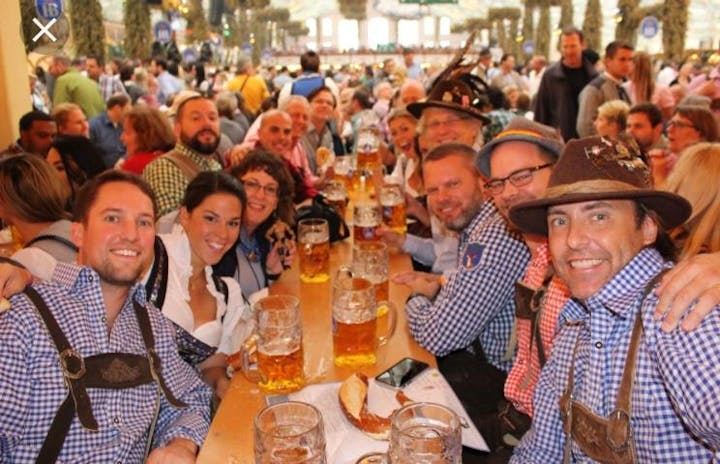 Your favourite Rock Radio station K97 is sponsoring the German Canadian Cultural Association. LIVE band RadioActive will take to the stage for 8 pm and keep you rockin' an rollin' on that dance floor. Erdinger Oktoberfest Beer is a special feature from Germany , Steigl will come from the tap and Beersteins will be in the air as we teach you all to join in song for a Prosit! The Bavarian Schuhplattlers will perform and some traditional music will intermittently ring through the hall. Our surprise guest MC from K97 will keep you entertained and give out prizes.
REMINDER PLEASE SELECT SEATS by clicking BUY ON MAP
Early bird Tickets $20 until Sept 7, $25 for regular Admission. Children 12 and under are $12 .
Wilkommen, all welcome, to the ROCKtoberfest Fundraiser 2019.
Come on out to the GCCA and enjoy! Register here for the event admission. Food and drink will be available in the Oktoberfest Hall, and consider the buffet 4:30 - 8:30 pm in the Black Forest Restaurant.
*** Tokens will be available at the event for $2.25 each. ***
Food: See below for the Oktoberfest buffet info, cost is $19.29 plus GST = $20.25, or 9 tokens. Hall special meals are served with sauerkraut and potato salad (4 tickets), options of bratwurst on a bun or German Leberkäse on a kaiser bun! Also baked pretzles (1 ticket) and German Apfelstrudel (2 tickets)!
Drink pricing: Domestic beer (3 tokens), Coolers (3 tokens), Becks/Heineken (3 tokens), Lowenbrau/Krombacher/Warsteiner/Steigle/Steigl Radler (4 tokens), Erdinger Weiss/Dunkel bottles (5 tokens), house wine (3 tokens), Highballs/cocktails/Jägermeister (3 tokens), Patron Tequila (5 tokens), pop 1 token. Erdinger and Steigl 16 oz. on tap for 4 tokens!!!