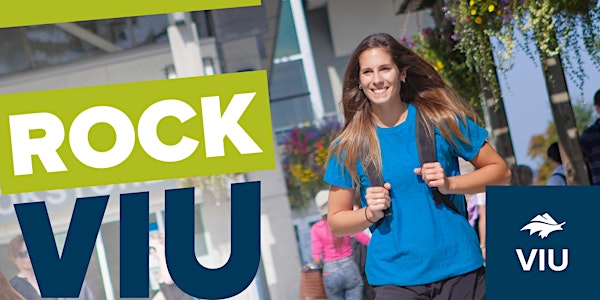 RockVIU 2022: Welcome to Campus
RockVIU 2022 is Vancouver Island University's annual new student orientation.
When and where
Location
Vancouver Island University 900 Fifth Street Nanaimo, BC V9R 5S5 Canada
About this event
We invite you to attend RockVIU starting on Monday, August 29, 2022!
Are you a new or returning student at Vancouver Island University? Join us for RockVIU 2022 where we invite you to connect, engage, and discover with your peers at VIU! Seize this chance to learn more about VIU's services and resources, connect with peers, your faculty and campus, and build a sense of self-efficacy by participating in a variety of exciting activities designed to welcome you to VIU.
RockVIU will take place from August 29 - September 2, join us for Day 1 and Day 2 of onboarding initiatives including Campus Excursions, Fireside Chats, and Opening Ceremony! Connect with peers and RockVIU Leaders to ask outstanding questions, participate in engaging activities, and become acquainted with your campus!
Following two days of onboarding, you will be able to participate in events including but not limited to: Virtual Q&A Panels, Connect Fair Carnival, CCR Talks, Faculty Block Party Socials, Summer Nights Festival and Drive-in Movie.
Once you have registered, be sure to download the Co-Curricular Involvement App, available on the App Store, Google Play, and Desktop, to participate in RockVIU 2022 and other VIU events!
More information and detailed descriptions of each activity can be found on our website here.