Event Information
Location
Paint Pots
Highway 93
Kootenay National Park, BC
Canada
Description
Join trail runners around Alberta for a mountain run that is by far the prettiest of the summer series, a point-to-point run with stunning views at vistas and on trails. We've moved the date ahead to August and switched the direction, running from south to north this year. There are two distance options:
Option A: 55km
Option B: Any distance/pace for an out-and-back from the Paint Pots.
MEETING PLACE: Paint Pots trailhead. This is a point-to-point run so runners will be shuttled from Paint Pots to the starting point, Floe Creek, finishing back where cars are parked for a BBQ and cool-down at the nearby creek.
DIRECTIONS: Look for the large, well-signed parking area along Highway 93, about 20 KM south from Castle Junction along the TransCanada Highway in Banff National Park.

COST: Free. BBQ and drinks are sponsored by River Valley Revenge Ultra. Bring a snack to share.
TRAVEL: Carpool link is here for drivers and passengers to sign up - https://www.groupcarpool.com/t/tqka7v.
Passengers pay driver $20 for vehicle use. Every drive on the sign-up link with 3+ passengers also gets a $20 gas card, our way of saying thanks for being environmentally friendly.

OVERNIGHT: Purchase a camping ticket if you plan to camp. Johnston Canyon group campsite (Node B) has been reserved, limited to 24 people. It is highly recommended to camp the night before and after the run in order to be ready for the early start and long day. Most runners will finish at or after sunset and will be very tired.
HIGHLY RECOMMENDED ITEMS:
- Bear spray. This is active bear country.
- Fuel and water sufficient for up to 12 hours of high intensity activity.
- Head lamp. Expect to be running until sunset. There are no streetlights in back country mountain trails.
- Gear appropriate for every weather condition (mountains are unpredictable), and a change of clothes for later.
- Poles are a good idea
MAP of TRAIL:
MAP OF CAMPSITE: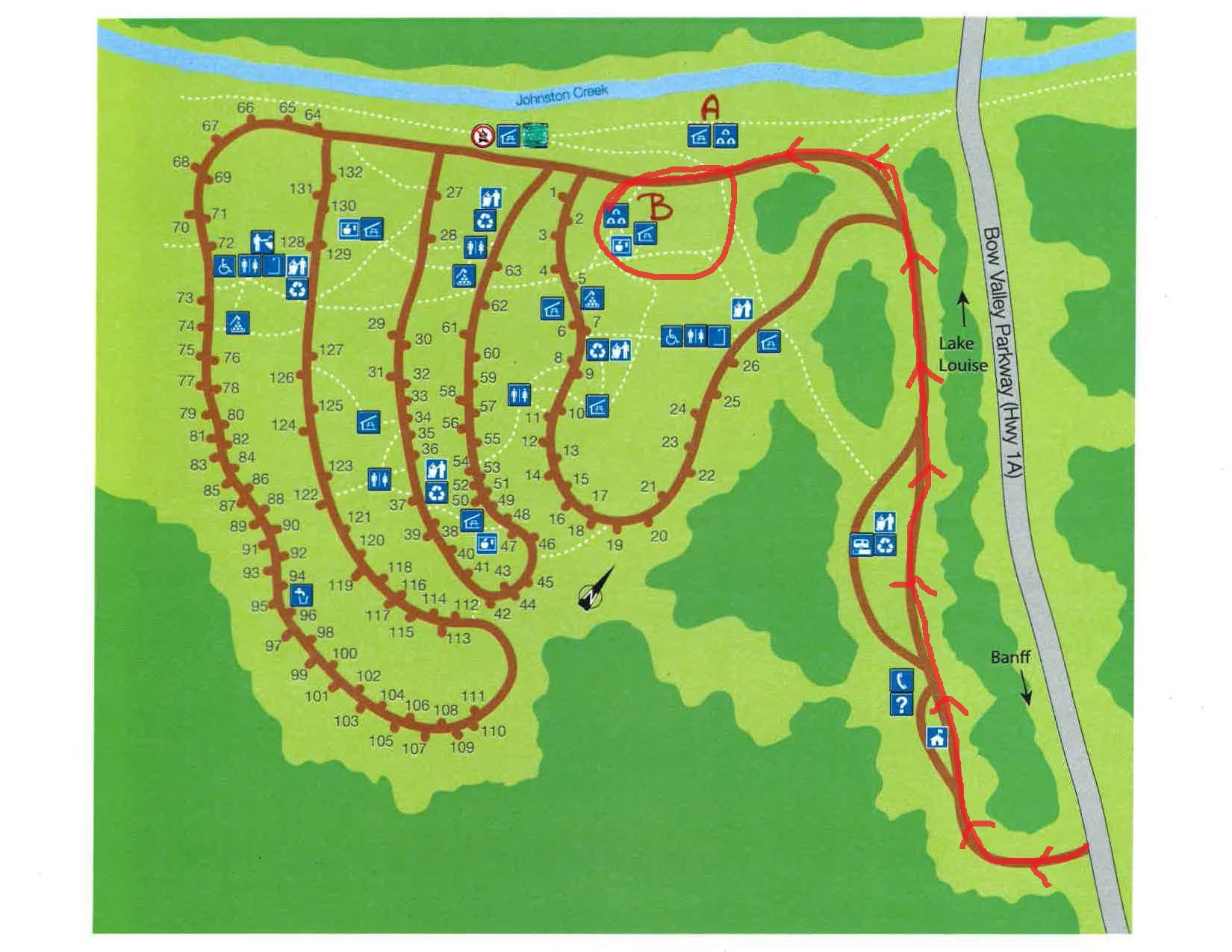 Date and Time
Location
Paint Pots
Highway 93
Kootenay National Park, BC
Canada