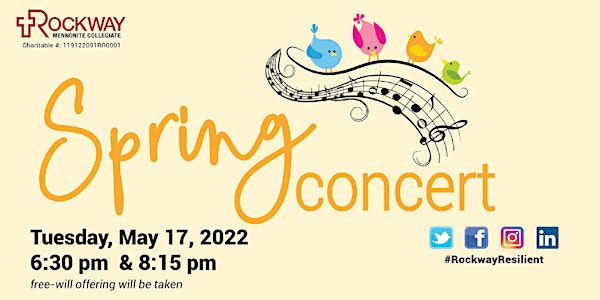 Rockway's Spring Concert 2022
Location
Rockway Mennonite Collegiate
110 Doon Road
Kitchener, ON N2G 3C8
Canada
Rockway's Music Department has been working hard these past weeks and months to bring music to your ears on Tuesday, May 17, 2022.
About this event
The concert features music students from grades 7 though 12.
The format for this concert is similar to that of the past, in that there are two concerts, however, it is the same concert repeated - not split by grade.
Concert Format for 2022
Guests are invited to attend either the 6:30 pm or 8:15 pm concert, but since seating is limited, we ask that you not attend both.
You will need a ticket to get into the concert - reserve your ticket here and be prepared to show it upon arrival.
There are 180 seats available at each concert. This allows guests to space themselves from one another should they desire to.
Masks are mandatory for guest entrance into the school and during the concert (students will be masked off stage).
There are no plans to make this a livestream experience.
There is no promise of admission if you arrive at a concert without a reserved ticket.
Watch for an email on Monday, May 16, outlining the entrance/exit route for each concert.
As with all our concerts, we will be accepting a donation during the Spring Concert. It is an annual tradition at Rockway to take up a free-will offering. This year we are raising money for Tuition Assistance, ensuring that no financial barrier prevents a student from attending Rockway. You are invited to donate online here, or donate in person at the event.
Thank you!