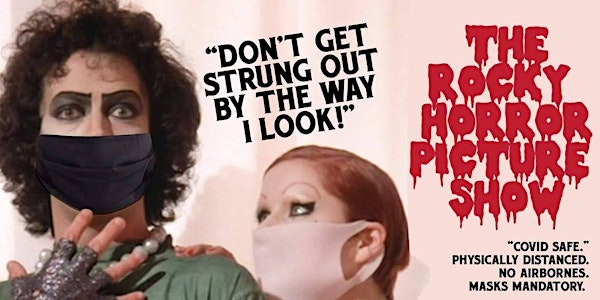 Multiple Dates
Rocky Horror Picture Show - Halloween 2020 (Original Princess)
Let's Do the Time Warp again....Safely! Dress up, Wear Protection and STAY SAFE!
About this event
This year YOU MUST:
wear a mask
not throw airbornes
not sing or shout
stay physically distanced at all times
This movie is totally fun and fabulous, especially if you DRESS UP! Go all out with your costumes! Don't dream it; be it... and don't forget your protective mask!
Seating capacity has been reduced by 80% for your safety. Tickets are very limited!
On Oct 31, we ALSO are showing Rocky Horror at the Twin at 7:15 : https://www.eventbrite.ca/e/rocky-horror-picture-show-halloween-2020-princess-twin-tickets-124840291673
THE ROCKY HORROR PICTURE SHOW is a magical phenomenon unlike anything ever before seen onscreen. Borrowing largely from cinema's horror conventions, the film begins as an innocent young couple is stranded at the home of a mad scientist who is building the perfect man. The castle is filled with a most bizarre group of characters who worship their master, Dr. Frank-N-Furter, played magnificently by the fabulously sexy Tim Curry, in leather jacket, pearls, fishnet stockings, and heavy makeup. Brad (Barry Bostwick) and Janet (Susan Sarandon) are forced to examine their own sexuality as the voluptuous doctor releases the hidden desires in each of them.
Organizer of Rocky Horror Picture Show - Halloween 2020 (Original Princess)
Parking
In the evening, park for FREE at the Lower Library Lot off Dupont Street, the Marsland Lot off Dupont Street, the Station Lot on Regina Street, or anywhere in Waterloo Town Square. There is always FREE on-street parking on King and Princess Streets.
For matinee parking, use the public lots or the Uptown parkade -- it is the cheapest. Check the signs, as there may be a nominal charge in the daytime.