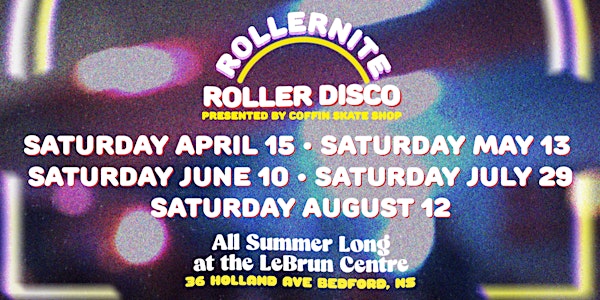 Multiple dates
Rollernite @ LeBrun Centre - Summer 2023
Family Skate will be from 4:00 pm - 6:00 pm. Adult skate admission will be 6:30 pm-9:30 pm. Kids under 16 must attend the family skate.
Date and time
Sat, Apr 15, 2023 4:00 PM - Sat, Aug 12, 2023 9:30 PM ADT
Location
Lebrun Recreation Centre 36 Holland Av Bedford, NS B4A 1E5 Canada
Refund Policy
Contact the organizer to request a refund.
Eventbrite's fee is nonrefundable.
About this event
ROLLERNITE RETURNS!
Rollernite @ LeBrun Centre All Summer Long!
We have rescheduled our initial date to include our family/low-sensory skate! All tickets purchased for March 25 will be honoured!
We will be hosting a family/low sensory skate from 4:00 pm - 6:00 pm.
Adult skate admission will be 6:30 pm-9:30 pm.
Check out the schedule below for more info!
𝗙𝗮𝗺𝗶𝗹𝘆 𝗦𝗸𝗮𝘁𝗲: 𝟰𝗽𝗺-𝟲𝗽𝗺
𝗗𝗼𝗼𝗿𝘀 𝗮𝘁 𝟯:45𝗽𝗺
Family and Low Sensory Skate:
Free entry for ages 10 & under.
Low sensory environment for easier skating.
Kids are welcome to skate alone, with the parent/guardian's permission.
Kids under 16 will be required to be done skating at 6:00pm when we switch over to our adult skate time.
Only family skate tickets will be valid for this time slot.
*𝗔𝘁 𝟲𝗽𝗺 𝘁𝗵𝗲𝗿𝗲 𝘄𝗶𝗹𝗹 𝗯𝗲 𝗮 𝗿𝗲𝘀𝗲𝘁 𝗯𝗿𝗲𝗮𝗸 𝘁𝗼 𝗮𝗹𝗹𝗼𝘄 𝗽𝗲𝗼𝗽𝗹𝗲 𝘁𝗼 𝗹𝗲𝗮𝘃𝗲 𝘁𝗵𝗲 𝗮𝗿𝗲𝗻𝗮 𝗮𝗻𝗱 𝗿𝗲𝗻𝘁𝗮𝗹 𝘀𝗸𝗮𝘁𝗲𝘀 𝘁𝗼 𝗯𝗲 𝗿𝗲𝘁𝘂𝗿𝗻𝗲𝗱.*
𝗔𝗱𝘂𝗹𝘁 𝗦𝗸𝗮𝘁𝗲: 𝟲:𝟯𝟬𝗽𝗺-𝟵:𝟯𝟬𝗽𝗺
𝗗𝗼𝗼𝗿𝘀 𝗮𝘁 𝟲:𝟭𝟱𝗽𝗺
Recommended for ages 16 & over.
General admission rules apply for the Adult Skate.
Anyone over 16 is welcome to attend this time slot. Helmets are not required for people over 16.
There will be two ticket types: those who have skates, and those who require rentals. Please make sure you are purchasing the correct ticket type!
"I have my own skates" If you have your own skates, you can buy this door ticket for entry to the adult skate.
"I need rental skates" If you require rental skates for the adult skate you must purchase this ticket. Rental skates are first come first serve during the event. This ticket does not guarantee a rental.
Door entry: $14+tax & fees.
Rental skates: $10 tax inc. at the event
All participants and spectators are required to purchase a door ticket.
Tickets are available in-store & online, both purchase locations will be subject to taxes & fees. Message us if you have any questions!
Tickets are non-refundable & non-transferable.
All participants are required to sign a waiver. Sign online here: https://waiver.fr/rollerdisco
Skate rentals will be available on a first-come-first-serve basis with a piece of ID. We will have a waiting list for those who do not get a size immediately. No holds or advanced purchases are available for rental skates. Door tickets do not guarantee rentals.
**No smoking within 13 feet of the facility**
We have over 150 rental roller skates available in a full range of kids' and adult sizes!
If you have your own skates, both rollerblades and roller skates are welcome!
The rental package does not include protective equipment but you are encouraged to bring your own!
**All participants must sign a liability waiver before entering the skating area. Skating is at your own risk and we are not responsible for any injuries incurred during the event.
Please skate responsibly, safety is our top priority, Coffin Skate Shop, and affiliated staff reserve the right to remove any persons who create unsafe skating conditions.**
Per government restrictions masks are not required for this event, feel free to mask up at your own discretion!
Any harassment of staff or participants will not be tolerated.
We also have so many extra away dates this year, more details to come!