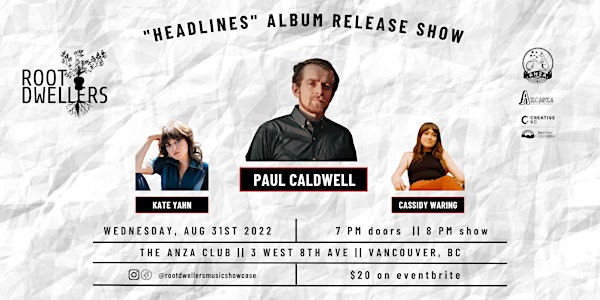 Root Dwellers Album Release: Paul Caldwell w/ Kate Yahn, Cassidy Waring
Location
The Anza Club
3 West 8th Avenue
Vancouver, BC V5Y 1M8
Canada
Root Dwellers is excited to announce the line up for our Wed, Aug 31st showcase!
About this event
Root Dwellers is excited to announce the line up for our Wed, Aug 31st showcase!
About this event:
Root Dwellers is excited to announce the line up for our August showcase! This month the fantastic Paul Caldwell (Folk Rock/Singer-Songwriter) will be headlining the evening to celebrate his recent album ("Headlines") release. The amazing Kate Yahn (Singer/Soul/Pop/Rock n Roll) and Cassidy Waring (Singer-Songwriter/Folk/Americana) will be opening up the show.
Doors: 7.00pm
Music: 8.00pm
End of Event: 11:30pm
Eventbrite ticketing: $20**** (cash at door with a bank machine inside venue)
*As we are a listening room, we ask that attendees try to arrive for start of event by 8pm. If arriving after 8pm please arrive quietly and respectfully.
*19+ venue. Alcoholic and non-alcoholic beverages can be purchased at the bar. All beer is from local craft breweries.
*No food served at The Anza. Outside food can be brought in from anywhere so that you enjoy performances while eating and drinking.
*Venue closes at midnight. You can continue to mingle, drink and chat after the show. If you become a member of the Anza club you can drink, play pool and darts in their cool, little bar downstairs after event.
ARTIST BIO's:
HEADLINER - PAUL CALDWELL:
Irish singer-songwriter Paul Caldwell has the ability to seamlessly blend the soul of traditional Irish ballads with the nuance of Canadian folk. He grew up with Celtic music echoing through the rugged coastline in his hometown of Buncrana, and these traditional Irish tunes have reverberated deep into his soul. Caldwell spent a period of his life in Liverpool, before settling in Vancouver when he was 25. Although he feels a strong bond with Canada, he always carries a piece of Ireland and a piece of Liverpool with him.
Across 2020-2022, Caldwell released the first four singles from his Album ("Headlines", "Monday", "Every Time" & "Written All Over My Heart"). It was recorded by Vancouver based Producer Jeff Zipp, at Light Machine Records. Collectively, the singles have amassed an impressive 105,000 streams on Spotify and received radio play spots on CBC, Dublin City FM and Blues and Roots Radio. Last year Paul was voted into the Top 100 of the coveted CBC Searchlight competition, for his song "Headlines".
The full album "Headlines" was released on June 17th, 2022. It is a deeply emotional record, subtly evoking nostalgia, heartache and hope. The songs are a true testament to Caldwell's powerful , stirring vocals, and his masterful storytelling.
https://www.instagram.com/paulcaldwellmusic/
https://linktr.ee/paulcaldwellmusic
https://open.spotify.com/artist/14mcXN2C0EoRrt96ddtL4L
OPENING ACT - KATE YAHN:
Kate Yahn is an up and coming singer from Vancouver, BC. Her essence is unassuming and powerful, with a voice that is way before her time. With her first initial training being Musical Theater, Yahn brings a dynamic blend of musical genres ranging from soul to country, and rock'n roll to pop. She is a young woman so connected to her idols; Linda Ronstadt, Stevie Nicks, Carole King, and Debbie Harry, to name a few. Her inspirations run deep and meaningful like the songs she sings.
Bungalow is Vancouver's hottest rhythm section. With influences ranging from classic 60's and 70's soul to the more modern sounds of D'Angelo and Vulfpeck, Bungalow's catchy riffs and timeless grooves are guaranteed to keep you movin' on the dance floor. Alvin Brendan on guitar, Benjamin Millman on keys, Yamil Chain-Haddad on Bass and Trent Otter on drums.
https://www.instagram.com/kateyahn/
https://open.spotify.com/artist/6ruGgglMkZ56PXkJRjfdHH
OPENING ACT - CASSIDY WARING:
Cassidy Waring has spun her relatable challenges into dreamy americana tunes that invite listeners deep inside with uncompromising honesty, razor-sharp wit, and vivid remembrance. Cassidy's vulnerability on stage is an integral part of her live performance. She speaks candidly about her personal experiences with mental health, therapy, loss, and complex relationship dynamics. She reminds us that we aren't alone in our struggles.
https://www.instagram.com/cassidywaring/
https://linktr.ee/cassidywaring
https://open.spotify.com/artist/7lWnKEoBje7XPkOfRrmZkm
ROOT DWELLERS RESIDENT POET - ELLIOTT SLINN:
"Elliott Slinn was named New Westminster's fifth (and youngest) Poet Laureate in June 2021, actively beginning his tenure in August. His work has been described as immediate and accessible, as he explores the existential events of our day-to-day existence. His goal is to break the barriers surrounding poetry, and to bridge the gap from heart to heart."
At Our Events - Perched atop a high table with his 1929 typewriter, Elliott spends the evening crafting stunning poetry, by donation, for our audience members. All you have do is approach him, give him a word or a short story and he'll produce the most magical piece of personalized poetry for you.