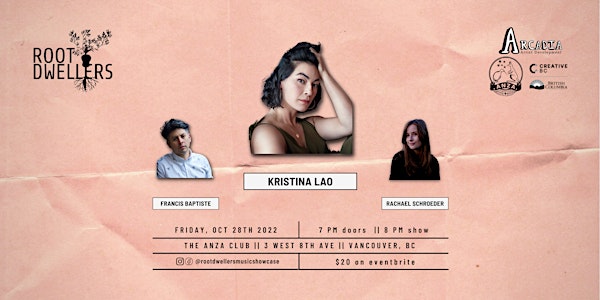 Root Dwellers Headliner: Kristina Lao w/Rachael Schroeder, Francis Baptiste
Root Dwellers is thrilled to announce the line up for our Fri, October 28th showcase!
When and where
Location
The Anza Club 3 West 8th Avenue Vancouver, BC V5Y 1M8 Canada
About this event
Root Dwellers is thrilled to announce the line up for our October showcase! This month the incredible Kristina Lao (Organic Pop) will be headlining the evening with the amazing Rachael Schroeder (Singer-Songwriter) and Francis Baptiste (Indigenous Singer-Songwriter) kicking off the show.
Doors: 7.00pm
Music: 8.00pm
End of Event: 11:30pm
Eventbrite ticketing: $20**** (cash only at door with a bank machine inside venue)
💫 As we are a listening room, we ask that attendees try to arrive for start of event by 8pm. If arriving after 8pm please arrive quietly and respectfully.
💫 19+ venue. Alcoholic and non-alcoholic beverages can be purchased at the bar. All beer is from local craft breweries.
💫 No food served at The Anza. Outside food can be brought in from anywhere so that you enjoy performances while eating and drinking.
💫 Venue closes at midnight. You can continue to mingle, drink and chat after the show. If you become a member of the Anza club you can drink, play pool and darts in their cool, little bar downstairs after event.
ARTIST BIO's:
HEADLINER - KRISTINA LAO
Kristina Lao is a mixed race, interdisciplinary Artist-Advocate from Hong Kong. Passionate about socially-charged storytelling, her softly articulated Brit-lilt vocals float pensive melodies over breath-catching choruses. Influenced by Paul Simon, Regina Spektor, and Tracy Chapman, Lao is a fierce advocate for positive social change and artivism. She is currently writing with engineer and producer Karl Dicaire (Big Wreck, Danko Jones, Mother Mother).
Website: https://www.KristinaLao.com IG: https://www.instagram.com/mykristinalao/ Facebook: https://facebook.com/mykristinalao Twitter: https://www.twitter.com/mykristinalao IMDB: https://www.imdb.com/name/nm6213091/ LinkedIn: https://www.linkedin.com/in/kristina-lao-54a674197/
OPENING ACT - RACHEAL SCHROEDER
Rachael Schroeder is a singer, songwriter and vocal producer based in Vancouver, Canada. Over the past few years, Rachael's projects have garnered over 70 million streams across multiple platforms. Her artist rendition of Coldplay's "Fix You" (in collaboration with Fearless Soul) has been featured on The Handmaid's Tale (S4, E5), a 2022 Olympic US figure skating routine and has over 20 million streams across platforms.
Pursuing her lifelong passion, Rachael has honed her vocal technique and songwriting craft from a young age through continuous vocal training, workshops and collaborations. From 2015 to 2017, she attended an audio music school in Vancouver and studied sound engineering, music production, music business and artist development.
Rachael's lyrics express fearless truths layered with Imogen Heap-inspired harmonies. Her smokey yet powerful vocals drive the emotion of each song. Currently, Rachael focuses on contract vocal and songwriting work, collaborating with creatives around the globe.
https://www.rachaelschroeder.com/ https://www.instagram.com/rachaelschroeder/ https://open.spotify.com/artist/6Hyd8L8cnUxrMhN89nlgAb?si=22y5IpcHTIq57QB64InJlQ
OPENING ACT - FRANCIS BAPTISTE
Francis Baptiste is an Indigenous songwriter and music journalist from the Osoyoos Indian Band. His forthcoming debut LP, Snəqsilxʷ (Family), features songs sung in Nsyilxcən [nah-silk-sen], the endangered language of the Syilx [see-ilks] people. Approximately 50 elders can fluently speak Nsyilxcən. For Baptiste, his journey in learning the language and teaching it to his son begins with this album. Family (Snəqsilxʷ) is his effort to preserve and connect with this vital part of his heritage. Baptiste is also a music journalist who writes for Exclaim, Permanent Rain Press, and Vancouver Weekly. Currently, he lives in Vancouver, BC.
https://open.spotify.com/artist/19A38MbkOutLEvuZZLLf2l?autoplay=true https://www.instagram.com/francisbaptistemusic/?hl=en
ROOT DWELLERS RESIDENT POET - ELLIOTT SLINN:
"Elliott Slinn was named New Westminster's fifth (and youngest) Poet Laureate in June 2021, actively beginning his tenure in August. His work has been described as immediate and accessible, as he explores the existential events of our day-to-day existence. His goal is to break the barriers surrounding poetry, and to bridge the gap from heart to heart."
At our events, you'll find Elliott perched atop a high table with his 1929 typewriter. He spends the evening crafting stunning poetry, by donation, for our audience members. All you have do is approach him, give him a word or a short story and he'll produce the most magical piece of personalized poetry for you.
https://www.instagram.com/elliott_slinn